A LITTLE TO FAR (A Little Too Far #1) by Lisa Desrochers-Review, Blog Tour and Giveaway
A Little Too Far
A Little Too Far #1
by Lisa Desrochers
Release Date: September 17, 2013
itunes / Books a Million / Amazon.com / Amazon.ca / Amazon.uk/ Barnes and Noble / KOBO / The Book Depository
ABOUT THE BOOK: Release Date September 17, 2013
Have you ever gone just a little too far?
Lexie Banks has.
Yep. She just had mind-blowing sex with her stepbrother. In her defense, she was on the rebound, and it's more of a my-dad-happened-to-marry-a-woman-with-a-super-hot-son situation. But still, he's been her best friend and confidant for the better part of the last few years … and is so off limits. It's a good thing she's leaving in two days for a year abroad in Rome.
But even thousands of miles away, Lexie can't seem to escape trouble. Raised Catholic, she goes to confession in hopes of alleviating some of her guilt … and maybe not burning in hell. Instead, she stumbles out of the confessional and right into Alessandro Moretti, a young and very easy-on-the-eyes deacon … only eight months away from becoming a priest. Lexie and Alessandro grow closer, and when Alessandro's signals start changing despite his vow of celibacy, she doesn't know what to think. She's torn between falling in love with the man she shouldn't want and the man she can't have. And she isn't sure how she can live with herself either way.
•••••••••••••••••••••••
REVIEW: A LITTLE TOO FAR is the first storyline in Lisa Desrochers contemporary, new adult storyline. Lisa draws the reader into a world of forbidden love between three people: a woman who loves two men and the two men who love one woman. In the end, Lexie must decide if her love is strong enough to overcome society's issues of right and wrong or if forbidden love is worth the rejection of family and friends.
The storyline focuses on Lexie Banks and the emotional roller coaster that is her life. Prior to leaving on an eight month education exchange in Italy, she and her step brother Trent profess their mutual love for one another and act on their forbidden feelings. Knowing that society will judge their actions, Lexie hopes to put everything behind her in Italy. But their love for one another is much more than surface deep.
A LITTLE TOO FAR is also about a deacon (a priest in training) whose need for a woman is much stronger than his call to serve his God. But there are some family issues and background story that have forced the deacon into the Lord's service and it will take a forbidden love to show him the path onto which he must travel.
Lisa Desrochers writes about an issue that will be contentious for some readers especially those who follow strict Christian dictates and canon law but she handles the controversy with a delicate touch. The storyline is passionate; the relationship between Lexie and Trent is sensual and sexual and there is no mistaking who and what it is they both want.
The storyline will be controversial for some but no more controversial than many of the fictional and real-life stories that many of us face every day. Although we are not necessarily thrown into a world of sexual fantasies about our step brother or parish priest, the issue at hand is where does someone draw the line between right and wrong? Is forbidden love truly a sin if deep down, there is no sin to forgive.
The characters are colorful; their stories are emotional and the world building is awash in sights and sounds of old Italy and France. Lisa's ability to bring the story to life is a sign of an author who knows exactly how to tell a story.
Copy supplied by the author
Reviewed by Sandy
FOLLOW Lisa :  Website / Goodreads / Blog / Facebook / Twitter
About the author: Lisa Desrochers lives in central California with her husband and two very busy daughters. There is never a time that she can be found without a book in her hand, and she adores stories that take her to new places, and then take her by surprise.
Look for her New Adult novel, A LITTLE TOO FAR , courtesy of HarperCollins Sept 2013, and the first companion, A LITTLE TOO MUCH , in Nov 2013. Also in stores is her YA PERSONAL DEMONS trilogy (Macmillan).
•••••••••••••••••••••••••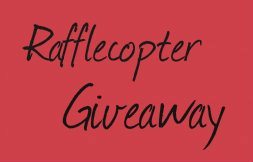 Lisa is hosting a tour wide giveaway – Prizes include an iPad Mini, pendant, tote bags, temporary tattoos, and annotated chapters of ALTF
NOTE:  The Reading Cafe is NOT responsible for the rafflecopter giveaway.  If you have any questions, please contact the tour promoter