Addicted (Ethan Frost #2) by Tracy Wolff-Review and Blog Tour
Addicted
Ethan Frost #2
by Tracy Wolff
Genre: adult, contemporary,erotic, romance
Release Date: July 15, 2014
Amazon.com / Amazon.ca / Amazon.uk/ Barnes and Noble / KOBO
About the book: Release Date July 15, 2014
As Chloe Girard discovers, there's love . . . and then there's addiction.
Ethan Frost is everything a woman could want in a man. He's rich, gorgeous, powerful, one of the most eligible bachelors in the world.
But that's not why I'm with him.
I love Ethan for all the things no one else gets to see: his innate kindness, his reckless spontaneity, his unwavering determination to use his brilliance for good. I love the way he looks at me, the way he touches me. The way he makes me forget the wreckage of my past and the twisted fear that still lives inside me.
But sometimes it terrifies me how much I crave him, how much I need him just to breathe. I always thought it would be my past that ruined us, but there's a darkness in Ethan I never dreamed existed. Can we survive as his secrets surface—threatening to unravel us both?
••••••••••••••••••••••
REVIEW: ADDICTED is the second instalment in Tracy Wolff's contemporary, adult Ethan Frost erotic romance series focusing on billionaire Ethan Frost and the love of his life, legal intern Chloe Girard. This is the continuing story about forbidden love and two broken souls whose lives will collide both in and out of the boardroom. This is not a stand alone novel-the series must be read in order-but saying that, book two leaves too many open ended plot points for this to be the final instalment.
The focus of ADDICTED is the continuing struggle between Ethan and Chloe. Chloe has revealed to Ethan the secrets and demons from her past but Ethan keeps everything about himself and his family very close to his heart-not that he is trying to protect his family-but he is trying to protect the woman with whom he has fallen in love. Ethan's family has a tumultuous past that crosses paths with Chloe's family and keeping this information from Chloe sets into motion a series of heartbreak, betrayal and the need to constantly run for a woman who has accepted that the past is the past, and everyone must move forward.
The relationship between Chloe and Ethan is bumpy as both of their pasts collide. Chloe is a woman who is quick to run when the truth is revealed and Ethan is a man whose love for Chloe is almost painful and heartbreaking.
I will point out that the ending felt rushed and many issues have yet to be resolved. Without giving away any major spoilers three secondary characters were brought into the storyline whose presence created a snowball affect on the storyline resulting in continual heartbreak for both of our leading characters. I am hoping that Tracy has plans for another instalment but ADDICTED fast forwards the ending by approximately one year without addressing some major complications and issues. Hopefully the missing timeline will be addressed in a future book.
Tracy Wolff pulls the reader into an emotional, heartbreaking and sometimes frustrating storyline about two people whose pasts collide with the present resulting in a roller coaster of push and pull. The love Chloe and Ethan have for one another is nothing short of an addiction and in this, no matter what continues to happen, they will fall back into each other's arms because that is where they need to be.
Copy supplied by the publisher through Netgalley.
Reviewed by Sandy
________________________
Ruined
Ethan Frost #1
by Tracy Wolff
Genre: adult, contemporary, erotic, romance
Release Date: January 2014
Order Links: Amazon.com / Amazon.ca / Amazon.uk/ Barnes and Noble / KOBO /
He's the last man Chloe Girard should love . . . but the first she ever could.
Ethan Frost is a visionary, a genius, every woman's deepest, darkest fantasy—even mine. And, somehow, I am his.
He stole into my life like a dream. Turned my reality upside down and made my every desire come true—especially those I never knew I had. He demanded everything I had to give and gave me everything of himself in return.
But dreams don't last forever, and ours is no exception. Because my nightmares are darker, and my wounds deeper, than I could ever reveal. And as much as Ethan wants to protect me, the secrets we share will only tear us apart.
••••••••••••••••••••
REVIEW: RUINED is the first instalment in Tracy Wolff's contemporary, adult Ethan Frost erotic romance duology focusing on billionaire Ethan Frost and legal intern Chloe Girard. This is a story about two broken souls whose paths will collide in the boardroom, the bedroom and beyond in a story about forbidden love, and dark and dangerous secrets.
Told from first person POV (Chloe) the storyline follows Chloe as she embarks on a summer internship at Frost Industries. Falling for the boss was never on the agenda but something about Chloe draws Ethan in like a moth to a flame. There are secrets from both of their pasts that affect every decision that they make and in doing so will set into motion a twist of epic proportions.
The relationship between Chloe and Ethan is one of forbidden love. Chloe knows that to embark on a romance with the CEO is legal and professional suicide but Ethan's persistence and need for Chloe is matched only by Chloe's desire for the man himself. The sex scenes are intimate, sensual and revealing where we learn there is more to Chloe's past than a broken heart.
The secondary characters include Chloe's coworkers and friend. Chloe's backstory and family history are revealed as the storyline builds but Ethan's troubled beginnings have only be alluded to and in this the cliff hanger will leave the reader questioning what really happened so many years before.
Tracy Wolff writes a compelling and familiar storyline about the troubled billionaire who falls for the broken and troubled virginal young woman. Theirs is a story where the past will collide with the present, and a dark secret will be revealed that could affect the future for both Chloe and Ethan. The past is never that far behind and could very well show up at the front door-when everyone least expects it.
Copy supplied the by publisher through Netgalley
Reviewed by Sandy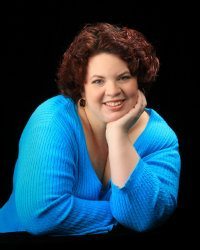 Tracy Wolff collects books, English degrees and lipsticks and has been known to forget where—and sometimes who—she is when immersed in a great novel. At six she wrote her first short story—something with a rainbow and a prince—and at seven she forayed into the wonderful world of girls lit with her first Judy Blume novel. By ten she'd read everything in the young adult and classics sections of her local bookstore, so in desperation her mom started her on romance novels. And from the first page of the first book, Tracy knew she'd found her life-long love. Now an English professor at her local community college, she writes romances that run the gamut from contemporary to paranormal to erotic suspense.
Website |Facebook |Twitter |Goodreads |Blog

NOTE: The Reading Cafe is NOT responsible for the rafflecopter giveaway. If you have any questions, please contact the tour provider.
Additionally, Random House is giving away two prize packs: a $25 gift card to Babeland and a copy of RUINED! Enter here!
Tracy is giving away a $50 gift card to www.spafinder.com to celebrate the release of ADDICTED! Enter below: