STRIPPED BARE (Vegas Billionaire #1) by Heidi McLaughlin-a review
STRIPPED BARE
Vegas Billionaire #1
by Heidi McLaughlin
Release Date: March 28,2017
Genre: adult,contemporary,erotic, romance
Amazon.com / Amazon.ca / B&N / KOBO / BAM ibooks Google /
Goodreads: http://bit.ly/2kT3aZC
About the book: Release Date March 28,2017
They don't call it the Strip for nothing. . . .
In this sinfully sexy Las Vegas romance from bestselling author Heidi McLaughlin, a man who has it all reunites with a woman who takes it all off.
Living in Sin City, Finn McCormick is no stranger to one-night stands, but the last person he expects to find losing big on the casino floor is a former high school fling. Even though Macey Webster's clearly down on her luck, she's still a knockout, and she's dressed like a stripper—because she is one. Drunk off an unfamiliar cocktail of lust, pity, and compassion, Finn offers to pay Macey's debts if she cuddles up to him around town . . . and does whatever he wants between the sheets.
Macey came to Vegas for one reason only: money. She's got a young daughter to support, and the tips really are bigger in Vegas. But when she blows her earnings on blackjack, her guardian angel is the rich boy who once stole her heart and never called her back. Although Macey would love to turn the tables on Finn, she can't afford to refuse his proposition—and soon she's enjoying herself much more than she cares to admit. Macey's used to baring her flesh, but baring her soul will take far more courage.
•••••••••••
REVIEW: STRIPPED BARE is the first installment in Heidi McLaughlin's contemporary, adult VEGAS BILLIONAIRE erotic, romance series. This is Vegas billionaire/hotel owner Finn McCormick, and exotic dancer/ single mother Macey Webster's story line.
Told from dual first person points of view (Finn and Macey) STRIPPED BARE is a second chance romance between former high school class-mates Finn McCormick, and Macey Webster. Finn and Macey hooked up back in high school but college was just around the corner and Finn never looked back. Fast forward to present day wherein Finn finds Macey down on her luck, losing big in his casino, and makes her an offer she cannot refuse-one week at his beck and call, and he would pay her three times what she lost. What ensues is a familiar story line ala Pretty Woman in that Macey will fall in love with a man who demands everything but offers only money in return.
Macey is a struggling single mom; a young woman who has resorted to stripping in Vegas to pay the bills but Macey only intended to stay in Vegas for a limited amount of time. Losing all of her money meant Macey was going home broke without the satisfaction of money in her pocket. Finn McCormick is about to open his third casino and hotel but coming face to face with his high school fling, a woman whose name he doesn't remember, stirs a possessiveness in Finn from deep within. But Finn's arrangement and contract with Macey is a one week, all inclusive for anything our hero wants making Macey feel more like a well paid whore than a woman down on her luck.
The relationship between Macey and Finn is one of an arranged business contract. Macey and Finn's past relationship never enters into the story until Finn discovers the secret that Macey was desperate to hide. While Finn struggles to gain financial backing for his latest venture, a threat of another sort takes our hero by surprise. The $ex scenes are aggressive and intense. Finn's treatment of Macey is questionable at times especially when her emotional frailty and financial circumstance forces a choice she is reluctant to commit making our heroine see herself as nothing more than a well paid whore.
We are introduced to Finn's PA Hannah and right hand man Lamar, as well as Finn's friend Brady, and his sister Brandy who is trying to force Finn into a permanent relationship. Macey's ten year old daughter Morgan is a breath of fresh air.
STRIPPED BARE has many similarities to Pretty Woman including a man who refuses to kiss; shopping for respectable clothes; the friends whose treatment of our heroine is questionable; and in the end treating our heroine like a whore for his taking. Macey's point of view is heartbreaking knowing that her time with Finn is strictly a business arrangement but she is a mother desperate to make a life for her daughter as they struggle to pay the bills. The premise is familiar; the characters are controversial but colorful; the romance struggles with the hero's treatment of the woman with whom he will fall in love. I had a difficult time with the romance aspect of the story line. Although the heroine fell in love I didn't feel the connection from the hero's point of view.
Copy supplied by Netgalley
Reviewed by Sandy

Macey
The stench of deep fry emanates from my clothes. I hate the smell and I know the other girls can smell it, but I ignore the looks they're giving me and hustle through the dressing room to my locker. The older women and the ones that have been stripping here longer always look down on the younger girls and the newbies. I'm somewhere in the middle. I stripped here when I was younger, during my first trimester with my daughter, and then again after she was born when I had my figure back. Actually, stripping helped me tone as a result of all the pole work that I had to do. I took some time off after that, but I always come back because the money is fast and somewhat decent. Each time I leave, though, I say that it's for good and that was the last time and yet a few months later, I always find myself back again, knocking on Lew's door, and asking for my spot in the rotation back. Girls come and go around here and in this business you can't expect to make a lasting connection with anyone.
I strip down and throw my dress, apron and nylons into my bag as quickly as possible before the stench of grease becomes any more noticeable. I change into a thong and bootie shorts, add tassels to my nipples and cover them with a bra before slipping a tank top over my head and stepping into an old pair of cowboy boots that I picked up
at the secondhand store. I have an array of costumes meant to hit the mark on every fantasy a man can have. Cowboys, librarian, naughty schoolgirl . . . you name it I'm doing it. I need the money. More so now than ever. My kid is getting older and she's seeing things she shouldn't, like her grandmother being so drunk that she can't get up to answer the door, or strange men in the house. She's ten and shouldn't have to babysit an adult. Nor should she
have to live in the slums, but that's on me.
Seventeen and pregnant isn't how I saw my life. I had had enough of living with barely any food, no new clothes and the strange looks, so I swore that I was getting out. I was smart, got good grades in high school, but none of that mattered once I found out I was knocked up and the baby daddy had already left town. I tried to tell his mother, but she took one look at me and shut the door. Back then I didn't, but I do now. I'd take that money and run right across the tracks, under the bridge and through the fucking blueberry bushes if it meant my kid wasn't going to be a victim of a drug deal gone wrong or end up with a drinking problem by the time she's a teen.
Morgan though, she's a good kid who loves to read and is a whiz at math. She's all I have in this world and I'll do anything I have to, to make sure she has food and clothes.
So I strip at night and wait tables during the day. Depending on the day or night, one pays better than the other, but they're jobs that I need. I have a goal. I want to move Morgan and I into a better neighborhood. One where kids want to play and not sell drugs. I want her to live in a place where she feels safe and doesn't need to hide in the closet of our bedroom because my mother invited one of her friends over.
My dreams for Morgan are unreachable, I know this, but I try every day to make them happen. I want such a different life for her that sometimes when I look out the window of the city bus I'm on and I see other kids her age walking along the street without a care in the world, I imagine her being one of those kids. If only . . .
Stripped Bare is a work of fiction. Names, places, and incidents either are products of the author's imagination or are used fictitiously. Any resemblance to actual events, locales, or persons, living or dead, is entirely coincidental.


Heidi McLaughlin: Website / Facebook / Twitter / Newsletter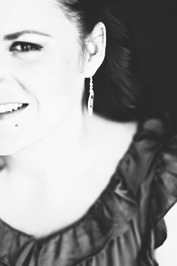 Heidi is a New York Times and USA Today Bestselling author.
Originally from the Pacific Northwest, she now lives in picturesque Vermont, with her husband and two daughters. Also renting space in their home is an over-hyper Beagle/Jack Russell, Buttercup, two Parakeets, Gonzo & Hedwig, and their newest addition of a Highland West/Mini Schnauzer, Jill.
During the day Heidi is behind a desk talking about Land Use. At night, she's writing one of the many stories planned for release or sitting court-side during either daughter's basketball games.