BLIND FAITH / TAMED by Rebecca Zanetti-Book Blast and reviews
Blind Faith
Sin Brothers #3
by Rebecca Zanetti
Genre: adult, contemporary, suspense, paranormal
Release Date: May 6, 2014
Amazon.com / Amazon.ca / Amazon.uk/ Barnes and Noble / KOBO /
ABOUT THE BOOK: Release Date May 6, 2014
A betrayal he couldn't forget . . .
For Nate Dean, love is a four-letter word. As part of a secret black-ops military unit, he and his brothers were genetically engineered by the government to be ruthless soldiers with an expiration date. They were loyal only to one another . . . until Nate laid eyes on the woman who stole his heart and blew his world apart. Now, years later, his family is still paying the price for his mistake. But as time runs out, there's only one person who can save his family: the very woman Nate swore he'd never trust again.
A love she couldn't deny . . .
The moment Audrey Madison spies Nate across a crowded ballroom, she can barely breathe. He's just as undeniably sexy as she remembers, yet there's an edge to him now that's as irresistible as it is dangerous. When he asks for her help, Audrey can't refuse. But she has secrets of her own-secrets that, if Nate ever discovers them, may cost them both their lives .
••••••••••••••••
REVIEW: BLIND FAITH is the third instalment in Rebecca Zanetti's contemporary, adult, action suspense, slightly paranormal Sin Brothers Series focusing on Mattie, Shane, Nate and Jory Dean- four genetically engineered brothers who were created to become the perfect super soldier. This is Nate Dean and Audrey Madison's story. Audrey is the 'daughter' of the doctor who, along with the commander, has helped create the ultimate warrior of destruction. The commander is still determined to bring the brothers back into the fold but there are only a couple weeks remaining on the brothers's expiration date.
As the series continues, it is Nate's turn to hunt down the people responsible for their creation but someone from Nate's past has popped up on their radar and Nate needs information and answers to many questions. Audrey is the only woman whom he has ever loved and she is the daughter of the woman who is directly responsible for his brothers's impending demise. It has been close to five years since Audrey and Nate last had contact and many things have changed in the ensuing time. Not only have they both lost someone they have loved but they will be pulled together by a secret neither one ever knew.
The relationship between Audrey and Nate is sexual, sensual and has lost none of the powerful attraction since they last met. Nate is determined to keep Audrey in his life but Audrey has other plans-she is determined to take down the commander on her own.
All of the previous storyline characters play a secondary role including Mattie and Shane Dean. The world building continues as the brothers hunt for the code to deactivate their death sentence but the people responsible continue to elude capture or meet their end. The search for the youngest Dean brother continues with a glimmer of hope that Jory may still be alive and in this, the brothers's storyline will continue, at least, for one more chapter.
BLIND FAITH is a fast paced story of action, suspense and drama. Rebecca Zanetti has written a compelling and intriguing series about four brothers brought together by DNA, power and abuse and, circumstance. It is their continuing search for the code that pulls the brothers together. These are their stories of love and loss; betrayal and heartbreak; family and connections.
Reading Order
1. Forgotten Sins
2. Sweet Revenge
3. Blind Faith (May 2014)
4. Total Surrender (March 2015)
Copy supplied by Netgalley.
Reviewed by Sandy
____________________________
Tamed
(Dark Protectors 6.5)
by Rebecca Zanetti
Genre: contemporary, adult, paranormal
Release Date: May 15, 2014
Amazon.com / Amazon.ca / Amazon.uk/ Barnes and Noble / KOBO /
ABOUT THE BOOK : Release Date May 15, 2014
Caleb Donovan was never meant to be a prophet. At heart he's a conqueror, his appetites far more carnal than spiritual. He's not inclined to repress his passions and surrender to fate. After all, that's what cost him Lily—three centuries ago. She married another, because it was ordained. Now that he's in the same benighted calling—and forced into proximity with her—all the old desires are roaring back to life. . .
After widowhood and centuries of celibacy, Lily is eager to explore the wild side of life, except now she's vulnerable to another forced relationship, with an enemy. But this time she's determined to choose her own path. And if hot, furious Caleb comes charging to the rescue, it might just change both their destinies. . .
Love is about to start conquering.
•••••••••••••••
REVIEW: TAMED is the latest novella in Rebecca Zanetti's adult, contemporary Dark Protectors paranormal romance series focusing on the Prophets-vampire and Realm Rebel Caleb Donovan and Lily Sotheby. TAMED can be read as a stand alone without too much difficulty.
The vampires and their enemy the Kurjan are about to enter into peace negotiations but something or someone wants them to fail. Prophetic dreams and messages have been haunting Caleb and Lily, and with them will come a directive that one of their own must be terminated. With the vampire King's niece's life hanging in the balance, the Fates begin to push at the Prophets to ensure compliance is carried forth.
The relationship between Caleb and Lily is a second chance at love storyline. Three hundred years earlier Caleb had professed his love to Lily but Lily chose duty over love. Now that they have been given at second chance Caleb's need for Lily has grown that much more stronger. The sex is sensual, steamy and possessive. Caleb will not lose Lily to the prophecy or the Fates.
The secondary characters include the vampire king Dage and his niece Janie as well as several guardians, friends and bitter rivals. The world building continues with the inclusion of familiar names and scenarios and the potential for Janie's storyline to be told-next.
Rebecca Zanetti has written a wonderful series where the characters push the storyline forward. The Dark Protector series has a little bit of everything-romance, humor, love, sex and suspense as well as a bitter rival who is determined to destroy the vampire through virus and destruction.
Copy supplied by the publisher through Netgalley
Reviewed by Sandy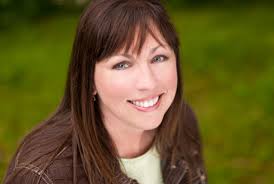 USA Today Bestselling Author Rebecca Zanetti has worked as an art curator, Senate aide, lawyer, college professor, and a hearing examiner – only to culminate it all in stories about Alpha males and the women who claim them. She writes dark paranormals, romantic suspense, and sexy contemporary romances.
Growing up amid the glorious backdrops and winter wonderlands of the Pacific Northwest has given Rebecca fantastic scenery and adventures to weave into her stories. She resides in the wild north with her husband, children, and extended family who inspire her every day–or at the very least give her plenty of characters to write about.
Website: http://rebeccazanetti.com
Facebook: https://www.facebook.com/RebeccaZanetti.Author.FanPage
Twitter: https://twitter.com/RebeccaZanetti
Goodreads: https://www.goodreads.com/author/show/4149342.Rebecca_Zanetti
NOTE: The Reading Cafe is NOT responsible for the rafflecopter giveaway. If you have any questions, please contact the tour promoter.