CARNAL RISK / Solstice Burn (Club Altura) by Kym Grosso-Review and Book Tour
Carnal Risk
Club Altura 1
by Kym Grosso
Genre: adult, contemporary, erotic, romantic suspense
Release Date: June 2, 2015
Amazon.com / Amazon.ca / B&N / KOBO /
ABOUT THE BOOK: Release Date June 2, 2015
Powerful CEO, Garrett Emerson's, life and corporation are built on a foundation of risk taking and top secret priorities. He works hard, but plays even harder. When tragedy strikes, the charismatic and sexy billionaire takes the gamble of his life by bringing a beautiful consultant into his inner sanctum, exposing her to his exclusive society of extreme athletes who are adventurous both in business and pleasure. Inexplicably drawn to the intriguing woman, Garrett teaches her to face her fears, bringing them both to new levels of ecstasy.
Selby Reynolds, a high profile technology specialist, reluctantly accepts an engagement at Emerson Industries. Discovering secrets and uncovering clues to a murder, she's swept into Garrett's dangerous but seductive life of luxury. Captivated by the world renowned capitalist and adventurer, she's convinced he could crush her heart. As he pushes her sexual limits and their erotic play intensifies, Selby finds it impossible to resist the one man who turns her darkest fantasies into a reality.
When Selby's life is threatened by a killer, carnal lessons of trust are put to the test, forcing them to choose who is friend and who is foe. Can Selby give her heart to a man who revels in the excitement of flirting with death? Will they prevail against an enemy who threatens to tear apart Garrett's world, including the fragile connection with the woman he seeks to claim as his own?
••••••••••••
REVIEW: CARNAL RISK is the first full –length installment in Kym Grosso's adult, contemporary Club Altura erotic, romantic suspense series focusing on the members of an exclusive association of extreme sports fanatics at Club Altura. This is CEO Garrett Emerson, and executive recruiter / information systems expert Selby Reynolds's storyline. Emerson Industries specializes in high finance and secret operations including contracts with government, military and the civilian sectors.
Told from dual third person perspectives CARNAL RISK follows the investigation into the death of Garrett Emerson's friend and business associate Evan-ex military and Emerson Industry CTO, and a man whose latest jump was his last. When Garrett's best friend Lars suggests a technology specialist to look into Evan's latest business ventures, Garrett is quick to find himself falling for the beautiful Selby Reynolds who holds secrets of her own. What ensues is Garrett's pursuit of Selby, and the prospect that the killer could be one of their own. As the storyline builds, lives will be threatened and destroyed all pointing to the missing information that resulted in Evan's gruesome death.
Selby has issues with anxiety; an horrific incident as a child has forced Selby to take stock of what it is she wants in life, and getting sexually involved with self-made billionaire CEO Garrett Emerson was never in the plans. Selby was hired to look for missing information but her attraction to Garrett finds our heroine falling for a man she knows nothing about. Their desire for one another is immediate; Garrett is quick to claim Selby as his own. The $ex scenes are intimate, erotic and exploratory; Garrett is a man who likes a little kink in the bedroom, hallway, balcony, outdoors………
The secondary and supporting characters include many of Garrett's business associates, friends and club members. Lars is Selby's best friend and a close associate of Garrett Emerson. It is Lars who will bring Selby into Garrett's life. We are introduced to extreme sport enthusiasts and Garrett's inner sanctum at Emerson Industries: VP of Aqua Operations and champion surfer Seth Harris, Head of Scientific Division Chase Abbott, CFO Nate Killian and Head Legal Counsel Ryder Tremblay: Club Altura members Beckett and Cormac- the twins- as well as the local DA who is helping with the investigation both in front and behind the scenes. Lars storyline will be released in 2016.
CARNAL RISK is an erotic tale of friendship, betrayal, money and greed. There are moments of action, suspense, mystery and intrigue shrouded in a secret world of extreme sports and pleasure seeking enthusiasts. Our introduction to Club Altura is exotic and alluring with an aura of power and sex; membership is exclusive; the thrill of the chase a must; a fear of flying is not an option. The storyline premise is exciting and inviting; the characters engaging, charismatic and compelling; the romance is sexual, seductive and intense. Stimulate your senses as you free fall into the world of billionaires and thrill seeking alpha males.
Copy supplied by the author.
Reviewed by Sandy
______________
SOLSTICE BURN
( Club Altura .5)
by Kym Grosso
Genre: adult, contemporary, romance
SOLSTICE BURN can be found in the SUMMER FIRE Anthology ONLY 99¢
Amazon.com / Amazon.ca / B&N / KOBO /
ABOUT THE BOOK: Release Date May 26, 2015
Temptations flare in the hedonistic tropics when wealthy philanthropist and professional deep sea diver, Chase Ellsworth, rescues a beautiful woman at sea.
Penny Travis, a big city lawyer, may have been looking for relaxation at the exclusive adults' resort, but she soon embraces adventure, submitting to secret fantasies within the arms of her charismatic hero.
•••••••••••••••••
REVIEW: SOLSTICE BURN is the prequel novella to Kym Grosso's adult, contemporary Club Altura erotic, romantic suspense series focusing on the members of Club Altura and Emerson Industries. This is researcher and extreme sports enthusiast Chase Ellsworth, and New York attorney Penny Travis's storyline. SOLSTICE BURN can be read as a stand alone without any difficulty.
NOTE: SOLSTICE BURN can be found in the anthology Summer Fire (May 26, 2015)
Told from dual third person perspectives SOLSTICE BURN follows the building relationship between Penny and Chase. On vacation in Precioso Beach, Penny catches the eye of Chase Ellsworth-a man who earlier rescued our heroine following a disastrous afternoon of snorkeling. What ensues is Chase's seduction of Penny with the knowledge that our couple only has four days before the real world comes to call.
SOLTICE BURN is a quick read; a story of insta-love between two people whose lives and businesses are on opposite sides of the country. When Penny perceives betrayal, our heroine returns home in the belief everything Chase said about his life was a lie.
The chemistry between Chase and Penny is explosive; their sexual attraction off the charts. The $ex scenes are provocative and erotic. Some information about Club Altura is revealed as it pertains to society's expectations and membership requirements but the storyline remains focused on our leading couple. We are introduced to Evan, whose actions will be the background to CARNAL RISK book 1 in the Club Altura series.
Copy supplied by the author.
Reviewed by Sandy

"Rule number one. I decide what access you have and when. Until we know what happened, you will most definitely not have physical access to Evan's office or any of his physical belongings, including his laptop." Garrett didn't miss a beat as he turned to her and continued, "I'm well aware of your, how should I say, ability to acquire his files by other means. So while I appreciate you attempting to get them in a legitimate way, you will not have access to all the files until I'm comfortable that you have a solid understanding of what we do here. Clearances only tell me that you can be trusted with information. They don't tell me that you grasp why we are doing the things we are doing here. So for now, I need you to focus on infrastructure. Convince the board that the outsourcing is mutually beneficial for both our companies."
"Outsourcing information systems at Emerson Industries to DLar-Tech? I can do that in my sleep. But in the files you gave me, they referenced something called a PFx Prototype. Now I don't know what that is, but if it's in his files, they may ask…""They won't ask you."
"But…"
"Rule number two. I make the rules. If it comes up, I'll stop the discussion. Tomorrow's about introducing you to the board, establishing credibility. Your résumé speaks for itself, but Lars is responsible for bringing you in.""So I'm interviewing?" She smiled.
"Something like that. Decision's already been made. I know it. They know it. But it's essential they feel comfortable with you."
"I'll do my best to sell them on the outsource plan. I can do this."
"Rule number three." As Garrett considered his next words, he lifted his eyes to hers, attempting not to stare as she toyed with the hem of her skirt. She shifted on the couch, and he swore he saw the faintest hint of a small tattoo on her inner thigh. Interesting. Miss Reynolds was a dichotomy of personalities. Her business woman persona was rigid in many ways, yet she bent rules when needed. Perhaps part of her yearned to rebel?
"Here's the thing, Selby. My company isn't just about technologies. I've built this by taking risks."
"Don't you mean danger?"
"To some but not us. Nor our customers either. We do this to experience life in a way that most people never see. The exhilaration of dropping from the sky."
"Exhilaration?"
"Yes. The kind that takes your breath away. Like the best fucking sex you've ever had in your life. Do you know what that feels like?" he asked, never moving to touch her. He watched as she struggled to keep an impassive expression.
"Um, I don't think that's something you really need to know."
"Oh but I do, Selby. And do you want to know why?"
She nodded, her fingers moving to her bloodstained blouse, where she fidgeted with a button.
"Because these are things that remind us we're alive. Sex. Fear. Anticipation." Garrett had had enough of pretending. Fuck it. I'll apologize to Lars later. He stood and walked behind the sofa. Placing his palms on her shoulders, he steadied her before she had a chance to move. He knelt, bringing his lips to her ear. "Here at Emerson Industries we strive to bring customers face-to-face with the mind-blowing rush they want. Sometimes it's a high-tech operation that requires calculated strategy. Sometimes it's as easy as ramping up technology in a way to let Mother Nature provide the high. Stratospheric skydiving suits and helmets, to experimental polymer surfboards. We understand needs, enabling that rush. We push boundaries."
"I've read about your company, how you built it," she challenged.
"But you haven't felt it, have you, Selby?" he pressed, his lips brushing against her ear. The subtle scent of her perfume teased his nostrils. Her fingers glided up over his and he knew he had her. He would make her understand, teach her. She'd breathe in the rush of the high, and never be the same.
"Mr. Emer…Garrett," she began. "I can't…I don't do the things you do. I just can't."
"But you want to feel it. That rush from base jumping or from riding a wave. We all have our own threshold of how much is enough, how far we'd go. Tell me, Miss Reynolds, do you really want to learn about our culture?"
"But of course I do," she quickly responded.
"What's enough for you? Where're your limits? How do you get your rush? Hacking into places you shouldn't be? No, no, no, that's much too easy," he breathed. "Singing in front of a live audience? Is that where you come alive? Grinding your ass into my cock the other night? Did that do it?"
"I didn't mean to…we need to talk about that."
"Yes, I think we do, because I know you're capable of pushing the envelope, too, sweetheart. I want to feel you tremble, Selby." Garrett placed his lips on her neck and heard her sigh. He dragged the tip of his tongue behind her ear, tasting her skin. His dick was hard as rock, but he'd take her only after she trusted him, after she learned why this company was so damn important to him. "That rush you feel right now. That's what I'm going to teach you. In the bedroom and out."
"Who said we're going to…?"
"Limits. Boundaries. They're all meant to be bent, sometimes even broken. And I suspect we're going to break a few together." Garrett slipped his fingers over her lapel, gliding his hands across her collarbone. Her head lolled back against him, her eyes closed. He smiled at her acquiescence. Jesus, it shouldn't matter what she did, but there was something about her. "Tomorrow, we're going to rock the shit out of this board meeting. You'll do this for me and then we're going on a personalized tour. Participation isn't optional."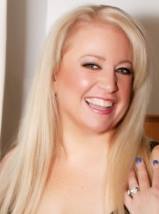 Kym Grosso is the USA Today bestselling and award-winning author of the erotic paranormal romance series, The Immortals of New Orleans. The series currently includes Kade's Dark Embrace (Immortals of New Orleans, Book 1), Luca's Magic Embrace (Immortals of New Orleans, Book 2), Tristan's Lyceum Wolves (Immortals of New Orleans, Book 3) , Logan's Acadian Wolves (Immortals of New Orleans, Book 4), Léopold's Wicked Embrace (Immortals of New Orleans, Book 5) and Dimitri (Immortals of New Orleans, Book 6).
In addition to romance, Kym has written and published several articles about autism, and is passionate about autism advocacy. She also is a contributing essay author in Chicken Soup for the Soul: Raising Kids on the Spectrum.
Kym lives with her husband, two children, dog and cat. Her hobbies include autism advocacy, reading, tennis, zumba, traveling and spending time with her husband and children. New Orleans, with its rich culture, history and unique cuisine, is one of her favorite places to visit. Also, she loves traveling just about anywhere that has a beach or snow-covered mountains. On any given night, when not writing her own books, Kym can be found reading her Kindle, which is filled with hundreds of romances.
Website • Blog • Twitter • Facebook • Goodreads

NOTE: The Reading Cafe is NOT responsible for the rafflecopter giveaway. If you have any questions, please contact the tour provider.