Cover to Covers by Alexandrea Weis-Review, Interview and Giveaway
Cover to Covers
by Alexandrea Weis
Genre: contemporary, adult, romance
Release Date: February 1, 2014
Amazon.com / Amazon.ca / Amazon.uk/ Barnes and Noble / / The Book Depository
A man driven by his desires.
Tyler Moore is considered cold, ruthless, and determined to get everything he wants. CEO of a flourishing oil company, he thrives on order and never gives up control to anyone.
The woman from his past.
Monique Delome has left her unhappy past behind to pursue her dream of becoming a writer. Love is something she believes is better suited to the pages of her novels and not meant for real life.
Whether in the boardroom or the bedroom, Tyler Moore is always in charge. But when Monique Delome walks back into his life, everything changes. A successful romance author, all the sexy leading men Monique writes about strangely remind everyone of Tyler. Intrigued, Tyler sets out to seduce the one woman he could never forget. Soon Tyler gets more than he bargained for, and his grip on his well-ordered life is turned upside down.
Tyler Moore is about to find out what happens when a romantic tale jumps from the pages and comes to life between the sheets.
••••••••••••••••••••
REVIEW: COVER TO COVERS is an adult, romantic, contemporary, erotic storyline that focuses on Propel Oil CEO Tyler Moore and romance author Monique Delome. With a prior history twenty years earlier, Cover to Covers is a second chance storyline that requires a third shot at love. An accidental meeting in Dallas will find the former college sweethearts face to face for the first time in two decades and the attraction is just as powerful as before.
The storyline follows Tyler as he endeavors to rekindle the romance that he once had with the one that got away. Twice divorced, Tyler's history as a womanizer has left a bad impression on Monique but Monique has put her knowledge of Tyler to good use and Tyler is about to find out just what type of leading man he can truly be.
The relationship between our leading couple is erotic and sensual. Tyler's reputation with the ladies precedes his appearance and Monique is willing to put the past aside for a second chance at love. But Tyler ran before and when things get tough, Tyler will run again.
The world building pulls the reader into the sights and sounds of New Orleans and, everything it has to offer. The characters are diverse; their backgrounds are the building blocks of the story whereupon Weis establishes her introductory premise.
There is one particular aspect of the storyline that did bother me, especially in this age of STDs and AIDs. The amount of unprotected sex by our hero never called into question the use of condoms or contraceptives. This, to me, is questionable in a storyline, regardless of the age of the characters. Both in their forties, with Tyler's very active and current sex life, I would have thought Monique would have demanded condoms but it was only ever mentioned once in passing-after- several orgasms and nights together.
COVER TO COVERS is a story of heartbreak and betrayal; forgiveness and letting go; and two people who have loved one another for over twenty years. Alexandrea Weis writes a romantic storyline about the people and places she knows in New Orleans with a dash of smexy on the side.
Copy supplied by the author.
Reviewed by Sandy
TRC: Hi Alexandrea and welcome to The Reading Café.
We would like to start with some background information. Would you please tell us something about yourself?
FOLLOW: Goodreads / Website/ Facebook/ Twitter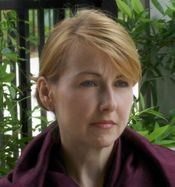 Alexandrea: I am a nurse by training, but have been writing since the age of eight. I published my first novel several years ago and have been writing steadily since. Cover to Covers is my tenth published novel. I am also a permitted/certified Wildlife Rehabber with the La. Wildlife and Fisheries. So my other passion is animals.
TRC: What or who influenced your foray into writing?
Alexandrea: I am not sure what influenced me. I just always felt connected to words ever since I can remember. It was always easier for me to put on to paper what I was feeling and thinking. It has always been something I needed to do, not necessarily wanted to do.
TRC: Your home is New Orleans and plays a prominent role in many of your story lines and series. How much influence does the people and places have on your storyline premises and plot twists?
Alexandrea: A great deal. New Orleans is an eclectic city and I don't think you can help being some sort of creative soul coming from here. People are just as influential to me since characters are so important to my writing. I prefer to be called a character writer, because to me characters make the story; without them feeling real, the story is not believable.
TRC: Are any of the characters in your storylines based in reality or a compilation of people and your imagination?
Alexandrea: Probably a bit of both. Traits and tendencies I borrow from people I know, and then sprinkle in other nuances I feel they need to add to the story.
TRC: COVER TO COVERS is your February 2014 contemporary, adult release. Would you please tell us something about the premise?
Amazon.com / Amazon.ca / Amazon.uk/ Barnes and Noble / / The Book Depository
Alexandrea: The book came from the idea of second chances. What would happen if two people who once had cared deeply for each other, got the opportunity to try again. Despite how they may have changed over the years, could that love be rekindled and survive. It is also written from the male lead's point of view. Tyler Moore is a man who has lived a successful but empty life, and reuniting with the one woman he really cared about causes him to re-evaluate his life. After all, falling in love is a blending of who we are, who we have been, and the person we find to open our heart.
TRC: How many books do you have planned for the series or is this a stand alone storyline?
Alexandrea: There will be a few spin off books in this series. Each containing characters from this novel. The next book, The Riding Master will bring Tyler Moore and Monique Delome back, and other books down the road will bring back other characters as well.
TRC: If you could virtually cast the leading characters in this storyline, which models or actors best represents your ideal image?
Alexandrea: I have no idea! I can never really picture actors or actresses for my characters, because they are so real and different to me. They are their own selves, and not so easily molded into another person.
TRC: How do you keep the plot unpredictable without sacrificing content and believability?
Alexandrea: I never plan out a book completely. I have an idea where I am going and then I just write. Often, I surprise myself when I am writing and where the book goes. That is what keeps it fun.
TRC: SINS OF A SHADOW MAN is the second instalment and June 2014 release in the Secret Brokers series – a spin off from your Nicci Beauvoir series-focusing on former FBI agent Dallas August. Would you please tell us something about the premise?
Alexandrea: Sins is another glimpse into the world of my favorite character, Dallas August. He is a complicated man, getting over heartbreak, but living in a dangerous world of selling secrets. In the next book in the series, he is trying to keep his friends in New Orleans safe, while keeping his business of buying and selling secrets functioning. He walks a thin line between what is legal and moral to that gray world where everything is unethical and very illegal. In this next book, he also finds a love interest, but is torn between having a normal life, and giving up the thrill of what he does.
TRC: Will the characters from the Nicci Beauvoir series continue to overlap with The Secret Brokers?
Alexandrea: Yes. The third book in The Secret Brokers Series will bring back Nicci, David and the whole crew for another adventure. Called Good Man Gone, it will be out in 2016.
TRC: When writing a storyline, do the characters direct the writing or do you direct the characters?
Alexandrea: Characters always come first. It has to make sense from their point of view. As their personalities emerge, ti enhances the plot of the story; because why they do something can change the direction of the tale.
TRC: The mark of a good writer is to pull the reader into the storyline so that they experience the emotions along with the characters. What do you believe a writer must do to make this happen? Where do you believe writer's fail in this endeavor?
Alexandrea: Make it tight, make it believable, and you have to make characters the reader believes in. If the reader does not care about the characters, they will not care about the story.
TRC: Writer's Block is a very real phenomenon. How do you handle the pressures and anxiety of writer's block?
Alexandrea: If I can't think. I go for a drive. Do not ask me why, but driving helps me think. After I drive around for an hour, I usually have figured out a problem in the story.
TRC: What challenges or difficulties (research, logistics, background) did you encounter writing this particular story and series?
Alexandrea: Sex! I know it seems unbelievable, but writing sex scenes, keeping them interesting, and making them fun, is a real challenge. I guess that is as true in relationships as it is in books. You have to always find something new.
TRC: Many authors bounce ideas and information with other authors or friends and family. With whom do you bounce ideas?
Alexandrea: Actually, I have other authors that bounce ideas off me, all the time. In helping them, it helps me think of new situations or storylines. I actually have no problem with finding ideas. I am usually writing the next book in my head while still in the middle of working on one, and thinking of another storyline on top of that. It's a disease.
TRC: On what are you currently working?
Alexandrea: I am finishing up another book in this spin off series of Cover to Covers called The Bondage Club. It is the story of Hunter Donovan, a floundering publisher, who decides to venture into erotica, and hires Carey Anderson to be his editor. Cary introduces Hunter to the world of bondage clubs, and soon their professional relationship becomes very personal, causing a lot of mishaps and funny adventures for Hunter as he tries to survive Carey's diverse interests. It will be released in 2015.
TRC: Would you like to add anything else?
Alexandrea: Just thank you for the opportunity to have this time to get to know your readers. And as always, thank you Sandy, for all that you do.
LIGHTNING ROUND
Favorite Food- French Fries.
Favorite Dessert-not a real dessert person
Favorite TV Show-Game of Thrones
Last Movie You Saw-I don't go to the movie theater. I wait until they come out on cable.
Dark or Milk Chocolate-Milk Chocolate
Secret Celebrity Crush-Henry Cavill. For his personality and not his looks. He is a really great guy.
Last Vacation Destination–Los Angeles-working vacation. The only kind I ever take.
Pet Peeve-Waste. Wasting time, money, life. I hate waste. There are too many other things to do.
TRC: Thank you Alexandrea for taking the time to answer our questions. Congratulations on the release of Cover to Covers and the upcoming release of Sins of a Shadow Man.
Alexandrea is offering a ebook copy of COVER TO COVERS to two (2) lucky commenters.
1. Please register using the log-in at the top of the page (side bar) or by using one of the social log-ins.
2. If you are using a social log-in, please post your email address with your comment.
3. LIKE us on FACEBOOK and then click GET NOTIFICATION under 'liked' for an additional entry.
4. LIKE us on Twitter for an additional entry.
5. Giveaway is open INTERNATIONALLY.
6. Giveaway runs from March 8 to March 12, 2014