DIMITRI (Immortals of New Orleans #6) by Kym Grosso-review and blog tour
Dimitri
Immortals of New Orleans #6
by Kym Grosso
Genre: adult, contemporary, paranormal, vampires, werewolves
Release Date: September 30, 2014
Amazon.com / Amazon.ca / Amazon.uk/ Barnes and Noble / KOBO /
About the book: Release Date September 30, 2014
An erotic paranormal romance…
Dimitri LeBlanc, sexy and charismatic beta of Acadian Wolves, survives a brutal attack after his wolf succumbs to a dark force, threatening his very existence. Waking up, tied to a bed, his amusement transforms into lust as a beautiful stranger heals his beast. Intrigued by his mysterious savior, the tables quickly turn, when in the heat of a dark desert night, he rescues her from a barbaric Alpha. Dimitri is inexplicably drawn to the alluring woman, and the discovery that she's his mate rouses his hunger to claim her as his own.
Gillian Michel, a New York City photographer, conceals a secret hybrid past and mystical abilities. An entire lifetime, she's deliberately avoided wolves, but a seductive encounter with an irresistible beta leaves her craving his touch, his lips on hers. Passion ignites her desire, leaving her yearning to submit to the powerful wolf who tests her sexual limits.
Deep in the heart of New Orleans, Dimitri and Gillian seek a cure to the parasite maligning his mighty beast. Still on the run from a malevolent force, they lure their enemy into the bayou. Will Gillian sacrifice her gifts to save the man she loves, destroying her own immortality? And will Dimitri eradicate the evil that has invaded his soul while protecting his mate from an adversary who threatens to kill them both?
Warning: This book contains several erotic love scenes, including m/f/m menage, and is intended for adult readers only.
•••••••••••••••••••
REVIEW: DIMITRI is the sixth instalment in Kym Grosso's adult, contemporary Immortals of New Orleans paranormal, romance series. This is the Acadian Wolves beta Dimitri LeBlanc and hybrid shifter/photographer Gillian Michel's storyline. Although Dimitri is the sixth in the series it can be read as a stand alone without too much difficulty. Any pertinent information from previous storylines is revealed when necessary to the premise. Please note: there are some graphic sexual M/F/M scenes-all consensual and erotic.
At the end of Leopold's Wicked Embrace Dimitri is attacked by a rival wolf pack as he endeavors to protect a female shifter from assault. Without the ability to shift, Dimitri is left unprotected and the resulting attack has left him mortally wounded. Enter Gillian Michel-a woman with a special ability to heal-and a woman who calls to Dimitri's immortal soul. Knowing the attacks will continue until she is caught, Gillian runs only to find herself on the receiving end of another assault time and again.
The relationship between Dimitri and Gillian is one of immediate attraction but Gil wants nothing to do with the shifter wolves. She is drawn to Dimitri but her family history prevents her from getting too close to any wolf. She is a hunted woman, wanted for the power she secretly hides from the world, but a woman who wants to be loved for herself and not what her powers will do. The sex scenes are provocative, emotional and intense. Gillian is Dimitri's reluctant mate and Dimitri's wolf needs to claim the woman for his very own.
The world building continues with the inclusion of many of the previous storyline characters as well as the sights and sounds of the New Orleans nightlife and the Las Vegas desert strip. The secondary characters include Jac and Nick from the New York Pack as well as Logan and several of the members from Dimitri's Acadian Pack. Leopold and several of his Nightkind vampires play a significant role in Dimitri and Gillian's story but it is one of Dimitri's ex-lovers, a conniving witch named Ilsbeth whose jealousy and desire for Dimitri will put everyone at risk.
Kym Grosso's IMMORTALS OF NEW ORLEANS series is a fantasy of the mind; an imaginative series about the darker side of the supernatural race; and a romantic tale of soul mates destined for one another.  
Copy supplied by the author.
Reviewed by Sandy
Reading Order
1. Kade's Dark Embrace
2. Luca's Magic Embrace
3. Tristan's Lyceum Wolves
4. Logan's Acadian Wolves
5. Leopold's Wicked Embrace
6. Dimitri
KADE'S DARK EMBRACE: FREE ebook Amazon.com / Amazon.ca / Amazon.uk/ Barnes and Noble / KOBO / Smashwords
LUCA'S MAGIC EMBRACE:  Amazon.com / Amazon.ca / Amazon.uk/ Barnes and Noble / KOBO / Smashwords
TRISTAN'S LYCEUM WOLVES: Amazon.com / Amazon.ca / Amazon.uk Barnes and Noble/ KOBO / Smashwords
LOGAN'S ACADIAN WOLVES: Amazon.com / Amazon.ca / Amazon.uk/ Barnes and Noble / KOBO / Smashwords
LEOPOLD'S WICKED EMBRACE: Amazon.com / Amazon.ca / Amazon.uk/ Barnes and Noble /
DIMITRI: Amazon.com / Amazon.ca / Amazon.uk/ Barnes and Noble / KOBO /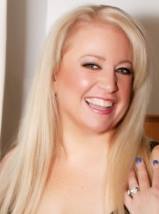 Kym Grosso is the award-winning author of the bestselling erotic paranormal romance series, The Immortals of New Orleans. The series currently includes Kade's Dark Embrace (Immortals of New Orleans, Book 1), Luca's Magic Embrace (Immortals of New Orleans, Book 2), Tristan's Lyceum Wolves (Immortals of New Orleans, Book 3) , Logan's Acadian Wolves (Immortals of New Orleans, Book 4), Léopold's Wicked Embrace (Immortals of New Orleans, Book 5) and Dimitri (Immortals of New Orleans, Book 6).
In addition to romance, Kym has written and published several articles about autism, and is passionate about autism advocacy. She writes autism articles on PsychologyToday.com and AutismInRealLife.com. She also is a contributing essay author in Chicken Soup for the Soul: Raising Kids on the Spectrum.
Kym lives with her husband, two children, dog and cat. Her hobbies include autism advocacy, reading, tennis, zumba, traveling and spending time with her husband and children. New Orleans, with its rich culture, history and unique cuisine, is one of her favorite places to visit. Also, she loves traveling just about anywhere that has a beach or snow-covered mountains. On any given night, when not writing her own books, Kym can be found reading her Kindle, which is filled with hundreds of romances.
Website • Blog • Twitter • Facebook • Goodreads
NOTE: The Reading Cafe is NOT responsible for the rafflecopter giveaway. If you have any questions, please contact the tour promoter.