EXPOSED (Ethan Frost #3) by Tracy Wolff-Review and Book Tour
EXPOSED
Ethan Frost #3
by Tracy Wolff
Release Date: May 5, 2015
Genre: adult, contemporary, erotic romance
Amazon.com / Amazon.ca / B&N / KOBO /
ABOUT THE BOOK: Release Date May 5, 2015
Will Ethan Frost go too far for the woman he loves?
The moment Chloe Girard walked into my life, she exposed secrets and emotions I always thought were best kept buried.
She wants to move on, to ignore the past. But I can't do that. Not when she still suffers. And not when the man who hurt her remains unscathed. So when I discover the perfect opportunity to make him pay for what he did to Chloe, I can't walk away, no matter the consequences.
But there's a fine line between justice and obsession. As I turn up old crimes and new lies, I know that I'm playing with fire—and risking the very foundations of our relationship.
My love for Chloe is absolute. I just hope it's enough to save us both.
•••••••••••
REVIEW: EXPOSED is the third installment in Tracy Wolff's adult, contemporary Ethan Frost erotic romance series focusing on billionaire CEO Ethan Frost and legal intern Chloe Girard. EXPOSED should not be read as a stand alone as each of the previous books is interconnected and tells the continuing story of our leading couple.
Told from two first person points of view (Ethan and Chloe) EXPOSED begins immediately after the events of book two -ADDICTED -wherein our couple is trying to rebuild their relationship in the face of misunderstanding and lies. In the previous book Chloe came face to face with her past-a past that is directly connected to the man that she loves-and in this our couple struggled to keep their relationship from imploding. EXPOSED focuses on Ethan's need for revenge and the ensuing fall out of the plans he put into motion. Millions of dollars, the Vegas mob, and the revelation of several more victims finds Ethan and Chloe facing a chasm of betrayal, retribution and the ultimate revenge against a family member with political aspirations and a psychopathic personality.
There are still some issues of insecurity and trust between Chloe and Ethan-Chloe wants to move forward while Ethan is determined to mete out revenge. The relationship between Chloe and Ethan, and thusly the storyline, is sexually graphic with a good portion of the story focusing on their love, lust and need for one another. The $ex scenes are numerous, emotional, erotic and intense but the sex talk becomes repetitive and redundant-there are only so many times the use of the word 'baby' should come into play-if at all- during $ex.
The secondary and supporting characters include Chloe's amazing best friend Tori as well as Ethan's best friend Sebastian Caine whom we met in the spin off series PLAY ME. Some of the timeline overlaps between EXPOSED and PLAY ME. Ethan's mother and his half brother Brandon play an integral role in the final outcome of the story.
The world building continues to follow the building relationship of Chloe and Ethan, but no longer focuses on the professional side of the relationship wherein Ethan is Chloe's boss and therefore their love is taboo. The focus now centers on Ethan's promise to protect Chloe at all costs, even if it means placing himself in danger and in a position to lose everything that he owns. There is also the aspect of a permanent future between our leading couple.
EXPOSED is a fast paced and revealing storyline about two people facing improbable odds and an all consuming love for one another. There are moments of betrayal and revenge; romance and love; moving forward and letting go. EXPOSED is an intoxicating read with tragic scenarios, dysfunctional family values, and an encouraging look to the future. Tracy Wolff writes a passionate storyline that will captivate your imagination.
Copy supplied by the publisher through Netgalley.
Reviewed by Sandy

"Is it safe?" Tori asks an hour later, stumbling into the kitchen where I'm sitting at the table, sipping coffee and daydreaming of Ethan. "Does everybody have clothes on?"
"I'm the only one here," I tell her. "And yes, I am wearing pajama pants and a sweatshirt."
"Thank Christ." She makes a beeline for the coffeepot and pours herself a large mug. I watch in amusement as she adds enough sugar to bankrupt a candy factory, then follows it with a quarter cup of cream before lifting the mug to her lips and downing half its contents in one gulp.
"How are you not three hundred pounds?" I ask in disbelief.
"Good genes and clean living."
"Well, I won't argue the good genes part, anyway." The wineglass on the counter still holds the dregs of the two bottles of wine she drank last night.
"You should," she replies with a snort.
I want to ask her what she means—it's not the first time she's made a derogatory comment about her family—but she's got off-limits signs posted all over her when it comes to them. So I settle for bumping shoulders with her as I refill my own coffee cup.
She returns the bump, then smiles sweetly at me. With that smile, her short green hair sticking up in every direction and the remnants of last night's mascara pooled under her eyes, she looks like a little kid playing dress-up. Dress-up in a punk rocker's closet, mind you, but still dress up.
At least until the smile fades and she pins me with a look meant to bring better women than me to their knees. "Details. Now."
"Ethan and I made up."
"Believe me, I know. My room's next to yours and the walls aren't nearly as thick as you think they are."
"Oh, God." Embarrassed heat rushes to my cheeks. "I'm sorry."
"Don't be." She waves airily. "Since I wasn't getting any action last night, it's good that someone was."
I laugh despite myself. "Nice, Tori."
"Hey, if you wanted nice, you probably should have picked someone else as your best friend." She grabs a box of donuts off the counter and plops them in the middle of the kitchen table before settling into the chair opposite mine. "Just saying."
"Yeah, well, it's too late to worry about that now."
"Damn straight." She grabs a donut, then shoves the box toward me. "So what happened after I left yesterday? You need to give me the scoop before loverboy gets back."
"We made up."
"Obviously, you made up. Didn't we just talk about all the reasons I couldn't sleep last night?"
"Well then, what do you want me to say?"
"I want details. Did he grovel—I mean, with something besides that bracelet you're wearing. Because even I have to admit that is some serious groveling in and of itself."
I glance down at the heavy bracelet Ethan had delivered to me yesterday. The one he fastened around my wrist when I told him that I loved him. That I'd marry him. It's as much a sign of his possession as the belly chain I wear around my waist—another gift from him.
"Don't tell me how much it costs. I don't want to know."
"I wouldn't dream of it, darling," she drawls in her best Sophia Loren voice. "I still remember your freak-out over the belly chain."
When I don't say anything else, she finishes off her donut in silence, all the while watching me with dark eyes.
"You look happy," she finally says.
"I am happy."
"That's all that matters, then." She drains her coffee, then pushes back from the table. "I'm going to take a shower, then head to the beach. Want to join me?"
"I can't."
She rolls her eyes. "Let me guess. Loverboy talked you into going back to work at Frost Industries?"
"I haven't decided on that yet."
"Then what's going on? Is he coming back to sweep you off to some romantic getaway?"
"We're going to Vegas."
"Vegas? Really? I had him pegged for a private-island-off-the-coast-of-Greece kind of guy. I have to admit, I'm a little—"
"We're getting married." I say it fast, hoping it will have less of an impact that way.
No such luck. Tori stops in her tracks, eyes wide and mouth gaping like a fish as she tries to wrap her brain around what I just said.
"What?" she finally squeals before launching herself at me. "He asked you to marry him? When? Where?"
"Today. And I already told you. Las Vegas."
She's back to staring at me like I have three heads. "I meant when did he ask you. But what you're telling me is that you're flying to Las Vegas today? To get married today?"
"That is what I'm telling you." I start gingerly trying to untangle myself from her embrace. It isn't as easy as it sounds, especially when she's hanging on for dear life and doing her best impression of an octopus with its prey.
"Oh my God. Oh. My. God. Ohmygod! You're getting married. Today! To Ethan fucking Frost!"

Ruined
Ethan Frost #1
by Tracy Wolff
Genre: adult, contemporary, erotic, romance
Release Date: January 2014
Order Links: Amazon.com / Amazon.ca / Amazon.uk/ Barnes and Noble / KOBO /
Click HERE for Sandy's review of RUINED
He's the last man Chloe Girard should love . . . but the first she ever could.
Ethan Frost is a visionary, a genius, every woman's deepest, darkest fantasy—even mine. And, somehow, I am his.
He stole into my life like a dream. Turned my reality upside down and made my every desire come true—especially those I never knew I had. He demanded everything I had to give and gave me everything of himself in return.
But dreams don't last forever, and ours is no exception. Because my nightmares are darker, and my wounds deeper, than I could ever reveal. And as much as Ethan wants to protect me, the secrets we share will only tear us apart.
__________________
Addicted
Ethan Frost #2
by Tracy Wolff
Genre: adult, contemporary,erotic, romance
Release Date: July 15, 2014
Amazon.com / Amazon.ca / Amazon.uk/ Barnes and Noble / KOBO
About the book: Release Date July 15, 2014
Click HERE for Sandy's review of ADDICTED
As Chloe Girard discovers, there's love . . . and then there's addiction.
Ethan Frost is everything a woman could want in a man. He's rich, gorgeous, powerful, one of the most eligible bachelors in the world.
But that's not why I'm with him.
I love Ethan for all the things no one else gets to see: his innate kindness, his reckless spontaneity, his unwavering determination to use his brilliance for good. I love the way he looks at me, the way he touches me. The way he makes me forget the wreckage of my past and the twisted fear that still lives inside me.
But sometimes it terrifies me how much I crave him, how much I need him just to breathe. I always thought it would be my past that ruined us, but there's a darkness in Ethan I never dreamed existed. Can we survive as his secrets surface—threatening to unravel us both?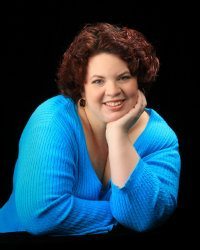 Tracy Wolff collects books, English degrees and lipsticks and has been known to forget where—and sometimes who—she is when immersed in a great novel. At six she wrote her first short story—something with a rainbow and a prince—and at seven she forayed into the wonderful world of girls lit with her first Judy Blume novel. By ten she'd read everything in the young adult and classics sections of her local bookstore, so in desperation her mom started her on romance novels. And from the first page of the first book, Tracy knew she'd found her life-long love. Now an English professor at her local community college, she writes romances that run the gamut from contemporary to paranormal to erotic suspense.
Website |Facebook |Twitter |Goodreads |Blog

NOTE: The Reading Cafe is NOT responsible for the rafflecopter giveaway. If you have any questions, please contact the tour promoter.
Loveswept will be hosting a Month Long Giveaway Including:
(1) Loveswept Mug
(1) Flirt Mug
Ebook of RUINED by Tracy Wolff
Ebook of CLAIMED by Stacey Kennedy
Ebook of ONCE PERFECT by Cecy Robson
Ebook of SURRENDER by Violetta Rand
Ebook of LAST OF THE RED-HOT COWBOYS by Tina Leonard
Ebook of RAVEN by Ashley Suzanne
Ebook of UNTIL YOU FIND ME by Amber Hart
Ebook of RUSH by Gina Gordon