HARD TO COME BY (Hard Ink #3 ) by Laura Kaye-Review and Release Week Launch
Hard to Come By
Hard Ink 3
by Laura Kaye
Genre: adult, contemporary, romantic suspense
Release Date: November 25, 2014
Amazon.com / Amazon.ca / Amazon.uk/ Barnes and Noble / KOBO / The Book Depository
ABOUT THE BOOK: Release Date November 25, 2014
Caught between desire and loyalty…
Derek DiMarzio would do anything for the members of his disgraced Special Forces team—sacrifice his body, help a former teammate with a covert operation to restore their honor, and even go behind enemy lines. He just never expected to want the beautiful woman he found there.
When a sexy stranger asks questions about her brother, Emilie Garza is torn between loyalty to the brother she once idolized and fear of the war-changed man he's become. Derek's easy smile and quiet strength tempt Emilie to open up, igniting the desire between them and leading Derek to crave a woman he shouldn't trust.
As the team's investigation reveals how powerful their enemies are, Derek and Emilie must prove where their loyalties lie before hearts are broken and lives are lost. Because love is too hard to come by to let slip away.
••••••••••••••
REVIEW: HARD TO COME BY is the third full length storyline in Laura Kaye's adult, contemporary Hard Ink romantic suspense series focusing on a group of ex-special forces soldiers trying to prove their innocence in an Afghanistan mission that went horribly wrong. One year earlier, the five surviving members of the twelve man team returned home to discover they had been dishonorably discharged and their records falsified. This is Special Forces team member, IT specialist and amputee Derek (Marz) DiMarzio and psychologist Emilie Garza's storyline -one that pits Emilie's brother against the Hard Ink team.
Told from third person point of view, the storyline follows Derek as he is tasked with 'getting to know' Emilie better. Emilie's brother Manny, an ex-Special Forces soldier, is a suspect in a number of suspicious murders and the soldiers of Hard Ink begin tracking his connections to their former commander-the commander who is believed to have turned on his men and left them to die.
The relationship between Derek and Emilie begins as a lie but soon develops into something more. Derek and Emilie are immediately attracted to one another but Derek knows the risk of destroying Emilie when the truth about their relationship is revealed.
The colorful secondary characters include all of the previous storyline couples as well as the remaining Special Forces soldiers and the local bike gang whose new mission is to help track the people responsible for the devastation that awaits the Team. The men of Hard Ink will acquire two new allies in their war at home but will lose someone close at the end of the day. Two more potential relationships have started to bloom.
The timeline from book one to book four is approximately two weeks to date. The mystery and investigation surrounding the Team's set up and resulting fall out is slowly building as the team members begin to gather information and clues about the people and places involved. It is not an easy mission for the Special Forces Team-the war at home is as dangerous as the war in the Middle East.
Laura Kaye's HARD INK family consists of passionate men and women whose love for one another is protective and profound. Their stories of loss, sacrifice and survival are emotional, intense and startlingly real.
A great series. A wonderful storyline. An amazing author.
Copy supplied by the publisher through Edelweiss.
Reviewed by Sandy
Marz was playing with fire. He damn well knew
he was. But that didn't make him want to pull away.He just wanted more of the heat.Marz nuzzled the side of Emilie's face with
his nose, his lips. She turned her face toward him and offered her lips. He
couldn't refuse.
Capturing her mouth on a tortured groan, Marz
poured every ounce of his longing and confusion and desire into the kiss. They
grasped at each other and Emilie turned in his arms. He pinned her against the
railing and planted his hands in her hair. She opened to him and accepted his
tongue, sucking him in until Marz's blood ran hot and his hard-on ached. He
ground himself against her and devoured every little moan and whimper and gasp
she spilled.Trailing kisses from her mouth to her jaw to
her ear, Marz dragged a hand down her body and grasped her breast in his palm.
She cried out and her head dropped back, drawing his mouth to her neck, where
he licked and sucked and nipped as he kneaded her soft flesh. "You are so damn
sexy."
Her hand flew to his hair and grasped the back
of his head. "Touch me," she said. "Don't stop touching me."
Marz pulled away long enough to do a three-sixty
scan. The lighthouse cast a dark shadow over them, and the pier was otherwise
empty. His heart raced and his pulse hammered. He dove back in, trailing kisses
down her neck to her collarbone, which he traced with his tongue. Her nails
scratched deliciously at his scalp and her grip urged him down.Through the thin material of her blouse and
bra, he mouthed and flicked at her nipple. He shifted the deep vee of the
neckline to reveal a lacy royal blue bra. He tongued her through the lace until
she was panting and moaning and writhing against the railing.
"Oh, my God," she rasped as he shifted her
shirt and moved to her other breast. This time, he tugged the lace down to bare
the deep pink of her nipple. She tasted and smelled like something fruity and
sweet, and it made Marz hunger for more. "Derek," she gasped. "Yes, yes, yes."
Her palm cupped and squeezed the bulge of his
erection through his jeans. His hips jerked into the touch, craving more of
her, all of her. He groaned and it seemed to egg her on, because she pressed
and rubbed her hand against his trapped cock until he was panting and imagining
taking her down to the ground.
"Jesus, Emilie, you're driving me fucking
crazy," he said as he worked kisses back up her body to her mouth.
"I know just what you mean," she said. Her
molten hot gaze met his. Eyes hooded, lips shiny and swollen, cheeks flushed,
she was a freaking goddess standing under the moonlit sky. He felt the force of
her beauty every bit as much in his chest as in his cock.
"You sure about that, babe?" he asked as he
took her mouth in a deep, wet kiss. "Because my imagination has me stripping
you of those fuck-hot jeans."
"Yeah?" She rubbed his cock in a long stroke
with the heel of her hand. "Mine has us getting a room at the hotel back there.
So I'm sure," she said with a smile.
Marz's heart hammered against his breastbone
and his cock jerked, clearly liking her idea, too. Except, if he took her up on
it, he was going to end up buried inside her for as long as she'd have him. And
so long as this clusterfuck of a situation defined their relationship, he
couldn't take things that far. Could he?
Hard As It Gets
Hard Ink #1
by Laura Kaye
Genre: contemporary, suspense, action, romance, adult
Release Date: November 2013
Click HERE for our review of HARD AS IT GETS
Amazon.com / Amazon.ca / Amazon.uk/ Barnes and Noble / KOBO / The Book Depository
Tall, dark, and lethal…
Trouble just walked into Nicholas Rixey's tattoo parlor. Becca Merritt is warm, sexy, wholesome–pure temptation to a very jaded Nick. He's left his military life behind to become co-owner of Hard Ink Tattoo, but Becca is his ex-commander's daughter. Loyalty won't let him turn her away. Lust has plenty to do with it too.
With her brother presumed kidnapped, Becca needs Nick. She just wasn't expecting to want him so much. As their investigation turns into all-out war with an organized crime ring, only Nick can protect her. And only Becca can heal the scars no one else sees.
Desire is the easy part. Love is as hard as it gets. Good thing Nick is always up for a challenge..
___________________
Hard As You Can
Hard Ink #2
by Laura Kaye
Genre: contemporary, suspense, action, romance, adult
Release Date: February 25, 2014
Click HERE to read our review of HARD AS YOU CAN
Amazon.com / Amazon.ca / Amazon.uk/ Barnes and Noble / KOBO / The Book Depository
About the book: Release Date February 25, 2014
Five dishonored soldiers.
Former Special Forces.
One last mission.
These are the men of Hard Ink.
Ever since hard-bodied, drop-dead-charming Shane McCallan strolled into the dance club where Crystal Dean works, he's shown a knack for getting beneath her defenses. For her little sister's sake, Crystal can't get too close. Until her job and Shane's mission intersect, and he reveals talents that go deeper than she could have guessed.
Shane would never turn his back on a friend in need, especially a former Special Forces teammate running a dangerous, off-the-books operation. Nor can he walk away from Crystal. The gorgeous waitress is hiding secrets she doesn't want him to uncover. Too bad. He's exactly the man she needs to protect her sister, her life, and her heart. All he has to do is convince her that when something feels this good, you hold on as hard as you can—and never let go.
________________________
Hard to Hold On To
Hard Ink 2.5
by Laura Kaye
Genre: adult, contemporary, erotic, romance, suspense
Release Date: August 19, 2014
Click HERE to read our review of HARD TO HOLD ON TO
Amazon.com / Amazon.ca / Amazon.uk/ Barnes and Noble / KOBO /
ABOUT THE BOOK: Release Date August 19, 2014
Edward "Easy" Cantrell knows better than most the pain of not being able to save those he loves–which is why he is not going to let Jenna Dean out of his sight. He may have just met her, but Jenna's the first person to make him feel alive since that devastating day in the desert more than a year ago.
Jenna has never met anyone like Easy. She can't describe how he makes her feel–and not just because he saved her life. No, the stirrings inside her reach far beyond gratitude.
As the pair are thrust together while chaos reigns around them, they both know one thing: the things in life most worth having are the hardest to hold on to.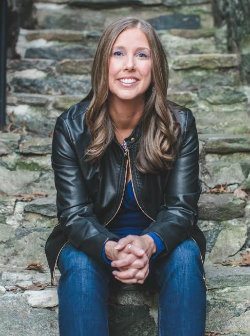 Laura is the New York Times and USA Today bestselling author of nearly twenty books in contemporary and paranormal romance. Growing up, Laura's large extended family believed in the supernatural, and family lore involving angels, ghosts, and evil-eye curses cemented in Laura a life-long fascination with storytelling and all things paranormal. She lives in Maryland with her husband, two daughters, and cute-but-bad dog, and appreciates her view of the Chesapeake Bay every day.
Website | Blog | Facebook | Hard Ink Puppy FB | Twitter | Newsletter SignUp

NOTE: The Reading Cafe is NOT responsible for the rafflecopter giveaway. If you have any questions,please contact the tour provider.