Her Lone Wolf by Paige Tyler – Interview,  Review & Giveaway
Amazon / Barnes & Noble / Kobo / The Book Depository / BAM
Description:
It took everything she had for FBI Special Agent Danica Beckett to walk away from the man she loved. But if she wants to save his life, she has to keep her distance. Now, with a killer on the loose and the stakes higher than ever before, the Department of Covert Ops is forcing these former lovers into an uneasy alliance…whether they like it or not.
Seeing her again is even worse
The last thing Clayne Buchanan wants is to be shackled to the woman who broke his heart. She gets under his skin in a way no one ever has and makes him want things he has no right to anymore. All he has to do is suffer through this case and he can be free of her for good. But when Clayne finds out why Danica left in the first place, everything he's tried to bury comes roaring back—and there's no way this wolf shifter is going to take no for an answer this time
Review:
Her Lone Wolf by Paige Tyler is the 2nd book in her X-Ops series, which is romance suspense at its best. Paige Tyler writes an exciting suspense filled story, with a wonderful romance between a fabulous couple. Danica Beckett works for the FBI, and is one of their best agents. Two years before she had worked for DCO (Department of Covert Ops), but was blackmailed to leave.
Clayne Buchanan is our hero, and he was Danica lover two years before. She left without any real reason, and he has been heart broken and bitter. Clayne is a wolf shifter, and we learn early on, when he was recruited to join DCO, that he is volatile and needed to learn to control his temperament.
The story picks up with a serial killer on the loose, and Danica knows from her time with DCO, that the killer is a shifter. The FBI does not know the supernatural beings like shifters, and has no idea that DCO exists. Danica calls her old boss to tell him about the situation with already a few deaths. Unfortunately for Danica, the person sent to help under the guise of Homeland Security is Clayne. He is very cold to her, not happy to be on this assignment.
All this is early on, and I do not want to give spoilers. What follows is a tense and exciting adventure with the search for a killer that taunts them to play a game….."catch me if you can, while I hunt my victims."   The FBI ia having a hard time, but it is Clayne who uses his shifter abilities to come closer to the killer. However, the stakes are raised, as the killer knows Clayne too is a shifter.
While this adventure is ongoing, with continued violent deaths, we get to see Clayne and Danice become closer. In time she will tell him the truth, and everything changes. Their romance becomes sizzling, and the danger escalates to those close to the case, as the killer becomes vindictive. There is also a side story of our heroes from the first book in this series. It was great to see Landon and Ivy play a part in this story.
Paige Tyler has done a wonderful job giving us a fast pace & pulse-pounding non-stop action, a terrible villain, tense moments, great characters, and a fantastic romance. The gripping storyline comes to a satisfying conclusion, but many things still remain to be resolved within DCO. This is what romance suspense is all about, and you need to start reading this series.
Reviewed by Barb
Copy provided by Publisher

Paige, welcome to The Reading Café. We would like to thank you for taking the time to answer our questions.
Paige: Thanks so much for having me!
TRC: Please tell us about yourself: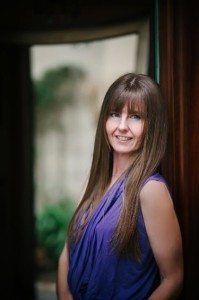 Paige:  I was born and raised in New Jersey, then moved all over after marrying my hubby (South Korea, Louisiana, Atlanta, Washington State), and currently call the beautiful Florida coast home. I'm a USA Today Bestselling Author of sexy, romantic fiction and I've written over fifty books in practically every genre of romance, but I have to admit that my favorite is definitely the paranormal/romantic-suspense combo. Hubby, my very own military hero, and I live with our adorable fur baby (also known as our dog) and spend a good portion of our time writing. While I graduated with a degree in education and was well on my way to being an elementary school teacher, I decided to pursue my passion and become an author instead. These days I'm fully committed to writing books about hunky alpha males and the kickbutt heroines who fall in love with them.
TRC:  When and how did you first become interested in writing?
Paige:  It seems like I've been writing since I was a little kid. I remember writing stories about all the kitties we had when I was nine or ten. They were cute little stories about them having adventures and playing with each other. No romance, though. I thought cats were girls back then, and dogs were boys, and everyone knows that dogs and cats don't get along! 🙂
As I got older, I entered writing contests and took a lot of creative writing courses. I had some great teachers that really encouraged me to keep going—big shout out to Sharon Griffin, my creative writing teacher in high school. I feel so completely fortunate to have had those inspirational people around me at the right time. I certainly wouldn't be where I am now without them.
TRC:  What challenges have you faced getting your novels published?
Paige:  I remembered when I first started writing back in the 1980's…on a typewriter. I wrote stories, then spent hours in the local libraries getting the addresses for literacy agencies in New York. There were a lot who wanted you to attach a check with the manuscripts. As you can imagine I never heard back from any of them. I realize now that they were scam artists, but back then, I was crushed.
Once I got going with my digital career, and had a few books under my belt, I attended pitch appointments at various conferences trying to get in with New York. Those pitches scared me silly, and while a lot of them helped move my career forward, I still remember vividly the ones that ended within the first fifteen seconds, usually with the agent or editor saying, "I don't like that idea. Do you have anything else?" That was hard to deal with, but I realize now it's just part of the process.
Even with my current X-OPS series, which is doing great, it wasn't exactly a walk in the park. I went through 174 agents before I found the one who believed in me and my story. But again, you realize after the fact that it was simply part of the process and it makes you really appreciate finding that perfect agent who really gets you. And I heart mine!
TRC:  Your X-Ops series began with Her Perfect Mate, which we reviewed earlier this year. For those of our members who may not be familiar with your series, can you please tell us the premise of the series, and how you came up with the idea?
Paige:  I'd love to!
HER PERFECT MATE revolves around the Department of Covert Operations (DCO), a top secret organization within the Department of Homeland Security. They pair the very best soldiers, law enforcement people, and spies together with shifters—humans who have special animal attributes in their DNA. Think of it like pairing one of them with one of us. They take on impossible missions few people in the world will ever know about.
The heroine is a sexy but deadly feline shifter named Ivy Halliwell who gets teamed up with yet another soldier—and she definitely isn't thrilled about it. Both her previous partners hated her because she was a freak in their eyes, and she figures this new guy won't be any different. But Captain Landon Donovan is Special Forces, so he's used to taking crazy situations in stride. Not only are they amazing on the job, but they're amazing in bed, too. There's only one problem—getting romantically involved with your partner is against DCO policy. So, not only do they have to hide that they're lovers, they also have to deal with people trying to kill them every few chapters.
HER PERFECT MATE is a paranormal shifter story that combines romance, action, suspense, and military elements into one exciting package that will keep you up reading late into the night—I promise.
My hubby and I came up with the idea at the Lori Foster Get Together in 2011. We were having dinner at PF Chang's with our friend and one of my favorite writers, Monette Michaels, and her friend, Linnea Sinclair, talking about writing, especially how to make the jump from ebook/indie publishing to New York. Linnea said some really insightful things about finding a niche and a voice that is undeniably mine, then she pointed at hubby and suggested I should be using his military experiences to lend an edge to my books that other writers might not have.
Hubby's always been reticent to take any of our books in the military direction…that's an aspect of his life that he's always considered personal and private. But after this long talk with Moni and Linnea, we both started thinking that maybe this was the way to go.
Around this same time, there was a lot of Special Operation stuff going on in the news, and an idea started developing. Wouldn't it be cool to blend military elements with paranormal, specifically shifter, elements?
By the time we left Lori's a few days later, I already had an outline going for the X-OPS Series. Hubby really got behind it, and our biggest problem became keeping the stories down to a manageable size. The first draft of HER PERFECT MATE was over 140,000 words!
TRC:  Her Lone Wolf is the second book in your X-Ops series, which was released yesterday. Can you please give a brief description of this story?
Paige:  Better yet…here's the blurb! 🙂
Leaving him was Impossible…
It took everything she had for FBI Special Agent Danica Beckett to walk away from the man she loved. But if she wants to save his life, she has to keep her distance. Now, with a killer on the loose and the stakes higher than ever before, the Department of Covert Ops is forcing these former lovers into an uneasy alliance…whether they like it or not.
Seeing her again is even worse…
The last thing Clayne Buchanan wants is to be shackled to the woman who broke his heart. She gets under his skin in a way no one ever has and makes him want things he has no right to anymore. All he has to do is suffer through this case and he can be free of her for good. But when Clayne finds out why Danica left in the first place, everything he's tried to bury comes roaring back-and there's no way this wolf shifter is going to let her get away this time.
TRC:  How many books are planned for the X-Ops series?
Paige:  For everyone out there who absolutely loved HER PERFECT MATE, Book 1 in the X-OPS series, I have good news. The overarching storyline for the series has so much intrigue, distrust, and backstabbing going on, not to mention the myriad subplots and cast of secondary characters, that it has endless possibilities.
While each book has a main hero and heroine with their own standalone adventure and romance, I weave in a fun collection of secondary characters and plot arcs in to every story. Essentially, the characters continue to move the basic overarching storyline along in each book, much of it revolving around the fear that the people they work for at the DCO may be as evil and dangerous as the people they're being sent after, all while enjoying their own romance and suspense-filled adventures.
Right now, I have the first ten books outlined, with basic conceptual material for at least another dozen or so. I think the readers are going to love having the X-OPS stories around for a long time to come!
TRC:  Modern Day Vampires is another series of yours. Can you give us a brief description of this series?
Paige:  This is fun vampire series I started quite a few years ago. While I love me some dark and brooding Angel from Buffy the Vampire Slayer, I didn't want to go that route because it had already been done.
In Modern Day Vampires, my vampires aren't demons. They're vampirism is caused by a blood disorder which prevents their own blood from carrying oxygen properly. The vampire side effects (strength, speed, teeth, etc.) are all evolutionary changes that have come about over the centuries as their bodies came up with ways to help them be able to hunt for what they need to live—blood.
In the "old days" vamps would feed straight from the vein. Hence all the vampires getting a really bad reputation. But in this "modern" day and age, things have become quite a bit more civilized. There are blood banks and blood deliveries, and rule books on how to behave and conform. There's a lot of humor as the vampires try to blend in. Think bureaucracies and paperwork, suntan lotion, and dedicated vampire 911 lines.
In the first book in the series, VAMPIE 101, the heroine, who grew up watching Buffy the Vampire Slayer has a hard time adjusting when she's bitten by a rogue I'm-not-going-to-follow-your-rules vampire and left for dead. After rescuing her, the hero has to teach her everything she needs to know, while protecting her from the rogues who have decided they want things to go back to the good old days.
Here's the blurb!
Being a Vampire Isn't What It Used to Be.
Savanna Royce is a weekend Goth-girl who's always been fascinated with vampires. She doesn't really believe in them, of course, but that changes when she's bitten by a rogue vamp and left for dead. Fortunately, two-hundred-and-seventy-eight-year-old vampire Kaige Travers is there to rescue her. Unwilling to let her die, he turns Savanna into a vampire to save her life—not knowing if she'll thank him or hate him for it.
While Kaige is teaching Savanna what she needs to know about being a vampire, neither of them can deny the chemistry that's there. Somewhere between getting her registered at the local vampire admin office and teaching her how to order blood on the internet, they fall for each other—fast and hard.
Just as things are heating up between the sheets—and everywhere else—they encounter one minor problem. The rogue vampire who attacked her is back and this time he wants to finish the job he started.
I've been working on Book 2 in the series for a long time, and I swear I'll get it done—as soon as I figure out how to clone myself. 🙂
TRC:  What can you tell us about your Alaskan Werewolf series?
Paige:  I also started this series years ago, though I'm happy to say that I just re-release Book 1 in the series—ANIMAL ATTRACTION—in the summer. I wrote this series for a particular publisher who had a wonderful "Men of Alaska" series going. I figured what better place to put werewolves than the great outdoors of Alaska. After getting the rights back from that publisher, I revised the story, adding more characters, storylines, and adventure.
I'm also working on a re-issue of the second book in the series—ANIMAL INSTINCT—and hope to have this book out by next summer (2015). If I get that cloning thing down. I'm also looking for a group of minions to hire (they must work for bananas), so I can find more time in the day for writing.
Here's the blurb for ANIMAL ATTRACTION!
Not only are werewolves real, but they're damn hunky, too.
Frustrated when none of the real newspapers will hire her as a reporter, Eliza Bradley takes the only job she can get–at a paranormal magazine. Her first assignment takes her to Fairbanks, Alaska to investigate the rumors that a werewolf has killed two local men.
When she meets Hunter McCall, a local college professor and an expert on wolves, she finds herself irresistibly drawn to him and ends up spending more time in his bed than worrying about werewolves. That's when Eliza finds out Hunter isn't just an animal in the sack, he's an animal out of it, too–of the werewolf variety. Talk about a complicated relationship.
But Eliza can't dwell on Hunter's little shapeshifting issues for long. There's another werewolf out there with a taste for human blood, and she and Hunter are the only ones who can stop him. If they don't, they're likely to become his next victims.
TRC:  You like to write a few genres, such as Paranormal, Romance, and Contemporary. What genre do you find is more challenging to write and do you have a favorite genre?
Paige: That's a killer question! I love working in all subgenres of romance, be they paranormal, suspense, erotic, sci-fi, western, but right now, with my X-OPS and SWAT series going so well, my new favorite is romantic suspense genre. Of course, as anyone who has read HER PERFECT MATE (X-OPS 1) will tell you, even my romance suspense has a good dash of paranormal in there, as well as some serious heat. 🙂
As far as the most challenging genre to write, I think contemporary is the hardest. In general, if you're talking pure contemporary, you aren't going to have zombies jumping out of closets, the hero & heroine won't be running for their lives from some deranged killer, they'll be no threats to the city/country/world/current time-space continuum, etc. The writer has to move the romance and story along using those conflicts that keep everyday people from coming together—doubts, insecurities, social and economic differences, etc. I tend to love action, drama, and suspense (and monsters!), so it can be a bit challenging writing romances without those elements.
TRC:  What are you working on now?
Paige:  Right now, I'm just about going crazy with all the stuff I have going on (I really do need those minions)!
As you can see from this blog, I'm doing lot of promo for HER LONE WOLF (X-OPS 2), but I'm also getting ready to do the promo for a special free novella in the X-OPS Series called HER SECRET AGENT. It gives the readers a peak behind the scenes of the very beginnings of the DCO. You get to see a younger John Loughlin, the Director of the DCO, getting to know a certain "foxy" shifter extremely well. It will be available on the 2nd of December from Sourcebooks, but you can pre-order it now.
I'm also putting the finishing touches on Book 2 of my Special Wolf Alpha Team Series (SWAT…as in a pack of werewolves working on the Dallas SWAT team. Cool, right?). At the same time, I'm working on the first draft for Book 3 in that series, due to the publisher sometime in January. Plus, I'm starting to rough in the details on Book 4 of X-OPS. Or is it Book 4 of SWAT? I get a little confused sometimes.:)
Oh, yeah! BTW, I'm also putting out a military ménage boxed set for Veteran's Day, with a tribute to each of the uniformed services. It's your basic old fashioned girl meets two guys and decides that anything two can do…three can do better!
TRC:  What do you enjoy doing when you're not writing? Do you have any hobbies?
Paige:  Did you see my schedule in the previous question? LOL! When I'm not writing…I'm either in the shower, or I'm sleeping. Even then, I'm still working out plot points.
But seriously, when I can drag myself away from my laptop, I'm usually out exercising with hubby (We love to jog and do P90X yoga. Have to do something to unkink from all that time behind the computer!). Or we're out taking our fur baby for walks. We try to get in a movie now and then, and we have a few TV shows that I will always find time for—Teen Wolf, Supernatural, and The Walking Dead.
TRC:  Can you please tell us your writing process? Do you have a favorite spot or specific time to write?
Paige:  My hubby is a key part of my writing process. We typically go to PF Chang's to brainstorm a story outline over spicy chicken. When we get home, he'll start the outline/rough draft while I'm working the second and third drafts of a previous story. I check what he's doing every night. Have to keep him on point or he'll add random zombies into the story just to see if I'm paying attention. By the time I'm emailing a polished draft to my editor, he's tossing me the next rough draft. Sure, he's not much for romantic dialogue (he'll just throw in a line such as "The hero should probably say something romantic here.") and his intimate scenes are usually synopsized down to a single line ("Insert mad monkey sex here."), but the plot work he does really saves me a ton of time and helps me meet deadlines.
You already know that I write all the time, but as far as where I write, mostly it's on the couch. I just curl up with the laptop and go to town.


LIGHTNING ROUND:
FAVORITE FOOD: PF Chang's Spicy Chicken and Brown Rice.
FAVORITE DESSERT: Chocolate anything
MILK OR DARK CHOCOLATE: Dark
FAVORITE FICTIONAL CHARACTER (not your own): Sam and Dean Winchester…I get to have both…they're brothers!
LAST MOVIE YOU SAW: The Maze Runner
DOG OR CAT: Dog
TRC:  Thank you, Paige for answering our questions. The Reading Café wishes you the best of luck with Her Lone Wolf. Keep us informed about your upcoming releases. We look forward to working with you again.
Paige: You're welcome. Thanks so much for having me!
*hugs*
Paige
You can find more about Paige at the following Links: 
Website: http://paigetylertheauthor.com/
Blog: http://paigetylertheauthor.blogspot.com/
Facebook Profile Page: http://www.facebook.com/paige.tyler.9
Facebook Author Page: http://www.facebook.com/PaigeTylerAuthor
Twitter: http://twitter.com/PaigeTyler|
Pinterest: http://www.pinterest.com/paigetylerauth/
Tumblr: https://www.tumblr.com/blog/paigetylerauthor
Google+: https://plus.google.com/u/0/101473514319460388322/posts
Goodreads: http://www.goodreads.com/author/show/2300692.Paige_Tyler
Newsletter: http://eepurl.com/BBrEP
Email: paigetyler@paigetylertheauthor.com



Paige's publisher is offering a copy of HER LONE WOLF to be selected randomly Tour wide.
NOTE: The Reading Cafe is NOT responsible for the rafflecopter giveaway. If you have any questions, please contact the publisher.