Hot and Bothered (Hot in the Kitchen #3) by Kate Meader-Review, Promotion and Giveaway
Hot and Bothered
Hot in the Kitchen #3
by Kate Meader
Genre: adult, contemporary, erotic romance
Paper copy Release Date: January 27, 2015

Amazon.com / Barnes and Noble / KOBO / The Book Depository
ABOUT THE BOOK:

Although her baby boy keeps her plate full, Jules Kilroy is ready to take her love life off the back burner. Despite a bevy of eligible bachelors, it's her best friend, Taddeo DeLuca, who's fueling her hormones with generous servings of his mouth-watering Italian sexiness. But Jules learned her lesson once before when she went in for a kiss, only to have Tad reject her. She's vowed never to blur the lines again . . .
After a lifetime of excuses and false starts, Tad has finally opened a wine bar, a deal made even sweeter when Jules joins his staff. Lovers come and go, and he's had his share, but friendships like theirs last forever. Still, ever since he tasted her luscious lips, he can't stop fantasizing about what could be. Then she signs up for an online dating site—and the thought of his Jules with another man makes Tad's blood boil. Even if he gets burned, Tad can't stop himself from turning up the heat this time.
••••••••••••••
REVIEW: HOT AND BOTHERED is the third installment in Kate Meader's contemporary, adult Hot in the Kitchen erotic romance series focusing on the DeLuca/Kilroy family. This is Taddeo DeLuca and Jules Kilroy's storyline –a friends to lovers scenario. HOT AND BOTHERED advances the series approximately eighteen months to two years. Although HOT AND BOTHERED is the third book in the series, it can be read as a stand alone without too much difficulty. Any important information from the previous storylines is added where necessary.
The premise follows single mother Jules Kilroy and her friendship with Taddeo DeLuca. It has been eighteen months since she gave birth to her son Evan and she has decided it is time to get back out into the world of dating-her only problem-she is in love with her best friend Tad DeLuca-a man with a reputation for the ladies. As Jules's sisters in law help with her foray into the online dating websites, Tad finds himself becoming over protective and a little more than jealous when his best friend begins to see other men.
Tad is a man who wants to prove himself worthy of his family and friends but a heartbreaking loss ten years earlier finds Tad wallowing in guilt, self doubt and any excuse not to get close to the woman that he loves. Words will be said in anger and Tad's relationship with Jules will die a slow death-one heartbeat at a time. Their pasts continue to haunt their present and in this the emotional pull of helplessness, guilt and moving on is always a reminder of what was and what could have been.
The secondary and supporting characters include all of the previous storyline couples as well as everyone at DeLuca's restaurant, family and friends. Because the storyline advances the series eighteen to twenty four months, we are given another look at Jack and Lili's relationship as well as Shane and Cara-their struggles and expanding families. Kate Meader's world of Hot in the Kitchen takes the reader behind the scenes at a family run restaurant-the people, their lives and their loves.
HOT AND BOTHERED is an emotional read; a sexy storyline about two people who continue to ignore the elephant in the room-they are in love with one another but heartbreak and the fear of the unknown is holding them back.
Reading Order and Reviews
Feel The Heat
All Fired Up
Hot and Bothered
Copy supplied by the publisher through Netgalley.
Reviewed by Sandy
"I'll walk you up," he said, slipping his jacket on so it was clear to both of them he would be on his way as soon as his chivalrous duty had been performed. Because people put on jackets to, you know, go outside.
"You don't—"
"I do." He tucked his hand under her elbow, the touch electrifying his every cell once more. He didn't let go of her arm as he guided her up to the second flight.
He took the key and opened her door. No problems with the door knob.
"I've got it from here," she said, still avoiding his eyes. Good girl, look away. If she had any sense of self-preservation, she would close the door and send him packing because he was this close to pushing her against the wall and banging her boneless.
"How did your date go tonight?"
Fuck. The self-preservation thing goes both ways, bischero.
There was that flare of anger again. He wished she'd come right out and say what she was mad about.
"I didn't know Cara was going to bring Darian."
"So, a pleasant surprise. A doctor." Merda, that came out sarcastic, which, to be honest, he meant it to be. Judging by the freeze-his-nuts stare she aimed his way, she took it in that same spirit.
"Think I don't have it in me to date someone smart like that?"
"Don't use that card, Jules. You have it in you to get anyone you want. I just don't think that guy's right for you."
"Why?"
Because he's not me.
None of those idiots understood the first thing about her. Tad did, though. He knew that sometimes she felt dumb because the words on the page refused to cooperate for her. He knew that she had spent her childhood wishing that someone, anyone would see her. He knew she had fought like a tigress to get here so she could provide the best life possible for Evan.
Tad had been there from the beginning, shoulder at the ready for her tears, hand outstretched so she could crush it while delivering Evan. Fancy diplomas, fat bank balances, a McMansion in Schaumburg—none of these things qualified them for shit where this woman was concerned.
"He's just looking for a housewife to support him and pump out his kids while he does his important job."
"Wow, you got all this from watching me flirt with him?"
He could feel his teeth mashed together like a trash compactor and he spat out the next words with trouble. "Conor's no good for you either, so you can forget about that."
"What's his problem, then? He owns his own bar, saves people from burning buildings… Oh, is that it?" She kicked off her shoes, an angry smirk crinkling the corner of her mouth as one of the heels hit the leg of her coffee table with a satisfying thud. "You don't think guys who save lives are good enough for me. You're not exactly saving any lives when you pair that silky Pinot with the aged manchego."
As insults go, it was pretty tame, but the sharpness in his chest registered the unintended blow. Saving lives was the last thing he was qualified for.
"I'm just trying to look out for you, Jules."
"That's a neat trick. You move your lips and Jack's words come out. I've already told you I don't need another brother."
She might not need a brother but she needed a protector. Someone who could be with her through the tough times, who understood the meaning of sacrifice and family. Someone not like him.
But he could be her friend. "What happened to get you so upset tonight?"
Her brows drew together over eyes sparking with determination. "I realized I have to take what I need and fight for what's mine."
Whoa, if he wasn't turned on before, he sure as hell was now. Mine. He loved how that sounded on her lips, even though he had no idea what she was yammering on about. She was grabbing something by the balls—her destiny, perhaps, and he was man enough to say, she had him by the balls as well.
The smoky lines around eyes dark with emotion hit him like a shot of moonshine. Every hair, and more, stood to attention at the sight of her Cabernet-red lips in that beautiful bow shape that would look so perfect trailing scorching kisses across his chest and beyond. Warmth washed through his veins. The edge of desire rose up to meet him and he embraced it fully.
He was only human.
She padded toward him, showcasing the sultry sway of her hips even without the sparkly fuck-me heels. Her eyes turned to shadowy emeralds like the pupils had swallowed the usual sea-green brightness. He recognized that look. He had seen it the other night in the wake of his kiss. Except for one difference: Juliet Kilroy, his friend, hot MILF, was now seducing him.
She brushed by him and closed her fist over the doorknob. Looked like her difficulties with the open/close thing were a thing of the past. Drawing the door ajar a few inches, she speared him with a look that might have flattened a lesser man.
"I'm giving you a choice. You can walk out this door and pretend there isn't something happening between us or you can stay and give me what I need."
His cock thickened and grew achy. "What do you need, Jules?"
"You. Inside me. All night."
Oh, sweet Jesus.
He held her green tilty gaze, aiming to infuse his next words with cut-the-bull clarity. "I'm not like the others, those men you've been dating, the ones who slobbered all over you tonight. I'm not boyfriend material."
"That's not what you offered, though, was it?"
Leaning past her shoulder, he pressed the door shut, the snick short and final.
Inevitable.
"That's not what I offered."

TRC: Hi Kate and welcome to The Reading Café. We would like to start with some background information.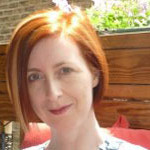 Would you please tell us something about yourself?
Kate: Well, I'm originally from Ireland and I've lived in Chicago for over twenty years. I have degrees in law, history, and library science, and I write about hot alpha men and the women who can match them quip for quip.
TRC: Who or what influenced your career in writing?
Kate: I'm huge fan of romance with humor, so when younger, I loved sexy, sprawling comedic romances and women's fiction from Maeve Binchy and Jilly Cooper. These days, major influences are Susan Elizabeth Phillips, Jill Shalvis, Rachel Gibson, and Jenny Crusie.
TRC: HOT AND BOTHERED is the latest release in your Hot in the Kitchen contemporary, romance series. Would you please tell us something about the premise?
Kate: The series follows the lives and loves of the DeLucas, an Italian-American restaurant owning family and the sizzling chefs who love them. HOT AND BOTHERED is a friends to lovers story that gets its kick start when my heroine, Jules decides she's ready to take her love life off the back burner and start dating. And that gets my hero, Tad, all riled up because he's been crazy about her forever. So he embarks on a plan to keep her
close by having her use her culinary skills in his wine bar kitchen, by sabotaging any date she's on, and by offering her an alternative—a sexy fling to scratch her itch.
TRC: How many books do you have planned for the series?
Kate: There are three books planned in the Hot in the Kitchen series—FEEL THE HEAT, ALL FIRED UP, and HOT AND BOTHERED. All are written and now available in both print and ebook.
TRC: What challenges or difficulties (research, logistics, background) did you encounter writing this particular series?
Kate: None, really! I mean, it's food after all. I watched a lot of cooking shows and online videos to get the behind-the-scenes of working in a professional kitchen. I also cooked a lot of the recipes used in the books.
TRC: When writing a storyline, do the characters direct the writing or do you direct the characters?
Kate: Characters first, always.
TRC: The mark of a good writer is to pull the reader into the storyline so that they experience the emotions along with the characters. What do you believe a writer must do to make this happen? Where do you believe writers fail in this endeavor?
Kate: It all comes down to writing characters that people can identify with, whether it's a princess or a single mom down on her luck. As long as that character is acting in situations that make sense to that character—and us—the reader will want to get on board that train. Usually, I find writers fail if they establish a character and then have them make decisions that make no sense. Not necessarily a dumb decision, but one that's not in keeping with the traits of that person.
TRC: What is something that few, if any people, know about you?
Kate: A lot of people don't know I have a masters degree in medieval history. I studied medieval nuns and holy women who used their connection to God to find new paths to empowerment in their community. Medieval nuns were probably the first feminists!
TRC: On what are you currently working?
Kate: I'm working on a new series called Hot in Chicago about a family of firefighting foster siblings and their blazing hot love interests. The first full-length book, FLIRTING WITH FIRE, comes out in March 2015.
TRC: Would you like to add anything else?
Kate: Just thanks for having me!
TRC: Thank you Kate for taking the time to answer our questions. Congratulations on all of your success.Congratulations on all of your success.

FOLLOW: Goodreads / Website / Twitter / Facebook
Kate writes contemporary romance that serves up delicious food, to-die-for heroes, and heroines with a dash of sass. FEEL THE HEAT, the first in her Hot in the Kitchen series from Forever/Grand Central is now available, with Book 2 in the series, ALL FIRED UP, following in November 2013.
Originally from Ireland, she cut her romance reader teeth on Catherine Cookson and Jilly Cooper novels, with some Mills and Boons thrown in for variety. Her stories are set in her adopted home town of Chicago, a city made for food, romance, and laughter – and where she met her own sexy hero.

There are TWO (2) ways to WIN
Giveaway #1
The publisher is offering the complete set of Hot in the Kitchen books-Feel The Heat, All Fired Up and Hot and Bothered by Kate Meader.
a Rafflecopter giveaway

Giveaway #2
To celebrate the paper back release Kate's publisher is graciously offering a paper copy of HOT AND BOTHERED to one (1) lucky commenter at The Reading Cafe.
1. If you have not previously registered at The Reading Cafe, please register by using the log-in at the top of the page (side bar) or by using one of the social log-ins.
2. If you are using a social log-in, please post your email address with your comment.
3. Please LIKE us on FACEBOOK and click GET NOTIFICATIONS
4. Please FOLLOW us on Twitter for an additional entry.
5. Please FOLLOW us on GOODREADS for an additional entry.
6. Please FOLLOW us on TSU for an additional entry.
7. Follow Kate Meader on Facebook.
8. Giveaway is open to USA and Canada only
9. Giveaway runs from January 27-31, 2015