Just Gotta Say by Laura Kaye-Review and Release Day Blitz
Just Gotta Say
by Laura Kaye
Rerelease: October 14, 2014
Genre: adult, contemporary, erotica
.99¢ ebook special: Amazon.com (paper copy) / Amazon.uk (paper copy)/ Barnes and Noble / KOBO /
ABOUT THE BOOK: release October 14, 2014
Callie Davis stumbles upon two of her three male roommates in a surprising, molten-hot midnight tryst and discovers a side of herself she never knew existed. Desire to play with them grips her, and she can't stop fantasizing about having multiple men, particularly her three long-time best friends.
Callie is thrilled when a guys' night out gives her the perfect opportunity to recreate her fantasy, with the help of a threesome porn video and a bag of sex toys. That is, until Lucas, Jack and Noah return early and catch her in the act. More than anything, the guys want to make her fantasy come true. But Callie has a secret, and she can't help wondering if being with all three men will risk the future she's always wanted with one of them.
As three strong sets of hands caress and undress her, Callie surrenders to desire, because sometimes you just gotta say…yes.
••••••••••••••••••
REVIEW: JUST GOTTA SAY is an erotic stand alone novella (short story) by author Laura Kaye that follows a few hours in the life of Callie Davis and the three men that she loves. This is a M/M/F/M storyline with graphic sexual imagery and language.
After finding two of her three male roommates having wild, passionate sex Callie fantasizes about a four way-a ménage with Lucas, Jack and Noah. Hoping to learn about the intimate positions and what to do, Callie rents a porn video and proceeds to teach herself the basics of sex with multiple partners at one time. What Callie never expected was to be caught in the act and for her roommates to offer up a fantasy night of passion. All three men are just as aroused as Callie but one wants something more than a one-night stand….he wants forever.
JUST GOTTA SAY is a fast paced, passionate and sexual storyline of erotica that focuses on four people who love one another and take advantage of their desires and needs. It is a story that is in the moment; there is very little background information, no detailed character analysis or childhood history revealed. It is what it is….a story of sex, passion and falling in love with your best friend.
Copy supplied by the author.
Reviewed by Sandy
The set-up: Callie's most secret fantasy was just
unexpectedly revealed to her three male roommates. NOTE:  For mature readers only  18 +
The invitation he laid out for her—the invitation to be
with them, to act out this fantasy for real with them—was completely
outside anything she imagined possible.
She sat for a long moment, still mostly curled into herself.
Her gaze lit on the rough bobbing of Jack's Adams apple as he swallowed. His
apparent case of nerves eased hers. A little. Soft, sandy-colored strands 
brushed against her forehead. Her nose filled with the scent of him, all night 
air and masculinity.
Callie took a deep breath, her body remembering her 
unfulfilled arousal even as her brain struggled to keep up. "What are you
 saying, Jack?" she whispered, buying herself time to think and needing him to 
spell it out.
One hand stroked her back while the other combed her hair 
off the side of her face. "I'm saying"—he nibbled at her ear, but this time his 
lips lingered, his warm exhalation caressing her skin—"that the three of us want 
to bring that fantasy to life for you. If you want."
Every nerve ending tingled with the promise of what he
 offered. Her heart rose from where it had plummeted into her gut and now 
hammered against her chest. Images of the three of them kissing her, fucking 
her, swamped her brain. Blood roared through her ears. "Are you teasing me?"
"Look at me," he said, sliding his large hand under her
 cheek.
The commanding press of his skin on hers skittered
 electrical charges down her neck to her breasts. Her nipples hardened. She 
acquiesced and sat up just enough to face one of her three dearest friends.
"We want to do this for you." He quirked the sexiest of 
crooked smiles and shrugged with one shoulder. "You know we'd be good 
together."
She didn't know whether his "we" meant her and him or the 
four of them. An encouraging voice in her mind said both interpretations were
 true.
He cupped her neck, his grasp comforting and reassuring, and
 brushed his lips against her right cheekbone. Her right eye. Her forehead. Tilting
 his head to the other side, he repeated the action against her left eye, the 
apple of her left cheek. She gasped when his last kiss fell on that tender,
hollow spot just below her ear.
"What do you want, Callie? Whatever you want, we want.
Always."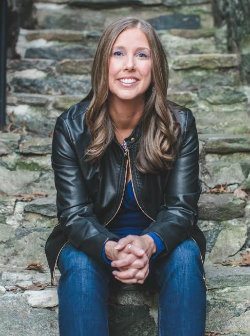 Laura is the New York Times and USA Today bestselling author of nearly twenty books in contemporary and paranormal romance. Growing up, Laura's large extended family believed in the supernatural, and family lore involving angels, ghosts, and evil-eye curses cemented in Laura a life-long fascination with storytelling and all things paranormal. She lives in Maryland with her husband, two daughters, and cute-but-bad dog, and appreciates her view of the Chesapeake Bay every day.
Website | Blog | Facebook | Hard Ink Puppy FB | Twitter | Newsletter SignUp

NOTE: The Reading Cafe is NOT responsible for the rafflecopter giveaway. If you have any questions, please contact the tour provider.