LETHAL LIES (Blood Brothers #2) by Rebecca Zanetti-Review,Excerpt & Giveaway Tour
LETHAL LIES
Blood Brothers 2
byRelease Date: May 16, 2017
Genre: adult,contemporary, paranormal, romantic, suspense
Amazon.com / Amazon.ca / B&N / KOBO / Chapters Indigo /Books-A-Million/ iBooks / Google Play / Indiebound /
•••••••••••
ABOUT THE BOOK: Release Date May 16, 2017
A deadly secret can't stay buried forever . . .
Revenge. It's the only thing that will help Anya Best sleep at night. The serial killer who murdered her sister is on the loose, and Anya will stop at nothing to put him behind bars-even use herself as bait to lure him out of hiding. But she can't do this alone.
Private investigator Heath Jones's job is to bring bastards to justice. This time it's personal. He knew the Copper Killer's latest victim so when her sister asks for his help, he's all in. But when Anya uses the media to taunt the killer, she exposes Heath's identity, putting them both in jeopardy. Now, secrets buried long ago are coming to light and the forces determined to destroy him are watching Heath's every move, waiting to exact their own revenge. And they'll use anything and anyone to get to Heath.
•••••••••••
REVIEW: LETHAL LIES is the second installment in Rebecca Zanetti's contemporary, adult BLOOD BROTHERS slightly paranormal, romantic suspense series focusing on three blood brothers-Heath, Ryker and Denver Jones- who own and operate The Lost Bastards Investigative Agency. LETHAL LIES is private investigator Heath Jones and criminal psychologist Anya Best's story line. The Blood Brothers is a spin off from Zanetti's SIN Brothers series. You do not have to have read the original series to enjoy LETHAL LIES but for cohesion, backstory and connection I recommend reading The Sin Brothers series as several of the characters cross over, and the ongoing conflict continues from the original series.
SOME BACKGROUND: Years earlier Dr. Isobel Madison aka Sylvia Daniels, and a covert government agency used experimental DNA to make the perfect super soldier. The continuing trope ventures into another direction as two more 'family of brothers' are brought into the fold. All of the brothers are 'created' in one way or another; they are experiments of Dr. Isobel Madison-a woman who is determined to destroy that which she made. On the run, these super soldiers and their blood brothers, stay one step ahead of Dr. Madison, and Sheriff Elton Cobb, Madison's lover and the man seeking revenge for the death of his brother.
Told from several third person perspectives including Heath and Anya, LETHAL LIES  focuses on the hunt for a serial killer who is targeting young women with red hair. Heath Jones and The Lost Bastards have been contracted by one of the victim's family but find themselves pulled into an FBI operation where everything goes wrong. Enter Anya Best whose sister-an FBI agent-is the latest victim of the Copper Killer-and the woman with whom Heath Jones will fall in love. The $ex scenes are intimate and seductive without the use of over the top, sexually graphic language and text. There is some light BDSM including spanking.
LETHAL LIES follows two paths: the search for a serial killer, and the brothers' struggle to remain off the grid as Madison and Cobb continue their hunt for the creations they made. When the FBI lose one of their own, Heath Jones becomes suspect number one exposing our story line hero to some unwanted media scrutiny, and the reveal of their whereabouts to Madison and Cobb. From safe house to safe house, the brothers battle the FBI, the local police, and the super soldiers sent to take them down. Anya Best is the killer's ultimate target, and a woman who is willing to place herself in danger to get the man that killer her sister.
There are a large number of secondary and supporting characters including Heath's brothers Ryker and his fiancé Zara, and Denver Jones; Dr. Isobel Madison, Sheriff Elton Cobb, FBI special agent Frederick Reese, local police Detective Malloy, and the return of Shane Dean-Heath's biological brother. The requisite evil is tri-fold with a twist to the killer's identity.
The world building continues to focus on the brothers fight for freedom. Dr. Isobel Madison is desperate for the return of ALL of her creations, and will do everything in her power to see it done. Like book one-Deadly Silence-the search for a serial killer places the Jones Brothers in the direct line of fire, and back on Madison's radar.
LETHAL LIES is a story of suspense, romance, action and twists. There are moments of heartbreak and pain; romance and love; anxiety, doubt and threats against all of their lives. The premise is fast paced, engaging and thrilling; the characters are colorful, passionate and heroic; the romance is emotional and intense. LETHAL LIES will seduce your mind.
Click HERE for Sandy's review of book one-DEADLY SILENCE
Copy supplied by Netgalley
Reviewed by Sandy

t She swallowed and met his gaze. "All right. Let me get this straight. We're going undercover to flush out a killer who's obsessed with me, and you're offering to play at being my man for real with no strings or future?" She hoisted the bag onto her shoulder. "That's some ego. Are you that good in bed?"
"Yes." And that was definite interest in her eyes.
She clicked her tongue. "I'll keep your offer in mind."
"You do that." He maintained a low and calm voice. "While you're considering, let's look at the situation. You have publicly made me your fiancé in order to draw out a killer, which means I have to act as such. Any halfway intelligent law enforcement officer or private investigator would keep his redheaded fiancée very close after the stunt you just pulled. If you're not with me, the killer is going to be very suspicious."
She stilled, expressions crossing her face rapidly. "That's a good point," she said slowly.
Yeah. Sometimes reality helped him out a little. Plus, the killer had a hard-on for her, and he must already have plans to take her at some point. She'd just upped the timeline. "In addition, you need protection around the clock now, and I'm willing to provide that. So while you're keeping my offer in mind, we'll be staying in the same hotel room or same apartment." He made sure he had her full attention. "While we plan the wedding, of course."
Her challenging smile thrilled something inside him. "That's fair."
He stepped back to give her some space. "Good. Are you ready?"
"Yes." She looked around the room. "I do have to ask. What if I didn't agree with you about your keeping secrets from me? Considering people shoot at you, and I'm going to be at your side, it seems fair that you tell me who these people are." She cocked her head to the side and focused back on him.
"I have more immediate concerns than being fair," he said smoothly. "You brought me into this mess."
A frown drew down her eyebrows. "Listen. I want an answer about you."
"I just gave you one." At her mulish expression, he searched for better words that wouldn't end in an argument.
Suddenly, the door blew wide open and bounced loudly off the table. "Anya!" he yelled, jumping for her.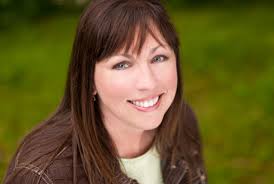 New York Times bestselling author Rebecca Zanetti has worked as an art curator, Senate aide, lawyer, college professor, and a hearing examiner – only to culminate it all in stories about Alpha males and the women who claim them. She is a member of
RWA, has won awards for her works throughout the industry, and has a journalism degree with a poly sci emphasis from Pepperdine University as well as a Juris Doctorate from the University of Idaho.
Growing up amid the glorious backdrops and winter wonderlands of the Pacific Northwest has given Rebecca fantastic scenery and adventures to weave into her stories. She resides in the wild north with her husband, children, and extended family who inspire her
every day-or at the very least give her plenty of characters to write about.
Goodreads
NOTE: The Reading Cafe is NOT responsible for the rafflecopter giveaway. If you have any questions, please contact the tour provider.