LOVE STORY (Love Unexpectedly #3) by Lauren Layne-Release Day Review and Tour
LOVE STORY
Love Unexpectedly #3
by Lauren Layne
Genre: adult, contemporary, romance
Release Date: February 14, 2017
Amazon.com / Amazon.ca / B&N / KOBO / BAM / | GOOGLE | ITUNES 
ABOUT THE BOOK: Release Date February 14, 2017
When Lucy Hawkins receives a job offer in San Francisco, she can't wait to spread her wings and leave her small Virginia hometown behind. Her close-knit family supports her as best they can, by handing over the keys to a station wagon that's seen better days. The catch? The cross-country trip comes with a traveling companion: her older brother's best friend, aka the guy who took Lucy's virginity hours before breaking her heart.
After spending the past four years and every last dime caring for his sick father, Reece Sullivan will do just about anything to break free of the painful memories—even if it means a two-week road trip with the one girl who's ever made it past his carefully guarded exterior. But after long days of bickering in the car turn into steamy nights in secluded motel rooms, Reece learns that, when it comes to Lucy, their story is far from over. And this time, they just might have a shot at a happy ending.
••••••••••
REVIEW: LOVE STORY is the third installment in Lauren Layne's contemporary LOVE UNEXPECTEDLY romance series. This is Lucy Hawkins and Reece Sullivan's story line. LOVE STORY can be read as a stand alone without any difficulty. Each installment does not interconnect with the other stories.
Told from dual first person points of view (Lucy and Reece) using present day and memories from the past, LOVE STORY focuses on the second chance romance between life long friends Lucy Hawkins and Reece Sullivan. Lucy has loved her brother's best friend since they were barely old enough to walk but falling in love with a man who wants someone else finds our heroine heartbroken and in pain the morning after he takes everything she has to offer. Fast forward several years and Lucy is now a business graduate focusing on the wine making industry, and Reece will be working for a competing winery. As Lucy prepares to embark on a cross-country journey towards her destination in the wine country of California, she discovers that Reece Sullivan will be going along for the ride. What ensues is a tempestuous adventure for two people who love one another but are afraid to admit the truth.
Reece Sullivan lost everyone he loved at an early age. With the recent death of his emotionally absent father Reece knew that it was time to go forth and discover his future. With her degree in hand, Lucy Hawkins sets out to start anew in the vineyards of California not realizing that the man who destroyed her heart will be going along for the ride.
The relationship between Lucy and Reece is one of second chances; a rekindling romance between one-time best friends-a friendship that was destroyed when Reece walked away from the woman he has always loved. Several years would pass before Lucy and Reece would come face to face forcing the couple to look for the truth behind their animosity, anger and pain. The $ex scenes are intimate without the use of over the top sexually graphic language or text.
LOVE STORY is frenemies to lovers adventure; a new adult story line; a rekindling romance between two people who have never stopped loving one another but two people who got caught up in appearances, egos, and a lack of communication. There is plenty of angst, palpable sexual energy, unresolved hurt, and conflicted emotions that roller coaster throughout the story. The back and forth bickering is juvenile and immature as though neither one was able to move on from the past. The premise is engaging; the characters are passionate; the romance struggles with issues of trust and memories of the past.
Copy supplied for review
Reviewed by Sandy
_________________
GOOD GIRL
(Love Unexpectedly #2)
by Lauren Layne
Release Date: May 17, 2016
Genre: adult, contemporary, romance
Amazon.com / Amazon.ca / B&N / KOBO / BAM /
ABOUT THE BOOK: Release Date May 17, 2016
Jenny Dawson moved to Nashville to write music, not get famous. But when her latest record goes double platinum, Jenny's suddenly one of the town's biggest stars—and the center of a tabloid scandal connecting her with a pop star she's barely even met. With paparazzi tracking her every move, Jenny flees to a remote mansion in Louisiana to write her next album. The only hiccup is the unexpected presence of a brooding young caretaker named Noah, whose foul mouth and snap judgments lead to constant bickering—and serious heat.
Noah really should tell Jenny that he's Preston Noah Maxwell Walcott, the owner of the estate where the feisty country singer has made her spoiled self at home. But the charade gives Noah a much-needed break from his own troubles, and before long, their verbal sparring is indistinguishable from foreplay. But as sizzling nights give way to quiet pillow talk, Noah begins to realize that Jenny's almost as complicated as he is. To fit into each other's lives, they'll need the courage to face their problems together—before the outside world catches up to them.
•••••••••••
REVIEW: GOOD GIRL is the second installment in Lauren Layne's contemporary, adult LOVE UNEXPECTEDLY erotic, romance series. This is country star Jenny Dawson, and Preston 'Noah' Maxwell Walcott's story line. GOOD GIRL can be read as a stand alone without any difficulty.
Told from dual first person perspectives (Jenny and Noah) GOOD GIRL looks at the fall out of lies, secret, fame and betrayal. Jenny Dawson is a country music phenom whose star status implodes when an innocent picture of her surfaces with a married man. Labeled a whore and homewrecker our heroine seeks solace in the back woods of Louisiana where she will meet Noah Maxwell, a man she presumes to be the caretaker at the Walcott estates. What ensues is the building relationship and romance between Noah and Jenny, and Jenny's spiral into heartbreak when Noah's true identity is finally revealed.
GOOD GIRL is a slow building story of romance; a second chance at love for a man whose prior relationship ended with his fiancés affair-an affair that has hardened Noah's heart. Jenny Dawson is innocent of the charges against her, and falling in love with Noah Maxwell was never in the cards. Noah's past will come screaming into the present leaving a heartbroken Jenny to move on with her life. The $ex scenes are intimate and explorative.
We are introduced to Noah's best friends: Finn Reed and Vaughn; Noah's ex fiancé Yvonne Damascus; and Jenny's bestie Amber Fuller. Most of the story line premise takes place on the grounds of the Walcott estate with very little outside interference from paparazzi or interfering friends. It would be nice to see a couple of story line for Finn and Vaughn but that doesn't appear to be the direction the author is taking as each of the books in the series is a complete stand alone and not interconnected with any of the other stories.
GOOD GIRL is a story of rebuilding for one woman whose life is destroyed by secrets and lies; and by one man who perpetuates more lies to keep his own identity secret. The premise is hopeful and romantic; the characters are passionate in their beliefs; the romance is heartbreaking knowing that there is a time-limit that is about to expire.
Reviewed by Sandy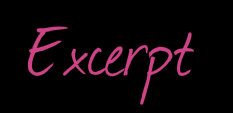 "Spock, we're giving you Horny!" my mom blurts out, apparently fed up with my denseness.
Her utterance is too much for my siblings to handle and they both burst out laughing, retreating into the kitchen to rejoin the party where there's wine.
Oh what I wouldn't give for wine right now.
"I, um . . . you're giving me the car?" I ask.
"Because yours broke down," my dad explains, walking forward to thump Horny's dented hood.
"And this one's . . . not broken down?" I ask skeptically.
Look, it's not that I'm not grateful. My parents are trying to give me a car, I appreciate the sweetness of the gesture, it's just . . .
Here's the thing about Horny: he barely got us three kids through high school. I mean, Horny is the car that sputtered and shook making it the 3.2 miles to Jefferson High, no matter who was behind the wheel.
I'm even going to come all the way clean here and say that early on in my freshmen year, I was embarrassed showing up in Horny. Then I realized I was lucky to have a car at all, and well . . . I dunno, I guess Horny became a part of us Hawkins kids' charm, because the station wagon was practically an institution from Craig's high school reign all the way through Brandi's.
But poor Horny quit working years ago. Much to Brandi's chagrin, he gave up the ghost a mere two months before her high school graduation, and I spent the last bit of her senior year being picked up by my parents.
"He's going to take you to California," Dad says, giving the car another thump.
"Really?" I step forward and run a tentative finger along the familiar panel. He's had a bath, so at least that's something. "Because last I knew, he wouldn't even make it out of the garage."
"Yeah, well, we neglected him for a while, but he's right as rain now," Dad says, puffing out his chest as though Horny's a fourth child.
"Like, as in he actually starts?"
"Purrs like a kitten," my mom says with an emphatic nod, even though I know she doesn't even like cats. "We didn't believe it, but we took him to church on Sunday and there were no issues."
I literally bite my tongue to keep from pointing out that this is hardly a feat. Sacred Presbyterian is 0.8 miles away from the house.
"You took Horny into a shop?" I ask, starting to warm to the idea of having a car again. I'm a little touched, actually. Money is tight for my parents. Dad's a PE teacher, and Mom gives a mean winery tour, but the gig's never paid much.
"Not exactly, it was more of a bartering situation," Mom says.
"Yeah?" I say, going around to the driver's seat, already giddy with the prospect of telling Oscar I'll be able to come see him in Miami after all, even if I won't exactly be riding in style.
"Reece agreed to fix him up."
I'm lowering myself into the car as my dad says this, but I reverse so quickly I hit my head. My skull doesn't even register the pain, because I'm too busy registering the hurt in my heart at the familiar name. "I'm sorry, what?"
"Reece," my mom says, giving me a bemused look. "He's always been handy with cars."
"He fixed up the car in exchange for what?"
And then I feel—I actually feel—the air change around me as the side door to the garage opens, and a new presence sucks all the air out of the space.
I don't turn around. I don't move. But I feel his eyes on me. Over me.
"Reece is headed out to California too," my oblivious mother chatters on. "It worked out perfectly actually. Now you two can ride together, and your dad and I don't have to worry about you alone in the middle of nowhere with a twenty-something-year-old car.
They think the car is going to be the problem here? It's not the car that's toxic to me. It's him.
Reece Sullivan. My brother's best friend. My parents' "other son."
Slowly I force myself to turn, and even though I'm prepped, the force of that ice-blue gaze still does something dangerous to me.
He winks, quick and cocky, and I suck in a breath, and I have to wonder . . .
I wonder if my parents would feel differently about their little plan if they knew that their makeshift mechanic is the same guy that popped my cherry six years earlier under their very roof.
And then broke my heart twenty-four hours later.
Follow: Website / Facebook / Twitter / Pinterest / GOODREADS
Lauren Layne is the New York Times bestselling author of over a dozen romantic comedies.
A former e-commerce and web marketing manager from Seattle, Lauren relocated to New York City in 2011 to pursue a full-time writing career.
She lives in midtown Manhattan with her high-school sweetheart, where she writes smart romantic comedies with just enough sexy-times to make your mother blush. In LL's ideal world, every stiletto-wearing, Kate Spade wielding woman would carry a Kindle stocked with Lauren Layne books.
NOTE: The Reading Cafe is NOT responsible for the rafflecopter giveaway. If you have any questions, please contact the tour promoter.