MACK DADDY by Penelope Ward-Review and Release Tour
MACK DADDY
by Penelope Ward
Release Date: February 32, 2017
Genre: adult, contemporary, romance
Amazon.com / Amazon.ca / B&N / KOBO / ibooks /
Add to your GOODREADS shelf
ABOUT THE BOOK: Release Date February 13, 2017
From New York Times bestselling author, Penelope Ward, comes a sexy, STANDALONE second-chance romance.
They called him Mack Daddy. No, seriously, his name was Mack. Short for Mackenzie.
Thus, the nickname. Perfect, right?
So was he: perfect. The perfect physical male specimen.
At the private school where I taught, Mack Morrison was the only man around in a sea of women.
Everyone wanted a piece of the hot single father of the sweet little boy. I was riddled with jealousy, because they didn't know that—to me—he was much more.
They didn't know about our past.
He'd chosen my school for his son on purpose, because Mack and I, we had unfinished business.
As my friend Lorelai so eloquently put it: "Unfinished business between two people who are clearly attracted to each other is like an eternal case of blue balls." And I was suffering in pain from my case.
I was still intensely attracted to Mack. I tried to resist him, immersing myself further into a relationship with another man just to protect my heart.
Not to mention, getting involved with a parent was strictly against school rules. But seeing Mack day in and day out was breaking me down.
And soon I might be breaking all the rules.
•••••••••••
REVIEW: MACK DADDY by Penelope Ward is a stand alone, contemporary, adult, romantic story line. This is businessman Mackenzie 'Mack' Morrison, and elementary school teacher Francesca O'Hara's second chance story.
Told from alternating first person points of view (Mack and Francesca) including memories from the past, MACK DADDY focuses on the rekindling relationship between one time best friends Mack Morrison and Francesca O'Hara. Francesca is an elementary school teacher and the new term begins with a familiar face-a face that destroyed our heroine's heart. Enter Mack Morrison, and his six year old son Jonah-a young man with issues of separations and anxiety. What ensues is the rebuilding friendship and romance between our leading couple as they consider their future together and alone.
Francesca aka Frankie O'Hara loves her current boyfriend Victor-an older lover who offers Frankie the world- but the reappearance of the one that walked away begins to break down all of Frankie's resistance. Victor offers Frankie a choice, then quietly walks away without a fight to the finish. Mack Morrison shares custody of his son with his ex Torrie-the woman for whom he sacrificed his friendship with Frankie, and the woman who will continue to destroy our hero's heart. But with war comes the battles, and Mack and Frankie will choose their battles one step at a time.
The relationship between Mack and Frankie is one of second chances; a rekindling romance that sizzled with palpable sexual attraction but a romance that was never to be. Mack was in a relationship that his father approved, and Frankie was a friend who got caught in the crossfire. The $ex scenes are intimate and intense without the use of sexually graphic, over the top language and text.
We are introduced to Frankie's co-worker Lorelai, a woman who pushes all of Frankie's buttons; Mack's ex Torrie Hightower; his neighbor Mrs. Migillicutty; his mother and sister, as well as his politically prominent father.
The world building looks at second chances, and hard choices, and in this some readers may take offense or have difficulty with some of the story line content-Frankie straddles a line of infidelity where Mack and her current relationship are concerned.
MACK DADDY is a story of second chances; of a friendship that was broken; of a heart that was unable to move on from the past. The premise is engaging; the romance is passionate and emotional; the characters are colorful and energetic. MACK DADDY is a sexy and sensitive story line from the mind of Penelope Ward.
Copy supplied for review
Reviewed by Sandy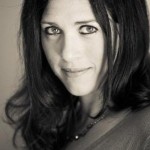 Penelope Ward is a New York Times, USA Today and Wall Street Journal Bestselling author. She grew up in Boston with five older brothers and spent most of her twenties as a television news anchor, before switching to a more family-friendly career. She is the proud mother of a beautiful 11-year-old girl with autism and a 9-year-old boy. Penelope and her family reside in Rhode Island.
Facebook | Website | Twitter | Instagram | Pinterest | Goodreads | Private Fan Group