Manwhore (Manwhore #1) by Katy Evans-Review, Interview and Giveaway
Manwhore
Manwhore #1
by Katy Evans
Genre: adult, contemporary, erotic romance
Release Date: March 24, 2015
Amazon.com / Barnes and Noble / Indiebound / Simon and Shuster
ABOUT THE BOOK: Release Date March 24, 2015
Is it possible to expose Chicago's hottest player—without getting played?
This is the story I've been waiting for all my life, and its name is Malcolm Kyle Preston Logan Saint. Don't be fooled by that last name though. There's nothing holy about the man except the hell his parties raise. The hottest entrepreneur Chicago has ever known, he's a man's man with too much money to spend and too many women vying for his attention.
Mysterious. Privileged. Legendary. His entire life he's been surrounded by the press as they dig for tidbits to see if his fairytale life is for real or all mirrors and social media lies. Since he hit the scene, his secrets have been his and his alone to keep. And that's where I come in.
Assigned to investigate Saint and reveal his elusive personality, I'm determined to make him the story that will change my career.
But I never imagined he would change my life. Bit by bit, I start to wonder if I'm the one discovering him…or if he's uncovering me.
What happens when the man they call Saint, makes you want to sin?
•••••••••••••
REVIEW: MANWHORE is the first installment in Katy Evans's contemporary, adult Manwhore erotic romance series focusing philanthropic billionaire Malcolm Saint and journalist Rachel Livingston. Set against the Chicago skyline, MANWHORE finds Rachel caught between her job and her heart.
Told from first person point of view (Rachel) the storyline follows Rachel as she is 'tasked' with investigating billionaire 'manwhore' Malcolm Saint. Rachel's employer the 'EDGE' magazine is quickly succumbing to the recession and a tell-all expose about Malcolm Saint may give the magazine a stay of execution. When Rachel's boss assigns the story to Rachel, she begins to research everything she can about Malcolm Saint and she doesn't like what she hears and reads. A few well placed calls and Rachel begins her descent down the rabbit hole where she will loose her heart and her soul to a man who is very different than the public persona.
The relationship between Malcolm and Rachel is one of immediate attraction but Rachel has a job to do. She tries desperately to remind herself that Malcolm is an assignment-one that has fallen completely out of control. There is a definite spark between our couple, one that does not go unnoticed by both Rachel and Malcolm's friends, and in this there is the usual push and pull between the heart and mind. The $ex scenes are intimate, erotic and intense.
Rachel is a woman determined to keep things professional but as the storyline builds so too does the sexual attraction between our couple; there is no mistaking the heat, the need and the desire but in the end, nothing good will come when the truth is revealed. Malcolm is a man who doesn't do relationships; and his reputation with the ladies precedes his introduction to Rachel. Heartbreak and pain will follow when someone looking for revenge, exposes the truth about Rachel's assignment.
The secondary and supporting characters include Malcolm's best friends Callan and Tahoe ; Rachel's besties Gina and Wynn- both of whom play the devil's advocate; and Rachel's mother Helen. The requisite evil comes in the form of Rachel's coworkers who demand and undermine Rachel's attempts to stop the investigation; and an assortment of Malcolm's employees, drivers and professional assistants whose duty it is to protect Malcolm from investigating eyes. There are a couple of potential storylines developing –perhaps between Rachel and Malcolm's friends !
MANWHORE is an intense, captivating and deliciously romantic read. Katy Evans pulls the reader into a story that is moving and seductive; where ethical and moral dilemmas are only a heartbeat away; where falling in love is as beautiful as it is destructive. The tension and anxiety build while the reader watches the inevitable fall out.
Copy supplied by the publisher through Netgalley.
Reviewed by Sandy
TRC: Hi Katy and welcome to The Reading Cafe. Congratulations on the release of MANWHORE.
Katy: Thanks so much for having me over, Sandy!
TRC: We would like to start with some background information. Would you please tell us something about yourself?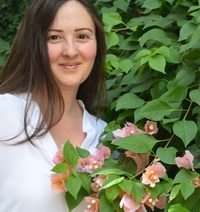 Katy: I'm Katy Evans, author of the Real series and the upcoming Manwhore series. Real debuted in 2013 as the first in the Real series and from that moment on, I've been truly blessed to be able to share my characters and stories with readers. The first book in my new series, Manwhore, releases this month and I'm super excited for readers to meet Rachel and Malcolm Saint.
TRC: Who or what influenced your career in writing?
Katy: It all began when I became addicted to the Sweet Valley High books. As I closed the pages of my very first one, it struck me that all I wanted was to be a writer and share my own characters and stories with others. I wanted to make others feel the things I felt reading, and I also wanted to share the stories that – even then – seemed to pop in my head at night as I imagined alternate endings or plot points.
TRC: If you had a choice, which career, other than writing, would you like to attempt?
Katy: I'd love a career where I get to work with animals all day, especially wild animals. Animals genuinely like me and I'm also insanely attracted to them. They give me such joy.
TRC: MANWHORE is your March 2015 release-an adult, contemporary, erotic romance storyline. Would you please tell us something about the premise?
Katy: Manwhore begins with my heroine, Rachel, getting an assignment to approach and investigate Chicago's most notorious womanizer, the toe-curlingly gorgeous Malcolm Saint. What's great about Saint is that we get a glimpse of him through the social media first – basically, gossip. Before our heroine meets him in person, she judges him based on the exterior persona that he projects to the world. Daredevil. Ruthless. Relentless. A playboy. All true. But when Rachel is assigned to get the "real" deets on him, we get to see another side of him that you'd never expect. And that's what truly made me fall for him – I hope readers will fall for him as hard as I did too. There is SO much more to this man than meets the eye. He is so much more than a "manwhore."
TRC: How many books do you have planned for the series? Will all of the books feature Malcolm Saint as the leading hero or does each installment feature a different leading couple?
Katy: The first 2 or 3 books will be about Malcolm and Rachel and I'm hoping to continue with stories for some of their friends. 😉
TRC: What challenges or difficulties (research, logistics, background) did you encounter writing this particular story?
Katy: It was initially a challenge to take the book where I wanted to go. I had a very clear idea of what I wanted the book to be like, but I wasn't sure exactly at what point of the story to begin. I played around endlessly until I found some direction from my wonderful beta readers and agent, and from that moment on, the book exploded.
TRC: Are the storyline characters based in reality or a culmination of fact and fiction?
Katy: My stories are a blend of fiction and reality. As they say, fiction imitates real life, and vice versa! 😉
TRC: How do you keep the plot unpredictable without sacrificing content and believability?
Katy: I'm a very organic writer, so although I know "what" I'm writing about and have an essential idea of how the book should be, I don't know anything else. I just sit down and start pulling out scenes the characters start to shoot my way, and sometimes I discard them when I don't feel they're good enough to match my vision, and sometimes I keep them but work on them endlessly until they get to a place they want. Sometimes I put them in the wrong place and realize maybe it needed to come sooner, or later, or not at all. So it's a bit of a discovery process, and then a shaping process to be sure that one thing leads to the other and then to the other…
TRC: Let's talk about your REAL series. The sixth book is set to release later in 2015. Do you have a title or leading character? If so, are you able to give us a hint ?
Katy: The Real book #6 is still in brainstorming stages so I don't want to jinx it yet. I'm allowing all my characters free reign so it could be a return to characters readers have already met, or a new story for one of the supporting characters in the first several books. I definitely promise to keep you updated.
TRC: When writing a storyline, do the characters direct the writing or do you direct the characters?
Katy: Oh definitely the characters. I always start with an idea that seems to come with the character – what does he/she want? That's usually what starts all my stories. When I know that one of the MC's wants something pretty badly. And from then on, they direct the story.
TRC: The mark of a good writer is to pull the reader into the storyline so that they experience the emotions along with the characters. What do you believe a writer must do to make this happen? Where do you believe writers fail in this endeavor?
Katy: I think that a great book has many elements, but the most important is definitely to make us care about what happens to the character. It's not the same to watch a car blow up than to watch a car blow up with someone your character loves inside that car. To make that connection, I think we need to dive deep into the psyches of our characters, sometimes to uncomfortable places, to find the truth of who they are and why they are the way they are. Maybe it hurts and sometimes we shy away from digging that deep, but when we do that, it's definitely when the magic happens!
TRC: Writer's Block is a very real phenomenon. How do you handle the pressures and anxiety of writer's block?
Katy: When I feel blocked, I usually step back and leave the book for a few days, and when that doesn't work, I reread it or ask an author friend to give it a read, and help me pinpoint whatever is not working in the story. Usually Writer's Block happens when you hit a wall and somehow the writer needs to scale that wall or go around it, or simply change something before that wall so that you don't write yourself into a corner.
TRC: What is something that few, if any people, know about you?
Katy: I'm shamelessly obsessive about certain things and I want them exactly my way or….the highway. Thankfully my husband knows my looks and knows when to let me get my way, and when to set his foot down. Haha
TRC: On what are you currently working?
Katy: I'm currently finishing MANWHORE +1, the continuation of Malcolm and Rachel's story, out July 7th.
TRC: Would you like to add anything else?
Katy: Thanks so much for having me over. I'm truly blessed to be able to share my stories and can't tell you how much the support I've received means to me!
LIGHTNING ROUND
TRC: Favorite Food
Katy: dark chocolate
TRC: Favorite Dessert
Katy: Hail Merry gluten free pies
TRC: Favorite TV Show
Katy: Vikings
TRC: Last Movie You Saw
Katy: Hunger Games: Mockingjay Part 1
TRC: Dark or Milk Chocolate
Katy: DARK! For sure :d
TRC: Secret Celebrity Crush
Katy: Oh. I have many. Chris Hemsworth definitely tops the list.
TRC: Last Vacation Destination
Katy: St. Petersburg, Florida
TRC: Do you have any pets?
Katy: One mastiff and two pugs – Godzilla, Romo and Tommy 😀
TRC: Last book you read
Katy: OVERRULED by Emma Chase, awesome as always!
TRC: Pet Peeve
Katy: Waiting. Waiting for anything makes me insane. Haha
TRC: Thank you Katy for taking the time to answer our questions. Congratulations on all of your success.
Katy: Thanks so much for having me over, Sandy, wishing you much success and many books to read! 🙂

TRC: Katy and her publisher are offering a paper copy of MANWHORE to ONE (1) lucky commenter at The Reading Cafe
1. If you have not previously registered at The Reading Cafe, please register by using the log-in at the top of the page (side bar) or by using one of the social log-ins.
2. If you are using a social log-in, please post your email address with your comment.
3. Please LIKE and Follow Katy Evans on Facebook
4. LIKE us on FACEBOOK and then click GET NOTIFICATION under 'liked' for an additional entry.
5. LIKE us on Twitter for an additional entry.
6. Please FOLLOW us on GOODREADS for an additional entry.
7. Please FOLLOW us on TSU for an additional entry.
8. Giveaway open to USA and CANADA only
9. Giveaway runs from March 24-28, 2015