NAUTI ENCHANTRESS (Nauti Girls #2) by Lora Leigh-Review and Giveaway
Nauti Enchantress
Nauti Girls #2
by Lora Leigh
Genre: contemporary, adult, erotic, romance, suspense
Amazon.com / Amazon.ca / Amazon.uk/ Barnes and Noble / KOBO / The Book Depository
ABOUT THE BOOK: Release Date June 3, 2014
When Dawg Mackay made his four half-sisters part of his family, he vowed that he would care for and protect them with everything he had. But what happens now that the girls are all grown up? The Mackay girls are on the loose, and Somerset County will never be the same…
Lyrica Mackay has wanted tall, handsome Marine Graham Brock for as long as she can remember. Unfortunately, Graham only sees her as his friend Dawg Mackay's "baby sister." Or so she believes. The truth is, the fiery party girl stirs something in Graham no female ever has. But Graham, like everyone in Somerset County, knows that trouble stalks the Mackays like bears track honey, and when a Mackay runs as hot as Lyrica does, someone's bound to get burned.
Then Graham discovers that Lyrica's wild side is just a cover for a frightened and vulnerable woman who needs something true and genuine, something only Graham can offer. But surrendering his heart to Lyrica exposes them both to her shocking past—and a sinister secret that, once exposed, could destroy their only chance at happiness and shake the Mackay family to its core.
•••••••••••••••
REVIEW: NAUTI ENCHANTRESS is the second storyline in Lora Leigh's contemporary, adult Nauti Girls erotic romance series-a spinoff from her successful Nauti Boys series. Some background: Six years earlier Dawg Mackay (Nauti Boys) discovered his father had another family who were suffering because of his father's past. Enter-four half sisters and their mother-and Dawg and his cousins have a new family of women to dominate and protect. This is twenty four year old Lyrica Mackay and Marine Graham Brock's story. The Nauti Girls series fast forwards Lora Leigh's NAUTI BOYS series several years with the introduction of Dawg's extended family.
The storyline follows Graham and Lyrica as they dance around one another-the attraction between our couple is palpable but Graham has been 'threatened' by the Mackay boys if he ever touches a single hair on Lyrica's head. And it is becoming more difficult as Lyrica is Graham's sister's best friend and always at his house, and someone is now taking care to stalk and take down Lyrica. Graham is a man-whore; his parade of monthly 'flavors' threatens his future with the woman who calls to his heart and Lyrica isn't willing to become the next flavor in Graham's parlor of women and sex.
The premise follows Graham and the Mackay cousins (Rowdy, Dawg and Natches) as well as the DHS (Department of Homeland Security) as they try to uncover the people threatening Lyrica Mackay. Lyrica is in a continuous battle for her life, and her safety whenever she leaves the protective confines of the Mackay family or Graham's house. Our intrepid group of former marines and military personnel know that Graham is in love with Lyrica and ensures that Graham is the first line of defense when it comes to Lyrica's protection. As the Mackay's and the DHS dig deeper it will be Lyrica who recognizes one of the people under suspicion and Graham begins to link everything back to his time in the Middle East war.
The relationship between Graham and Lyrica is tempestuous; fraught with heartbreak and betrayal as Lyrica watches the continuous stream of women in and out of Graham's bed; and yet, Graham and the Mackay boys refuse to allow Lyrica any sense of freedom or explore a love life of her very own. Dawg and his cousins know that Lyrica and Graham are in love with one another but the Mackay boys protective nature ensures that Graham will be in no position to hurt one of their own.
Lora Leigh pulls the reader into an erotic storyline with overprotective alpha males who know a thing or two about falling in love. All of the Mackay cousins-Dawg, Natches and Rowdy play a significant role as well as Alex Jansen and Timothy Cranston (former agent of the DHS). The inclusion of the Nauti Mackay boys lends familiarity and a connection to the Nauti Girls series. As with all of Lora's books, the sex is erotic, steamy, seduction and imaginative. The males are uber alpha, uber protective and only one woman will ever own each of their hearts.
NAUTI ENCHANTRESS follows another Mackay sibling and their journey of love and romance. There is always a former ally or nemesis waiting to attack and take down the Mackay cousins and their extended collection of family and friends, and in this, Lora Leigh writes another seductive chapter in the Nauti series of erotic stories of romance and love.
Copy supplied by the publisher through Netgalley.
Reviewed by Sandy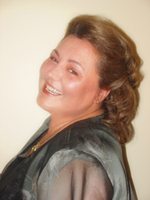 FOLLOW Lora: Website/Goodreads/Facebook/
Lora Leigh lives in the rolling hills of Kentucky, often found absorbing the ambience of this peaceful setting. She dreams in bright, vivid images of the characters intent on taking over her writing life, and fights a constant battle to put them on the hard drive of her computer before they can disappear as fast as they appeared. Lora's family, and her writing life co-exist, if not in harmony, in relative peace with each other. Surrounded by a menagerie of pets, friends, and a teenage son who keeps her quick wit engaged, Lora's life is filled with joys, aided by her fans whose hearts remind her daily why she writes.
Lora and her publisher Berkley are offering a paper copy of NAUTI ENCHANTRESS to one (1) lucky commenter at The Reading Cafe.
1. If you have not previously registered at The Reading Cafe, please register by using the log-in at the top of the page (side bar) or by using one of the social log-ins.
2. If you are using a social log-in, please post your email address with your comment.
3. LIKE us on FACEBOOK and then click GET NOTIFICATION under 'liked' for an additional entry.
4. LIKE us on Twitter for an additional entry.
5. Giveaway is open to USA only.
6. Giveaway runs from May 29 to June 3, , 2014