One Night: Denied (One Night #2) by Jodi Ellen Malpas-a review
Amazon.com / Amazon.ca / Amazon.uk/ Barnes and Noble / KOBO / The Book Depository
Click HERE for our review of ONE NIGHT: PROMISED (book 1)
ABOUT THE BOOK: Release Date November 11, 2014
The passion that burned between Livy and Miller in One Night: Promised may end up destroying them both in this new novel of overwhelming desire and shocking discoveries…
He's amazingly wealthy, sinfully gorgeous, and can bring her to heights of pleasure she's never before known. For Livy, there's no turning back. She's determined to be the light in Miller Hart's dark world. Yet this new life comes with a steep price…
Miller knows that the power he possesses hasn't come without sacrifices-but he won't let Livy be one of them. Though he wants nothing more than to have her in every way, his first duty is to protect her at all costs…from his sins, his enemies, and especially himself.
But as their insatiable affair intensifies, the two attract the attention of an obsessive-and dangerous-third party. Discovering new revelations about Miller that rock her to the core, Livy will have to decide whether he's ruined beyond repair. And he must face his fear that in order to save her, he may have to lose her after all…
•••••••••••••••••
REVIEW: DENIED is the second installment in Jodi Ellen Malpas's contemporary, adult ONE NIGHT erotic romance trilogy focusing on wealthy night club owner Miller Hart and coffee barista Olivia Taylor. Miller's big secret was revealed at the end of book one- ONE NIGHT: PROMISED and with it comes the devastating realization that Olivia has been destroyed by the only man she will ever love. The series must be read in order; each installment will end on a cliffhanger-of sorts.
The focus of ONE NIGHT: DENIED is Miller's continuous attempts to win back Olivia's trust. He is a man with a secreted past; a past that controls his present; and a darkness that will destroy the woman that he loves. As Miller fights to regain Olivia's faith in his ability as a lover and protector, Olivia will begin to suspect there is more to Miller's lifestyle than she first realized. Someone is hoping to destroy Miller and with it destroy any chance of happiness for our leading couple.
The relationship between Olivia and Miller continues to be sexually charged and intensely erotic. Miller takes every opportunity to express his love for Olivia, the only way he knows how-through sex and passion. Theirs is a relationship that started with a promise of 24 hours, but a relationship that has been built upon a lie of omission and betrayal. As Miller's life begins to crumble around them, Olivia will be caught up in the deceit and staggering revelations about his present and his past.
The world building continues as more is revealed about Miller's past and its connection to his present-a present that is all too familiar to Olivia. The secondary characters include most of the previous storyline cast who drive a good portion of the story. It is through their revelations and information that we begin to understand the depths of Miller's anguish and current situation. He is a man tormented by the path he has had to undertake which has resulted in a dangerous situation for the woman that he loves. When Miller attempts to pull away, he is destroyed by the realization that he may lose Olivia-forever.
ONE NIGHT: DENIED is another seductively passionate storyline from Jodi Ellen Malpas. There is heartbreak and sorrow for a man caught between two worlds-the one that he wants and the want that has never been under his control. DENIED is a provocative, intimate and distressing story of control and manipulation; betrayal and deceit; loving and letting go.
My only complaint is the repetition of some of the premise and text. Perhaps it is there to remind the reader about the nature of the storyline but at times it was a little disconcerting and redundant.
Copy supplied by the publisher through Netgalley
Reviewed by Sandy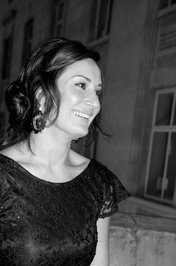 Follow Jodi: Goodreads / Website / Twitter / Facebook
In October 2012, Jodi Ellen Malpas burst onto the e-publishing scene with her first novel, This Man. The erotic story of Ava O'Shea, a young interior designer, and Jesse Ward, the handsome playboy who knows no boundaries was a hit with readers and industry tastemakers alike. It quickly began its climb up the bestseller lists as fans urged their friends to read it. Malpas continued Ava and Jesse's bestselling story with Beneath This Man and signed on with Forever/Grand Central Publishing to publish the third installment, This Man Confessed. In July 2013, This Man Confessed debuted solidly in the #1 spot on The New York Times E-Book Bestsellers List.
Now, with ONE NIGHT: PROMISED (Forever; August 5, 2014; $7.99/$15) Malpas is set to launch her second erotic romance trilogy—available in both e-book and trade paperback formats—that is sure to leave readers breathless for book two.
ONE NIGHT: PROMISED centers on Livy, a waitress who lives a rather quiet and solitary life. But all that is about to change. Livy notices him the moment he walks into the coffee shop where she works. He's heart-stoppingly stunning, with a blue-eyed gaze so piercing she's almost too distracted to take his order. When he leaves, she thinks she'll never see him again. Then she finds the note he left on his napkin . . . signed M. All he wants is one night to worship her. No commitment, no strings, nothing but pleasure. Every defense mechanism Livy has adopted during her solitary life is at risk of being obliterated. The fascination is so powerful; Livy can't deny him . . . or herself. Delving into his world becomes her obsession—one that could shatter her heart beyond repair.
Set in London, ONE NIGHT: PROMISED has all the elements that Malpas's fans love about her novels: a relatable heroine, a mysterious and complicated hero, and of course steamy passion. Readers won't have long to wait for the rest of Livy and M's store either. The second book, One Night: Denied is scheduled for November 2014 and the final installment will out in early 2015.