One Night: Promised (One Night Trilogy #1) by Jodi Ellen Malpas-Review and Interview with the Author
Amazon.com / Amazon.ca / Amazon.uk/ Barnes and Noble / KOBO / The Book Depository
ABOUT THE BOOK: Release Date August 5,2014
Livy notices him the moment he walks into the coffee shop. He's heart-stoppingly stunning, with a blue-eyed gaze so piercing she's almost too distracted to take his order. When he walks out the door, she thinks she'll never see him again. Then she finds the note he left on his napkin . . . signed M.
All he wants is one night to worship her. No feelings, no commitment, nothing but pleasure. Every defense mechanism Livy has adopted during her solitary life is at risk of being obliterated by this confounding man. He's obnoxious but well-mannered. He's a gentleman but aloof. He's passionate but emotionless. Yet the fascination is so powerful, Livy can't deny him… or herself.
M awakens something in Livy, something deep and addictive that she never knew existed — and that she fears only he can satisfy. But she senses that behind the fast cars, fancy suits, and posh apartment, he's aching inside. To have him, body and soul, she'll have to brave his dark secrets. Delving into his world and breaking down his defenses become her obsession – an obsession that could shatter her heart beyond repair..
•••••••••••••••••
REVIEW: ONE NIGHT: PROMISED is the first instalment in in Jodi Ellen Malpas adult, contemporary One Night Trilogy erotic romance series focusing on Livy and M-a couple of broken birds whose past and present haunts their daily lives. This is a story where M wants twenty four hours with Livy-no strings, no commitments, no promises for the future. What ensues is a tumble down the rabbit hole for two people whose lives are more similar than not.
The focus of the storyline is the building relationship between Livy and the man she knows only as M-one based on a mutual need and desire but one that also has an expiry date of twenty four hours. M is a man whose obsession with Livy hides a dark secret-one that he isn't willing to reveal. His personal and private life shall never meet and in this Livy is lost and confused when M wants to know everything about her life but refuses to reveal anything about his own.
The relationship is one of mutual attraction, sensuality and need. M is a man who knows what he wants and he wants Livy for his very own. M is a man with many secrets and issues-issues that become all too clear to Livy with each and every encounter.
Livy is a twenty four year old woman with a past mired in betrayal, regret and abandonment. Seven years earlier Livy's life took an unexpected turn when she went on the hunt for information about her past. Today, Livy's past is about to collide with her present and there isn't anything she can to stop the collision. She is a woman who is quick to run when she perceives betrayal and pain, but in this she is also one to confront some of the issues head on when M keeps Livy in the dark about what has been happening in his world. When Livy goes looking for answers, what she finds will not only shatter her faith in M but shatter her heart as well.
ONE NIGHT: PROMISED is a sensual, seductive and intense storyline about two people who are perfect for one another. They balance one another's needs and wants but what one wants isn't necessarily what one needs. Jodi Ellen Malpas pulls the reader into a startling storyline where once secrets are revealed the drama that unfolds will leave you breathless and crying for more.
Copy supplied by the publisher through Netgalley.
Reviewed by Sandy

TRC: Hi Jodi and welcome to The Reading Café. Congratulations on the release of ONE NIGHT: PROMISED and the new ONE NIGHT series.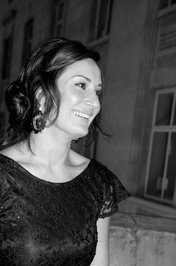 JODI: Thank you!
TRC: We would like to start with some background information. Would you please tell us something about yourself?
Follow Jodi: Goodreads / Website / Twitter / Facebook
JODI: In a nutshell, I'm 34, a mother of two boys and I love losing myself in fiction, mainly my own.
TRC: Who or what influenced your career in writing?
JODI: Honestly? Me. I wanted to write a story that pleased me 100%. It wasn't that the story was perfect, it was that I could take things in whatever direction I wanted and pump in every emotion to the point I lived it in my head. The fact that it pleased God knows how many other women was a huge bonus, obviously!
TRC: Would you please tell us something about the premise of your contemporary, adult ONE NIGHT: PROMISED trilogy?
JODI: One Night follows the love story of Olivia and M. Unlike This Man, both of the main characters have a tainted history. It's also a little darker than this man, and far more action-packed. After writing about my beloved lord, I wanted to capture my readers imagination with an entirely different set of characters. The idea of One Night and the characters of Livy and M snowballed for me. The tagline of PROMISED kind of says it all… One Night Will Never Be Enough.
TRC: Who or what was the inspiration behind the new series?
JODI: My inspiration is always fierce love – the kind that sends you dizzy and makes you lose all reason. I'm also a sucker when it comes to alpha men. Go figure! Now I also have an army of ladies who love my stories as much as me, so I have to add that their enthusiasm now inspires me too.
TRC: What challenges or difficulties (research, logistics, background) did you encounter writing this particular series?
JODI: My biggest challenge was getting over my worry to please my readers. I know how much Jesse is loved and I know people will compare him and M. They are so different, and I meant them to be. I'd be silly to try and recreate The Lord. There's only one Jesse and it should stay that way. M, on the other hand, brings a new dimension to the term "alpha male".
TRC: ONE NIGHT: DENIED is the second instalment set for release in November 2014. Would you please tell us something about the premise?
JODI: PROMISED is focused mainly on Olivia and her history. When we move into DENIED, we know a lot about Livy, and not so much about M – except one very important thing. DENIED is mainly centred around M and his story, plus their growing but turbulent relationship.
TRC: Do you think the revelation of M's business profession will come as a shock to most readers?
JODI: I think the signs are there and I intended them to be. Some have been utterly shocked, others have said they suspected early in the book. That particular revelation wasn't meant to be a huge bombshell, though I'm glad some have been truly stunned by it. The way the exposure is approached by both Livy and M is more of a shock.
TRC: If you could virtually cast the characters of Livy and M which actors or models would best represent your ideal image?
JODI: HA! As with This Man, I'll never disclose my muses. I think it's important for my readers to build up their own perfect fit. I don't want to spoil their imagination with my ideal image, just in case it isn't theirs.
TRC: The final instalment in your popular THIS MAN trilogy was released in July 2013. Have you considered releasing a novella or short story to catch the readers up to date on Ava and Jesse's life?
JODI: No, I haven't. I don't think I could write a short story!
TRC: When writing a storyline, do the characters direct the writing or do you direct the characters?
JODI: A bit of both. For the most part, I direct the characters and storyline, but when you've developed characters and fleshed them out, as silly as it sounds, they have personalities. There are often times when I sit and wonder how a character would react to the situation I've put them in, in which case, they direct me.
TRC: The mark of a good writer is to pull the reader into the storyline so that they experience the emotions along with the characters. What do you believe a writer must do to make this happen? Where do you believe writer's fail in this endeavor?
JODI: Your first sentence: I've always said this! This is why I don't think I can write a short story. I need room to develop the characters, let my readers get to know them. That's when I believe you get that connection between you readers and your characters, and a true investment from your readers in the fictional world you've created. I'm in no position to give my take on why some writers fail to do this. Every writer captures someone's imagination – just some more than others.
TRC: Writer's Block is a very real phenomenon. How do you handle the pressures and anxiety of writer's block?
JODI: I walk away from the laptop, usually after blankly staring at it for a while. It could drive you insane if you let it. I return the next day and generally find I can roll again.
TRC: Many authors bounce ideas and information with other authors or friends and family. With whom do you bounce ideas?
JODI: No one. I don't think I'd have any friends if I blasted them with the stuff that flies around in my head! I always finish a book before I let anyone take a peek – usually my friend Kate. Then, of course, my agent.
TRC: What three things would you like to accomplish in the next five years?
JODI: I feel like I've achieved so much already in my short career. As long as I continue to consume my readers, I'll be happy ☺
TRC: What is something that few, if any people, know about you?
JODI: If they don't know, there's a reason 😉
TRC: On what are you currently working?
JODI: I'm taking a short break after what's been a really intense writing and editing schedule. I'm not sure how long I'll force myself to stay away from the laptop. Probably not long at all! I have a few ideas racing around and I'm itching to dive in.
TRC: Would you like to add anything else?
JODI: Only how grateful I am to all of my ladies for their continued love and support. #mushy!
LIGHTNING ROUND
Favourite TV Show – Sons of Anarchy
Last Movie You Saw – Dallas Buyers Club
Favourite Musical Group – Too many!
Dark or Milk Chocolate – Dark! And it has to be Green and Blacks 😉
Secret Celebrity Crush – Which one?!
Last Vacation Destination – Like a proper vacation? Madeira, and that was too long ago!
Do you have any pets? A Beagle. Prince Loui – or Lucifer when he's being a nuisance
Pet Peeve – Bad Manners
TRC: Thank you Jodi for taking the time to answer our questions. Congratulations on the new release and the new series.
JODI: Thank you, Sandy ☺


In October 2012, Jodi Ellen Malpas burst onto the e-publishing scene with her first novel, This Man. The erotic story of Ava O'Shea, a young interior designer, and Jesse Ward, the handsome playboy who knows no boundaries was a hit with readers and industry tastemakers alike. It quickly began its climb up the bestseller lists as fans urged their friends to read it. Malpas continued Ava and Jesse's bestselling story with Beneath This Man and signed on with Forever/Grand Central Publishing to publish the third installment, This Man Confessed. In July 2013, This Man Confessed debuted solidly in the #1 spot on The New York Times E-Book Bestsellers List.
Now, with ONE NIGHT: PROMISED (Forever; August 5, 2014; $7.99/$15) Malpas is set to launch her second erotic romance trilogy—available in both e-book and trade paperback formats—that is sure to leave readers breathless for book two.
ONE NIGHT: PROMISED centers on Livy, a waitress who lives a rather quiet and solitary life. But all that is about to change. Livy notices him the moment he walks into the coffee shop where she works. He's heart-stoppingly stunning, with a blue-eyed gaze so piercing she's almost too distracted to take his order. When he leaves, she thinks she'll never see him again. Then she finds the note he left on his napkin . . . signed M. All he wants is one night to worship her. No commitment, no strings, nothing but pleasure. Every defense mechanism Livy has adopted during her solitary life is at risk of being obliterated. The fascination is so powerful; Livy can't deny him . . . or herself. Delving into his world becomes her obsession—one that could shatter her heart beyond repair.
Set in London, ONE NIGHT: PROMISED has all the elements that Malpas's fans love about her novels: a relatable heroine, a mysterious and complicated hero, and of course steamy passion. Readers won't have long to wait for the rest of Livy and M's store either. The second book, One Night: Denied is scheduled for November 2014 and the final installment will out in early 2015.