Passionate Addiction (Reckless Beat #2) by Eden Summers-Review, Blog Tour and Giveaway
Passionate Addiction
Reckless Beat #2
by Eden Summers
Genre: contemporary,new adult, romance, rock stars
Release Date: November 15, 2013
Amazon.com / Amazon.ca / Amazon.uk/ Barnes and Noble / KOBO /-ARe 
ABOUT THE BOOK: Release Date November 15, 2013
He's been her ultimate untouchable desire.
Nothing says happy birthday like a rock god flying thousands of miles to surprise a woman he's never met. But that's exactly what happens to Gabi Smith when she gives her long distance best friend a flippant invitation to her laid back girl's night out. She never expected to turn on the dance floor and find Blake Kennedy's gaze holding her body captive.
She's his everything and he's never laid eyes on her.
Gabi means more to Blake than life itself. She's his strength, his savior, and the only person who helped to vanquish his demons. No one means more to him than his angel. So when things between them start to sizzle, he's ready to fight for the future he never thought he would deserve.
Skeletons from his past will threaten his only chance at love…
Blake has come a long way—with Gabi's help—to leave the hell of his youth behind him, but sometimes memories don't want to stay buried. Determined to stand on his own for once, Blake is willing to stretch the truth to keep his troubles from burdening the woman he adores.
Little white lies can create black holes in any relationship. Only time will tell if an Aussie with a heart of gold will forgive her bad-boy boyfriend or if the deceit will end his passionate addiction
•••••••••••••••••••
REVIEW: PASSIONATE ADDICTION is the second instalment in Eden Summer's contemporary, new adult rock genre storyline focusing on the members of the rock band Reckless Beat and the women they love. This is Blake and Gabrielle's story-one with a heartbreaking past that has the ability to destroy the future. Although this is the second in the series, it can be read as a stand alone without too much difficulty.
The storyline begins five years in the past when Gabi and Blake were first introduced. There was never a physical introduction but one via message boards and Skype. Gabi was a volunteer with a crisis help line in Australia and Blake was in need of a crisis intervention back in the USA. Fast forward five years and Gabi will come face to face with the man to whom she has lost her heart and her soul. With Reckless Beat preparing for their Australian tour, Blake made it his mission to find the woman he calls his 'angel'. She saved his life and he wants to make their relationship more permanent.
The novel focuses on Gabi and Blake's building relationship. For five years Gabi has been Blake's rock and sounding board, and now that they are finally together their physical connection is immediate and over the top. But Blake's past is about to present itself front and center and Blake believes that his only option is to walk away before Gabi is pulled into the mess that was once his life.
The sexual relationship between Gabi and Blake is palpable. The love making is sensual, erotic and often. The world building continues from Blind Attraction as Eden Summers reveals more about the band members and the daily lives behind the scenes of a world famous musician.
There is plenty of tension and anxiety; blackmail and revenge; betrayal and issues of trust. The leading characters are likeable and relatable in a 'famous rock god' sort of way. There are heartbreaking and painful moments when Gabi must face the truth of what she has seen, but the reality is much different then what has been presented. A shattered heart is a difficult thing to put back together-there will always be a scar as a reminder of the past.
Eden Summers pulls the reader into a vortex of emotions that can only end with a HEA.
Copy supplied by the author.
Reviewed by Sandy
____________________________
Blind Attraction
Reckless Beat #1
by Eden Summers
Genre: contemporary, new adult, rock star, romance
Release Date: May 28, 2013
Amazon.ca / Amazon.ca / Barnes and Noble / ARe/ Smashwords / KOBO
He can seduce with a single glance.
Peering down at a sea of fans, rock star, Mitchell Davies can't deny the innocent beauty of a woman in the front row. He'll stop at nothing to get to know her. When a public altercation leaves her weak and defenseless, he takes the opportunity to be her savior.
She's been sheltered from the world.
Alana Shelton wants to spread her wings and experience life away from her restrictive upbringing. But she isn't prepared for a gorgeous stranger to sweep her off her feet while at her most vulnerable.
Attraction will bring them together, but their pasts will try to tear them apart.
He wants to teach her how to trust, but she'll show him how to love. In a glamorous world of rock-and-roll, only time will tell if they're up for the challenge.
Website  –  Facebook  –  Twitter  –  Goodreads
Eden Summers is a true blue Aussie, living in regional New South Wales with her two energetic young boys and a quick witted husband.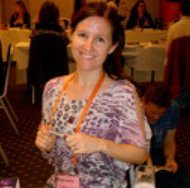 In late 2010, Eden's romance obsession could no longer be sated by reading alone, so she decided to give voice to the sexy men and sassy women in her mind.
Eden can't resist alpha dominance, dark features and sarcasm in her fictional heroes and loves a strong heroine who knows when to bite her tongue but also serves retribution with a feminine smile on her face.
Eden has been an avid romance reader for years, falling in love with fictional hero's left, right and center. It wasn't until early 2011 that she decided to add to her pastime of reading and reviewing and take her own writing seriously.
She joined the Australian Romance Writers Association.
The hunky men and sassy women who dominate my daydreams are now being put to paper, eagerly awaiting their moment in the limelight.

Up for grabs are two $20 Amazon gift cards, a $10 Amazon gift card and two Reckless Beat swag packs.
NOTE: The Reading Cafe is NOT responsible for the rafflecopter giveaway. If you have any questions, please contact the author.