Ripped (Real #5) by Katy Evans-Review and Blog Tour
RIPPED
Real #5
by Katy Evans
Release Date: December 9, 2014
Genre: new adult, contemporary, erotic, romance
Amazon.com / Amazon.ca / Amazon.uk/ Barnes and Noble / KOBO / The Book Depository
RIPPED (Real #5) by Katy Evans
ABOUT THE BOOK: Release Date December 9, 2014
The fifth book in the New York Times new adult series that began with Real. When an angry, heartbroken girl is forced to be near her rocker ex-boyfriend, only time will tell if the fire between them will consume them both.
Pandora, the gothic friend of Brooke (Real, Mine, Remy) and Melanie, thought that getting her heart broken by her bad boy rocker ex could only happen once. But now, he's back in town with the biggest concert of the year. Pandora hates him so much that she gets Melanie to come with her and play a prank on him at his gig. But when they are caught by security, and her ex himself is summoned, he decides not to press charges if she'll follow certain conditions. Pandora likes none of his rules, or that he's in charge of her, especially since they seem designed to make sure she's in close contact with him again. But the closeness reignites the passion they once shared, and soon no matter how much she wants to hate him, it's clear she's still hung up on him. And worse: he knows it too.
Every woman wants me–except the one I sing for.
Seattle shakes with anticipation: they call it the concert of the year. They say girls are getting pregnant just thinking about my band being in town.
But when you love a girl, you don't leave her with nothing but a ring and a promise. Any man with half a brain should know.
So what did I expect my girl would do when she saw me again?
Well, for starters, she loathes our music. Particularly the song I wrote about her.
When I sing it, the stadium is in an uproar. Thousands of fans scream my name like I'm a god–but yeah, not her. Crystal clear: the girl's not happy to see me.
Black hair, black boots, a bad attitude, that's her — Pandora Stone is a freaking man-eater and she's out for my blood.
That's alright.
Let her come at me. Because I'm out for her heart and, this time, there's no way she can stop me.
•••••••••••••••••••
REVIEW:  RIPPED is the fifth storyline in Katy Evans's contemporary, new adult Real erotic, romance series. This is rock musician Mackenna (Kenna) Jones and Pandora Stone's (friend of Melanie and Brooke-Real, Mine, Remy and Rogue) storyline- a second chance at love for two people ripped apart and destroyed by the past.
Told from alternating first person points of view (Mackenna and Pandora) the storyline focuses on Pandora's need for revenge. When she learns the rock group Crack Bikini (yep, that's the name) and their lead singer Mackenna Jones have come to town, our heroine is hell bent on destroying Mackenna's life. Six years earlier Mackenna dropped out of Pandora's life without so much as a goodbye and Pandora has lived with the betrayal and hatred ever since.
History will show that Pandora and Mackenna were once in love. High school sweethearts who promised one another a happily ever after but life and everything it had to offer was ripped from their future. Now six years later, Pandora's immaturity and hatred for
Mackenna finds our heroine in need of legal help when she retaliates with rotten tomatoes during the concert. To avoid further embarrassment, management makes Pandora an offer she cannot refuse-three weeks with the band or they press charges for assault. For the next twenty one days Pandora is determined to make life on the road miserable for everyone, including the camera man following her around, but soon realizes she has never stopped loving the man who ripped out her heart.
Pandora is an angry, immature, dark and vulnerable young woman who has never been able to let go of the past and in this her actions, behavior and attitude leaves something to be desired. She is not an easy person to like; she continues to berate and belittle the man that she loves hoping to embarrass and destroy the rock-god's ego. But Mackenna has never stopped loving Pandora-his muse, his heart and his soul-and he will ensure the Pandora will never leave his side again. There is anger, vulnerability, betrayal and heartbreak for two people whose lives were destroyed by those that they loved. The sex scenes are imaginative and emotional; passionate and real.
The secondary characters include Melanie, Brooke and Remy from the previous storylines. Remy's appearance and page time is limited as the story focuses on Mackenna, Pandora and the members of Crack Bikini. The band mates are colorful, determined and a little bit bad but had no idea about the woman who made their lead singer tick.
RIPPED is provocative storyline about two people whose love for one another has been buried beneath the pain and anguish of heartbreak and loss. There are moments of intimate revelations and reflections about the past; a peak into what was and what could have been. Katy Evans writes from the heart where passion and seduction begin to mend a broken heart.
READING ORDER
REAL
MINE
REMY
ROGUE
RIPPED
Copy supplied by the tour promoter through Netgalley.
Reviewed by Sandy
WRITING RIPPED
By Katy Evans
RIPPED – I'm so excited to be sharing with everyone RIPPED, Real series book #5! ☺
RIPPED began with Pandora, Brooke (Real, Mine and Remy) and Melanie's (Rogue) goth friend. She's such a wounded warrior and so bitter that I was completely hooked wanting to know—what happened? What made her like this? Why does she hate men so much?
And that's how I met her man, Mackenna Jones.
He's back in Seattle for the concert of the year, and Pandora hates him so much, she is still so stuck in the past for having loved (and lost) him when she was young, she's determined to go pay him a visit and give him a little something to remember her by. Nothing nice, I assure you.
And that's where RIPPED totally exploded for me. It's one of those books where I couldn't stop writing even for a second. It seemed like I just opened Pandora's box of secrets and they came spilling out, one after the other. Memories, what truly happened in her eyes, in his eyes, their first kiss (sigh) and so much more. Their past is tumultuous and passionate and their present, when they reunite again, is just as passionate and rocky. They have a long way to go to their HEA but, though Pandora doesn't feel she deserves it and has never let herself want it, Mackenna has another plan to conquer back his girl.
What I love about this couple in particular is how equal they seem—the push and the pull always kept me guessing as to who had control of the situation, sometimes Pandora had Mackenna by the pants, and plenty of others it was Mackenna who kept getting the upper hand, knowing each and every one of Pandora's weaknesses (including that he is the main one.)
He is the boy she could never forget.
She is the girl no other girl has ever compared.
Things are about to get RIPPED during Mackenna's concert tour when his manager thinks it brilliant to force Pandora to tag along. ☺
~~Katy ~~
Click HERE for the complete RIPPED tour schedule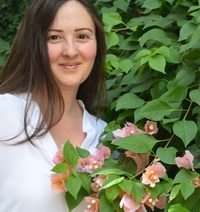 Katy Evans grew up with books and book-boyfriends until she found a real sexy boyfriend to love. They married and are now hard at work on their own happily ever after. Katy loves her family and friends, and she also loves reading, walking, baking, and being consumed by her characters until she reaches "The End." Which is, hopefully, only the beginning…