Rising Assets (Maverick Montana #3) by Rebecca Zanetti-Review and Interview with the Author
Amazon.com / Amazon.ca / Amazon.uk/ Barnes and Noble / KOBO /
RISING ASSETS (Maverick Montana #3) by Rebecca Zanetti
ABOUT THE BOOK: Release Date March 31, 2014
Friends with benefits was never the plan…
Melanie Jacobs is in trouble. With three jobs—including running her ranch—and dwindling funds, she's exhausted. Not to mention desperately trying to hide a secret. Unfortunately, her best friend Colton Freeze knows all too well that's something is going on, and he won't give up until he knows exactly what he needs to fix.
Then Colton learns the truth—that Melanie's future happiness rests in the fickle hands of fate, and her chances for having a family are shrinking with every passing day. Her only comfort is Colton, but when a heated argument between them turns into an even hotter kiss, the boundaries of their friendship are erased, leaving only a scorching-hot hunger for more.
Every kiss—every touch—is a stolen pleasure. But will their new friends-with-sexy-benefits arrangement bring them closer together, or destroy everything they once shared?
REVIEW: RISING ASSETS is the third storyline in Rebecca Zanetti's contemporary, adult, romance MAVERICK MONTANA series focusing on the Lodge/Freeze family and the people in their lives. This is Colton Freeze (CEO of Lodge-Freeze Enterprises) and Melanie Jacobs's (ranch owner) story. A friend to lovers storyline RISING ASSETS focuses on the push and pull of a friendship that will find our couple in love and none the wiser.
RISING ASSESTS follows down-on-her-luck Melanie Jacob as she struggles with three jobs while holding down the ranch her grandfather left her after he died. But money is tight and Melanie's health issues have burned through any savings she had stored. Enter childhood friend Colton Freeze-the man with whom she has been in love most of her life and the last person she is willing to bare her secrets and dreams.
The storyline is a friends to lovers trope with our couple unaware of the direction of their relationship. While the entire town has placed a bet on Colton and Melanie's love life, our couple is oblivious to the whispers of their hearts.
The world building continues from the first two instalments with the inclusion of many of the previous storyline characters for a familiar feel. The characters are likeable; no one has plans to destroy the relationship or the love. This is a story about a close knit town and family who are supportive but meddling; friendly but concerned; loving and willing to give a little push when someone is lost and is having a difficult time finding their way home.
The relationship between Colton and Melanie is sensual and the sexual tension is palpable. These are two people who have been in love with one another for most of their lives but are too stubborn and afraid to admit the truth.
Rebecca Zanetti pulls the reader into a romantic storyline where love definitely does conquer all; where friendship leads to romance; and where a small town knows a little too much about the personal lives of everyone who lives in and around.
Click HERE for our review of AGAINST THE WALL (Maverick Montana #1)
Copy supplied by the publisher.
Reviewed by Sandy

TRC: Hi Rebecca, and welcome to The Reading Café. Congratulations on the success of your SIN BROTHERS series and the release of Rising Assets-book three in your Maverick Montana series.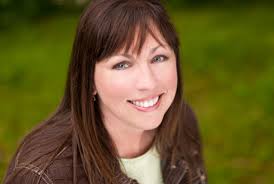 Rebecca: Hello! Thank you so much for having me over to play at The Reading Café! I love being here!
TRC: We would like to start with some background information. Would you please tell us something about yourself?
Rebecca: Sure! I live in the Pacific NW with my hubby, two kids, two dogs, and a crazy cat. We're in the process of moving houses right now to my dream home, and the move is, ah, a pain. I can't find my favorite coffee cup, although I have somehow found tons of lost socks. I think the insane cat has been hiding them.
TRC: What or who influenced your foray into writing?
Rebecca: I think I've always wanted to write, and in December of 2008, we became nearly snowed in, so I figured it was time. Being a trial attorney actually helped with the structure of telling a story and getting to the point, so my former career kind of assisted with my writing career.
TRC: RISING ASSETS is the latest release in your contemporary, western Maverick Montana series. Would you please tell us something about the premise and how it connects to the other two storylines in the series?
Rebecca: Absolutely! RISING ASSETS is a best friends to lovers story set in a small Montana town where everybody not only knows everyone else's business but feels just fine getting involved in private matters. In fact, there are no private matters. So, when Colton Freeze starts to fall for his best friend, Melanie Jacoby, the town creates a bet on when they'll actually get together. This is the third book in the series. In the first two books, Colton's older brothers find their own sexy happily ever afters.
TRC: How many instalments do you have planned for the series?
Rebecca: There are at least four stories, and we'll see after that. The fun thing about writing a sexy small town series is that there are many people in the town who could have their own book. So, I'm open to writing as many as readers want.
TRC: Are any of the characters in your storylines based in reality or a compilation of people and your imagination?
Rebecca: Hmmm. This is a great question! Can I say both? I mean, a lot comes from my imagination, but that's fed by people in my life, so I really think it's both. I have two sisters, and a lot of my heroines have their characteristics because they're awesome. And my husband is a hottie, so there are definitely parts of him in many of the heroes.
TRC: What challenges or difficulties (research, logistics, background, Native History) did you encounter writing this particular story and series?
Rebecca: To be honest, I live close to Montana and go there often, so I didn't have to research much. The main thing I wanted to make sure of was that the tribal name, the city name, and the county name weren't actual names anywhere. Although, I have spent many hours watching cowboys at work and finding just the right pictures to inspire me and post on Facebook. Yes, it has been rough. ☺
TRC: BLIND FAITH is the third instalment in your successful SIN BROTHERS contemporary, slightly paranormal/slightly sci-fi (because of the genetic engineering), romantic suspense series. Would you please tell us something about the premise?
Click HERE for our review of FORGOTTEN SINS
Click HERE for our review of SWEET REVENGE
Rebecca: Sure! The series is about a group of brothers who were created in test tubes by a paramilitary organization and trained as killers, until they finally escaped one day. Unfortunately, they have kill chips adjacent to their spines that will detonate in a short time if they don't figure out a way to get them out. Each book in the series features a brother who falls in love as they fight to live. BLIND FAITH features Nathan Dean, the brother who kept them all together through childhood, and the guy who feels responsible for all of them. It'll be released on May 6th.
TRC: If you could virtually cast the GRAY brothers from your SIN BROTHERS series, which actors or models would best represent your ideal image?
Rebecca: Hmmmm. The picture on the cover of FORGOTTEN SINS is exactly the guy I'd pick to play Shane Dean, the hero of that book. He's just perfect. I used a tough model with cool tats down one arm as inspiration for Matt Dean in SWEET REVENGE, and I don't know his real name. For Nate Dean in BLIND FAITH, I thought about Jensen Ackles at his darkest in Supernatural. For book four? I'm not telling yet. ☺
TRC: You write storylines in several different genres. Which do you prefer? Which do you find most difficult to write?
Rebecca: I write in the different genres because I enjoy each one. It's very nice to take a break from the darker stories in the Dark Protectors and even the Sin Brothers series and write about cowboys and falling in love with your best friend in the Maverick series. After that sexy lightness, I'm usually ready to get back to the darkness or the intrigue in the other books. I think writing in three genres is a good way to stay fresh and keep learning and growing. Whichever genre I'm writing at a particular time feels like the most difficult to write. LOL!
TRC: When writing a storyline, do the characters direct the writing or do you direct the characters?
Rebecca: This is a wonderful question, mainly because I'm not sure how to answer it. I think the characters direct the writing, because sometimes I'm not even aware of the actual words on the page as I write, if that makes sense. I read the same way. No words, just images like in a movie. I don't think I've ever actually admitted that before.
TRC: The mark of a good writer is to pull the reader into the storyline so that they experience the emotions along with the characters. What do you believe a writer must do to make this happen? Where do you believe writers fail in this endeavor?
Rebecca: Well, let's see. I think you have to create empathy for your characters by showing their weaknesses, their hopes, and their struggles. Once you do that, the reader is invested, as is the author, and you both cheer for the characters at that point. You have to make the characters relatable. So say somebody has never met a real cowboy. But most of us know what a sexy guy striding across a bar looks like. Just add the boots…and you've got it.
TRC: Writer's Block is a very real phenomenon. How do you handle the pressures and anxiety of writer's block?
Rebecca: You know, I was on a panel a while back with another author who was asked about writer's block, and she answered that she didn't have the luxury of writer's block. Her answer really struck a chord with me because I write for three publishers and have tons of deadlines. There's no time to be blocked. However, I do get anxiety, and I've struggled a bit more with that the last year while being so busy. To be honest, I'm still working on the best way to deal with this. One thing I did was quit my day job as a college professor. I'm also working out, eating right, and have just started yoga and deep breathing. I'm pretty ambitious, and I work hard, so I need to just learn to enjoy the moment and breathe. That's my current plan, anyway.
TRC: Many authors bounce ideas and information with other authors or friends and family. With whom do you bounce ideas?
Rebecca: Honestly? It's usually just me and the computer and the voices. ☺ Sometimes I will bounce ideas with my agent, and sometimes with my editors. But I usually like to have something on the page before I consult them.
TRC: If you could have drinks (or coffee) with ANY ONE dead or alive, who would it be and what question would be foremost on your mind?
Rebecca: Man, this is a great question. I have so many answers to this one, that it's difficult to pick just one. But I guess if I have to choose, today I'd choose Einstein, and I'd ask him about the biggest thing he learned during this life. For some reason, I think he'd be a kick in the pants to hang out with, you know?
TRC: On what are you currently working?
Rebecca: I'm about to turn in MARKED, which is the tenth book in the Dark Protectors and features Janie Kayrs and Zane Kyllwood. Finally…the answer as to who/what Zane is will be on the page. MARKED will be released in December, and I'm really excited for that one! Then I'd like to write Dawn and Hawk's book from the Maverick MT series. I've written the first chapter, and I'm ready to dive in.
LIGHTNING ROUND
Favorite Food
Angel hair pasta with olive oil, feta cheese, black olives, and tomatoes.
Favorite Dessert
Huckleberry pie
Favorite TV Show
Supernatural
Last Movie You Saw
Ug. Um…huh. Wow. What was the last movie I saw?
Dark or Milk Chocolate
Dark chocolate
Secret Celebrity Crush
Jensen Ackles…and not so secret. LOL!
Last Vacation Destination
Cabo in Mexico in a private home with five couples. Awesome!
Pet Peeve
Somebody crunching their ice cubes or sniffing constantly.
TRC: Thank you Rebecca for taking the time to answer out questions. Congratulations on the release of RISING ASSETS and the upcoming release of BLIND FAITH. We wish you all the best in your writing career.
Rebecca: Thank you so much! I had a ball with these questions and truly appreciate the time you put into creating them.
Follow Rebecca
Website: http://rebeccazanetti.com/
Blog: http://rebeccazanetti.com/blog-2/
Twitter: https://twitter.com/RebeccaZanetti
Facebook:https://www.facebook.com/RebeccaZanetti.Author.FanPage
Goodreads: https://www.goodreads.com/author/show/4149342.Rebecca_Zanetti
Newsletter: http://www.writerspace.com/newsletter/rzanetti-signup.html