ROUGH RIDE (Chaos 4.5 / 1001 Dark Nights) by Kristen Ashley-Review & Excerpt Tour
ROUGH RIDE
Chaos 4.5 / 1001 Dark Nights
by Kristen Ashley
Genre: adult, contemporary, MC, romance
Release Date : February 13, 2018
Amazon.com / Amazon.ca / Amazon.uk / Amazon.au /
Don't own a Kindle? Download the FREE Amazon Kindle App for your mobile device or pc
ABOUT THE BOOK: Release Date February 13, 2018
From New York Times and USA Today bestselling author Kristen Ashley comes a new story in her Chaos series…
Rosalie Holloway put it all on the line for the Chaos Motorcycle Club.
Informing to Chaos on their rival club—her man's club, Bounty—Rosalie knows the stakes. And she pays them when her man, who she was hoping to scare straight, finds out she's betrayed him and he delivers her to his brothers to mete out their form of justice.
But really, Rosie has long been denying that, as she drifted away from her Bounty, she's been falling in love with Everett "Snapper" Kavanagh, a Chaos brother. Snap is the biker-boy-next door with the snowy blue eyes, quiet confidence and sweet disposition who was supposed to keep her safe… and fell down on that job.
For Snapper, it's always been Rosalie, from the first time he saw her at the Chaos Compound. He's just been waiting for a clear shot. But he didn't want to get it after his Rosie was left bleeding, beat down and broken by Bounty on a cement warehouse floor.
With Rosalie a casualty of an ongoing war, Snapper has to guide her to trust him, take a shot with him, build a them…
And fold his woman firmly in the family that is Chaos.
Note: Every 1001 Dark Nights novella is a standalone story. For new readers, it's an introduction to an author's world. And for fans, it's a bonus book in the author's series. We hope you'll enjoy each one as much as we do.
•••••
REVIEW: ROUGH RIDE by Kristen Ashley is instalment 4.5 and novella in the author's Chaos MC series (a spin-off from the author's Dream Man series) and the latest instalment in the multi-authored 1001 Dark Nights anthology. This is twenty eight year old waitress Rosalie Holloway, and thirty three year old MC member Everett 'Snapper' Kavanagh's story line. ROUGH RIDE can be read as a stand alone without any difficulty. Any important information from the previous story lines is revealed where necessary. Rosalie was first introduced in book one OWN THE WIND-Shy and Tabby's story line.
SOME BACKGROUND: In book one OWN THE WIND Rosalie Holloway's heart was broken when the biker that she loved (Shy Cage) fell in love with the Chaos MC president's daughter Tabitha Allen. The daughter of a biker herself, Rosalie was desperate to find the love her mother and father once enjoyed before his death three years earlier, but finding love with a member from a rival MC meant Rosalie's allegiances would be tested again and again.
WARNING: ROUGH RIDE contains scenes (some implied) of graphic violence that may not be suitable for all readers.
Told from first person point of view (Rosalie) and third person (Snapper), ROUGH RIDE focuses on the friends to lovers, building relationship between Rosalie Holloway and Everett 'Snapper' Kavanagh in the days and weeks following the beating and attack against our story line heroine by a man she once loved and the Bounty MC. Undercover for the Denver biker Chaos MC, Rosalie reported back what little information she could about the Bounty MC-a rival gang who vowed to make Rosalie suffer when it was discovered that she ratted back to the Chaos gang. What ensues is the building romance between Snapper and Rosalie, and the potential fall out as Rosalie begins to pull away from the people who vowed to save and protect her from the Bounty MC- people who needed to atone for letting down our story line heroine.
Rosalie Holloway barely survived the beating endured by the Bounty MC, a beating meant to send a message to the members of Chaos but a beating that provoked a violent reaction as most women are protected by honor and code-Women. Kids. Bike. Freedom. Vowing to protect Rosalie with his life, Snapper begins a slow seduction of the woman that has called to his heart since the first time they met
The relationship between Snapper and Rosalie has always been one of mutual attraction; a palpable sexual interest but Rosalie kept looking for what she lost- a replacement for the father she loved with all of her heart. From Shy Cage to rival MC member Throttle Beck, Rosalie was desperate to find love one way or another but it wasn't until Beck discovered Rosalie's betrayal did Snapper make a move to claim Rosalie as his own. The $ex scenes are limited but passionate and intense.
There is a very large ensemble cast of supporting and secondary characters including most of the Chaos MC: Shy and Tabby; Joker, Carissa and Travis: Lanie, Hop and Nash; Chaos president Kane 'Tack' Allen and his wife Tyra Masters; Logan 'High' Judd and Millie; Roscoe, Hop, Rush, Boz , Hopper Kincaid as well as Rosalie's mother Renae; and several members of the Bounty MC including Rosalie's ex boyfriend Gerard "Throttle' Beck.
ROUGH RIDE is an emotional, heart breaking and sexy story line. The premise is complex, edgy and energetic; the characters are colorful and charismatic; the romance is intimate, tender and captivating. ROUGH RIDE is an energetic and sensitive tale about one woman looking for love in all of the wrong places.
Copy supplied for review
Reviewed by Sandy
tHe spit on me.
I felt it land on the side of my chin and slide down.
I didn't move to wipe it away.
I couldn't.
Lying on my side, curled into a ball, the pain screamed through me. All of it—and there was a lot of it—demanding attention, I couldn't concentrate, couldn't think, couldn't move in case it got worse. I couldn't do anything but lie there and pray that it was over.
It wasn't.
He bent over me, grabbed my hair, yanked it back, and I felt his hot breath hit my face.
"See if he wants you now, you stupid bitch," he hissed.
He let my hair go and I felt him retreat, but he still wasn't done.
He kicked me so hard with his foot in its heavy motorcycle boot, my body slid across the cement.
I was too far gone even to grunt.
I felt something bounce off my hip, clatter to the floor, and then his voice came back, this time from further away.
"There you go, baby," he drawled. "Your line to Chaos. We're done with you. I'm done with you. Now they can have you."
I heard boots on cement, more than just his, his Bounty brothers in the club. I sustained a couple more kicks as they passed. One of them grabbed the underside of my jaw and shoved my head back into the cement, also spitting, his hitting my neck.
And then they were gone.
I lay there, my focus on breathing and continuing to do it even though each breath was not only an effort but an agony. The fear I'd felt early when he took me, how he'd taken me, the way he'd handled me and I knew he'd figured it out, had dissipated as pain took its place. Now, the fear was returning that they'd come back and dish out more.
He'd come back.
Throttle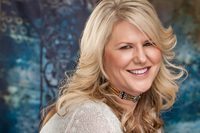 Follow: Goodreads / Facebook / Website / Twitter
Kristen Ashley was born in Gary, Indiana, USA. She nearly killed her mother and herself making it into the world, seeing as she had the umbilical cord wrapped around her neck (already attempting to accessorise and she hadn't taken her first breath!).
Kristen grew up in Brownsburg, Indiana but has lived in Denver, Colorado and the West Country of England. Thus she has been blessed to have friends and family around the globe. Her posse is loopy (to say the least) but loopy is good when you want to write.
Kristen was raised in a house with a large and multi-generational family. They lived on a very small farm in a small town in the heartland and existed amongst the strains of Glenn Miller, The Everly Brothers, REO Speedwagon and Whitesnake (and the wardrobes that matched).
Needless to say, growing up in a house full of music, clothes and love was a good way to grow up.
And as she keeps growing up, it keeps getting better.