Rule Breaker (Breeds #29) by Lora Leigh-a review and giveaway
Rule Breaker
A Novel of the Breeds #29
by Lora Leigh
Genre: paranormal, adult, erotica
Release Date: February 4, 2014
Amazon.com / Amazon.ca / Amazon.uk/ Barnes and Noble / KOBO / The Book Depository
ABOUT THE BOOK: Release Date February 4, 2014
Lion Breed, Rule Breaker had just a few rules he didn't break. Not for anything. Not for anyone.
#1. Never have sex with a woman outside his own subspecies, especially a human woman.
#2. Never, at any time, accept a mission concerning a female when Jonas Wyatt stinks of a lie.
#3. Run don't walk, skip or stumble. Run, hell for leather away from any female, human or breed, when his desire for her appears, in any way, to have so much as a single sign of Mating Heat.
Now, the woman believes he's mated, is too helpless, to fun loving and too full of life to ever be able to protect herself, let alone aide him in protecting her.
If the damned animal inside him insisted on a mate, then why pick the woman it did? One that could be struck out at, at any time?
But, what he suspected was a mating, may not be. No swollen glands? No heat? Just his animal instincts rioting, pacing, irritated whenever he's away from her.
Okay, he could handle that.
What ensues is a fiery affair that breaks all the rules of mating heat and will eventually endanger his mate with the very rules designed to protect the breeds when Jonas learns she's possibly been working against them.
••••••••••••••••••
REVIEW: RULE BREAKER is the twenty-ninth instalment in Lora Leigh's paranormal Breed series focusing on a government experiment that went horribly wrong. Trying to create the ultimate warrior, the scientists combined animal DNA with human embryos resulting in a species that has been feared and tortured since their inception. Hoping to prevent their exposure, the Breeds are hunted, tortured and destroyed by the very people who created them. This is Rule Breaker and Gypsy McQuade's story.
The call to mate is strong but every once in awhile there are those who refuse to acknowledge the existence of the ONE. Rule knows that Gypsy McQuade is his mate but refuses to stake a claim fearing that he should risk her life and her heart. What ensues is a storyline of one man who cannot stay away from the call of his mate but a storyline where his mate is the number one suspect in an act of betrayal against the Breeds.
With the release of RULE BREAKER Lora Leigh has addressed and answered many of the previous unknowns, quandaries and unfinished storylines. The buildup of a betrayer and the fight to save a young child's life will come full circle as the reader is pulled into a struggle between family and friends. We are witness to a woman who knows rejection and betrayal at the hands of those that she loves but the pain only intensifies when the truth about her brother's death and her family's connections slowly destroy a heart that was broken so many years before.
Once again, Lora gathers many of the previous storyline characters as questions are answered and mysteries are solved. We watch as a father fears for the life of child and mate while another family begins to break apart when the truth is finally revealed.
RULE BREAKER is a must read for fans of Lora Leigh's Breed series as a number of unfinished scenarios are addressed and the healing process can begin. Lora's signature style of erotic sex and mating heat is tempered by a slow build up of the relationship between our leading couple. There is a heartbreaking period where you will feel the pain and humiliation for a woman who only wants to be loved but in the end it is the fear of loss and the unknown that will force a Breed male to reject the woman that he loves-even Breed men need a lesson in how to treat their mates!
Copy supplied by the publisher through Netgalley
Reviewed by Sandy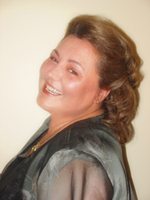 FOLLOW Lora: Website/Goodreads/Facebook/
Lora Leigh lives in the rolling hills of Kentucky, often found absorbing the ambience of this peaceful setting. She dreams in bright, vivid images of the characters intent on taking over her writing life, and fights a constant battle to put them on the hard drive of her computer before they can disappear as fast as they appeared. Lora's family, and her writing life co-exist, if not in harmony, in relative peace with each other. Surrounded by a menagerie of pets, friends, and a teenage son who keeps her quick wit engaged, Lora's life is filled with joys, aided by her fans whose hearts remind her daily why she writes.
Berkley/Penguin is offering a paper copy of RULE BREAKER to one lucky commenter at The Reading Cafe.
1. If you have not registered at The Reading Cafe, please register by using the log-in at the top of the page (side bar) or by using one of the social log-ins.
2. If you are using a social log-in, please post your email address with your comment.
3. Giveaway is open to US only.
5. Giveaway runs from February 4-8, 2014