A Gentleman Never Surrenders by Lauren Smith – Review & Giveaway
DESCRIPTION
Love is worth a little scandal.
Owen Hadley needs a wife. Preferably a wealthy one. Alas, there aren't a great number of heiresses willing to marry a rogue of no particular fortune—luckily, if there is ever a gentleman capable of melting a lady's chilly heart, it's Owen. 
Milly has had enough of the marriage mart. If matrimony means giving up her freedom for a foppish husband, then society can take their idea of marital bliss and toss it. But when the ton's most notorious rogue mistakenly makes his way into her bedchambers, Milly finds herself unexpectedly and unwillingly at the altar . . . 
Yet the more time she spends with her new husband, the more Milly starts to wonder if the marriage she never wanted may be the best thing that's ever happened to her. Now it's up to Owen to convince Milly that what started as a mistake is anything but—and that every night with him will be more wonderfully scandalous than the last.
REVIEW
5 out of 5 for this reader folks!
OH I LOVED THIS READ! 🙂
I love it when two characters who were never suppose to be, never wanted to be, become absolutely should be, and currently ARE!  Sometimes the things you least expect to be the best thing for you become just that!  The BEST thing for you! 
A Gentleman Never Surrender is the second book in Lauren Smith's historical romance "Sins and Scandals" series.  I did review the first book of this series at The Reading Cafe and while you don't NEED to read the first one, these are not long reads so do yourself a favour and pick it up so this story can have more of an impact on you.
Our leading guy is Owen Hadley.  He's a rogue, known for being a rogue, not the kind of man that any respectable woman wishes to be partnered with.  He is also in dire need of a wife and one with a fortune would be preferable.  He is smart, witty, charming but not in the "ew, get away from me" manner.  He owns his mistakes and does all he can to correct them.
Milly!  Oh our leading lady Milly!  She makes me happy, and is one of my fave characters that Lauren has ever created (I am a huge fan of hers and have read most if not all of her books so far).  Milly is largely misunderstood, but it's because she wants to be.  She is not interested in marriage market approach to her future, she wants to fall in love and have a true committed relationship.  She comes across cold, uninterested, somewhat of a stick in the mud BUT she is none of these.  She is actually a sweet sweet lady with a very large beautiful heart.  She is the kind of person (and I guess I love her so much because I can relate) who loves big and hurts big.  No half way with her!
Owen accidentally compromises Milly.  He is set out to compromise someone (bad Owen .. I get why you did it, but bad Owen ..lol) and although Milly was not his intended lady, she ends up being the lady who now has to marry a man she doesn't love.  She is not happy!  Owen does all he can to be a good husband to Milly knowing it's his fault she is in this situation.  Before we know it, these two form a friendship and find themselves completely falling in love.  This is a story of two wrongs making a right!
Of course the way Lauren writes this story is more compelling and teasing than the quick overview I have given it.  I loved that this story was more focused on the actual relationship rather than external side stories.  I thoroughly enjoyed this couple, and found their moments together sweet, sassy and seducing.  They both ended up with what they wanted, they just had to take the long road to get there!
Fantastic story again Lauren Smith, keep them coming!
HAPPY READING! 🙂
Reviewed by Rachel
Copy supplied for review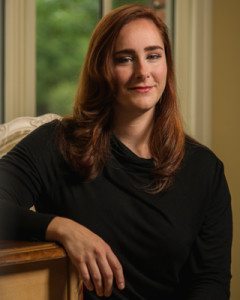 Born and raised in Tulsa, I spent the first twenty-two years of my life in Oklahoma, bridging the worlds between urban girl and cowgirl. After high school I attended Oklahoma State University where I earned Bachelor of Art degrees in history and political science. Drawn to paintings in museums and obsessed with antiques, I satisfied my fascination with history by writing and exploring exotic, ancient lands.
Over the years, my studies have opened doors throughout the world. From spending two summers at Cambridge to attending classes at such divergent places as Ireland and Chengdu, China, I have discovered fascinating opportunities for enrichment wherever I go. After completing college, I moved to Michigan to attend law school at the University of Detroit-Mercy and University of Windsor in Ontario, Canada.  Armed with two Juris Doctorate degrees from both countries, I returned to Tulsa and became an intellectual property attorney.
Since third grade when my English teacher proposed that all students should craft a story for a young writers' conference, I have been hooked on writing. My first self-illustrated manuscript described the mysterious disappearance of rare brown bats that were being captured by scientists bent on using them as carriers for an incurable disease. The immense sense of joy in sharing that story with others, and discussing plots and characters, made it clear to me that writing was my true passion.
Learn more about Lauren at the following links:
Website / Facebook / Twitter / Goodreads
Lauren is graciously offering a $25.00 Gift Card (Amazon or B&N) and a signed paper copy of a book of your choice from Lauren's backlist (Sins and Scandal not included)  to ONE (1) lucky commenter at The Reading Cafe
1. If you have not previously registered at The Reading Cafe, please register by using the log-in at the top of the page (side bar) or by using one of the social log-ins.
2. If you are using a social log-in, please post your email address with your comment.
3. Please LIKE and Follow Lauren Smith on Facebook
4. LIKE us on FACEBOOK and then click GET NOTIFICATION under 'liked' for an additional entry.
5. LIKE us on Twitter for an additional entry.
6. Please FOLLOW us on GOODREADS for an additional entry.
7. Giveaway open Internationally
8. Giveaway runs from September 12 to 16, 2017
Save
Save