AXEL: Rescue One (Six Saviors 13 ): Rescue One by Carly Fall-Review and Guest Post
Amazon.com / Amazon.ca / B&N / KOBO / Smashwords / Signed Paper Back with Swag 
About the book: Release Date March 19, 2017
With his tattoos, dark, dead eyes and sketchy past, almost everyone in the silo keeps their distance.
However, people aren't always what they seem.
Is there more to Axel than meets the eye?
••••••••••
REVIEW: AXEL is the thirteenth installment in Carly Fall's contemporary, adult SIX SAVIORS paranormal/sci-fi romance series focusing on a species from the planet SR44. This is SR44ian Axel a member of the Rescue One team from planet SR44, and half human/half SR44ian Eden's story line. Eden is the daughter of one of the original Six Saviors Hudson. AXEL can be read as a stand alone without any difficulty but I recommend reading the series in order for background and cohesion.
BACKGROUND: There were 6 original Savior warriors from planet SR44. The warriors were sent to earth over 220 years ago to stop and eradicate the 12 murderers who escaped from one of the moon colonies of planet SR44. The Colonists, as they were soon called, made their way to Earth, took the human body form, mated with the females and populated the earth with Colonist DNA. The earthly descendants will either manifest good or bad qualities; the savior warriors are part of the elite military from planet SR44, commissioned to remove the Colonists from Earth including the descendants with bad DNA. The beings on planet SR44 are incorporeal bodies of mist and smoke, each bearing a different color, but in their corporeal bodies on Earth, their eyes will glow their familiar- planet SR44 color each evening. Their mission has yet to be completed; their planet has been destroyed; and a new group of SR44 men and women have arrived in search of the original six saviors.
Told from dual third person perspectives (Axel and Eden) AXEL focuses on the forbidden relationship between Axel and Eden-a relationship forbidden by the man Eden recently learned was her father. Hudson and the rest of the SR44 males don't trust Axel-he is dark, brooding, and silent, and not without some demons that are slowly destroying what's left of his mind. With the recent discovery of Eden and her twin brother Benedict as direct descendants of SR44ian Hudson, the Saviors and their mates have taken extra precautions to protect our story line heroine believing she is too naïve and young to understand the world around her. What ensues are Eden's attempts to bring Axel into her life, and the ongoing battle with a new enemy determined to destroy the SR44ians.
The relationship between Axel and Eden is one of immediate attraction although Axel has been warned not to go near or interact with Hudson's daughter. Eden is a strong willed female determined to exert her independence and in doing so places herself in a dangerous situation. The $ex scenes are intimate and compelling without the use of over the top sexually graphic language and text.
Most of the previous story line couples play secondary and supporting characters. We are introduced to Axel's friend and tattoo artist Foster whose story will be continued in Carly's new spin off series-OPERATION UNDERWORLD- a series about a clandestine organization whose members have special abilities to hunt those paranormal entities determined to cause harm to humans. The first book in the series comes out in April 2017.
AXEL is a story about one man whose dark past controls his present, and one woman whose looking for love from a man who is afraid to let go. The premise is heartbreaking, encouraging and sensitive; the characters are colorful and energetic; the romance is provocative and passionate. Carly Fall 's SIX SAVIORS series is an impassioned look at otherworldly beings trying to do the best in an impossible situation.
Previous Reviews
The Light Within Me
Finding My Faith
Reborn
Beverly's Rebirth
Destiny's Shift
Tangled Fates
Dreamwalker
Atonement
Justice
Titus
Roman
Six Saviors Christmas Novella
Axel
Copy supplied for review
Reviewed by Sandy
NOTE: Book 1 in Carly Fall's Six Saviors series THE LIGHT WITHIN ME (ebook format only) is currently FREE at most ebook retailers:
Amazon.com / Amazon.ca / B&N / KOBO /
When Abby and Noah meet, there is an explosive attraction between them that neither can deny…
As a shy, awkward, social misfit, Abby has gone her whole life feeling as though she's different from everyone else and she simply doesn't fit in well with society as a whole. She longs to feel a real connection with someone, and she finally does when she meets Noah.
Unbeknownst to Abby, Noah is from another world and his sole purpose is to hunt down the evil of his people that was unleashed on Earth hundreds of years ago. He's certain he isn't going to be able to return to his home, and anger and the need for revenge are his constant companions. His focus has been eradicating the evil and making them pay for taking his life on his world away from him.
Noah tries desperately to fight his attraction to Abby so he can keep his focus on his mission. But when Abby gets dragged into the evil and mayhem from Noah's world, he realizes that maybe with Abby he can find a home here on Earth…if he can save her in time.


Imagine waking up in a hospital and noticing a red glow around some of the staff. Perhaps you would think that you'd hurt your head in the accident that put you there, but when you see these people flashing their fangs and drinking off of the patients and other members of the staff, maybe you'd think you'd completely lost your mind!
But, have you?
For Connor Dickson, the answer is a resounding no as he comes to terms with the fact he can see vampires, and they live and work among the human population.
Welcome to Operation Underworld!
When my fellow author Elise Marion approached me with the idea of us collaborating on this project, I was on board within seconds. I loved the idea of writing books about a clandestine organization that polices the paranormal entities secretly living among us!
I will be releasing the first three books in the series: A Touch of Blood, A Touch of Love, and A Touch of Death.
All three of these will be releasing in April / May so that readers don't have to wait. Elise will be tackling demons in her first three books, releasing May / June.
Here's the blurb to my first book, A Touch of Blood:
He cheated death once. Can he do it again?
After surviving an explosion deep in the heart of the Guatemalan jungle, Marine Connor Dickson has been left with a supernatural ability—he can detect vampires living among the human population.
With this knowledge comes the realization that there are good and evil among the vampire nation. After witnessing a horrific death at the hands of a vampire, it becomes his own personal mission to police the rogue entities and stop them from harming humans.
He is recruited into Operation Underworld, an organization where their sole purpose is to hunt the criminal entities of paranormal species. His first assignment is to find out why humans are going missing from nightclubs in Los Angeles.
When he meets the beautiful Sami Karim, he discovers they are working on the same missing persons case. As his attraction to her grows, he can't shake the feeling that she's hiding many secrets, as well as lying to him.
A shocking twist of events reveals Sami's true agenda, leaving Connor devastated, fearing for his own safety, and ultimately, forced to face his enemy on his own.
I hope you'll join us for Operation Underworld, and if you'd like to receive notification on when the books release, you can sign up here
Click HERE to sign up for notification releases
When paranormal creatures step out of line, Operation Underworld must step in to intervene … because sometimes, regular law enforcement just won't do.

Follow: Website / Facebook / Twitter / Goodreads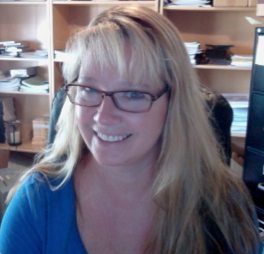 I am a wife, a mother and a slave to Nicky the dog.
I think chocolate and wine should be considered their own food group, and I wish Christmas happened twice a year.
I love the hot summer nights here in Arizona when my family and I play in our pool until late at night, and I hate 99.8% of politicians.