EYES ON YOU (Blasphemy #2.5 / 1001 Dark Nights) by Laura Kaye-Review and Excerpt Tour
EYES ON YOU
Blasphemy 2.5/ 1001 Dark Nights
by Laura Kaye
Genre: adult, contemporary, erotic, BDSM, romance
Release Date: July 18, 2017
Amazon.com / Amazon.ca / Amazon.uk / Amazon.au /
ABOUT THE BOOK: Release Date July 18, 2017
She wants to explore her true desires, and he wants to watch…
When a sexy stranger asks Wolf Henrikson to rescue her from a bad date, he never expected to want the woman for himself. But their playful conversation turns into a scorching one-night stand that reveals the shy beauty gets off on the idea of being seen, even if she's a little scared of it, too. And Wolf loves to watch.
In the wake of discovering her fiancé's infidelity, florist Olivia Foster never expected to find someone who not only understood her wildest, darkest fantasies, but would bring them to life. As Wolf introduces her to his world at the play club, Blasphemy, Liv finds herself tempted to explore submission and exhibitionism with the hard-bodied Dom even as she's scared to trust again.
But Wolf is a master of getting what he wants—and he's got his eyes set on her
•••••
REVIEW: EYES ON YOU is the latest addition to the multi-authored 1001 Dark Nights series, and #2.5 in Laura Kaye's contemporary, adult BLASPHEMY erotic, romance series. This is voyeur, Dominant and IT specialist Wolf Henrikson, and exhibitionist, submissive and floral designer Olivia Foster's story line. EYES ON YOU can be read as a stand alone without any difficulty. Any important information and characters from previous story lines are revealed where necessary.
Told from dual third person perspectives (Olivia and Wolf) EYES ON YOU follows the building relationship between thirty five year old Dominant and IT specialist Wolf Henrikson, and submissive and thirty one year old florist Olivia Foster. Olivia Foster's blind date from h*ll seemed to go on forever but a quick trip to the lady's room found our heroine face to face with her future, and the man who would make all of Olivia's fantasies come true. Enter Wolf Henrikson, a voyeur and Dominant, and the man who knows what a woman like Olivia Foster is looking for. What ensues is the building BDSM and romantic relationship between Olivia and Wolf, and the potential fall out when Olivia's past comes looking for something more.
EYES ON YOU is an erotic story line of graphic sexually exhibitionistic scenarios as Master Wolf discovers just how far the woman with whom he if falling in love is willing to go. As one of the 12 founding members of the BDSM sex club Blasphemy, Wolf has struggled to find his place in the world and business he helped develop. From the boardroom, to the playroom, to baring it all in front of a high-rise window, Olivia and Wolf tempt fate and their futures as they give into their mutual attraction and need. The premise is entertaining; the romance is seductive and intense; the characters are colorful and charismatic. My only issue is the author's use of a certain four-letter word that I find abhorrent under any circumstance-not a word I would use in a romantic situation, erotically or otherwise. EYES ON YOU focuses on the voyeuristic and exhibitionistic kinks of the BDSM world.
Reading Order and Previous Reviews
Hard to Serve
Bound to Submit
Mastering Her Senses
Eyes on You
NOTE: BOUND TO SUBMIT ebook #1 is FREE at : Amazon.com / Amazon.ca /
Copy supplied for review
Reviewed by Sandy

Wolf Henrikson watched the sexy stranger flee her table like it was the Titanic and the bathroom was the last available lifeboat. And he couldn't say that he blamed her. He hadn't been trying to eavesdrop on the couple's conversation; it was only that every time the man spoke to anyone from the restaurant's staff, he shouted like he wanted to make the scene he was in fact making.
What the hell was the cute brunette doing with such an a**hole anyway? The few times he'd looked around to see if his dinner companion had arrived, he'd noticed the woman sitting not too far away—and she'd made him do a double take every time. Between her glossy chocolate waves, the bright red paint on her bow-tie lips, and the vintage-style red dress with the plunging neckline and the full knee-length skirt, she had the sex appeal of a pinup girl. He couldn't help wondering if she wore garters and thigh-highs beneath that skirt.
Wolf almost regretted that he no longer had any reason to stay at the bar because the scene playing out at the nearby table was like a train wreck he couldn't stop watching. And, oh, he did enjoy watching. People were just so fucking interesting, even when they were off their damn rockers.
But the prospective submissive he'd been planning to meet—in public, at her request—had just called to let him know she'd gotten cold feet. He respected the honesty. The BDSM lifestyle wasn't for everyone, and it wasn't something he recommended anyone explore frivolously. But the change in plans left him at loose ends.
Actually, that feeling was a constant presence in his blood these days. Restlessness. Boredom.
Dissatisfaction without really being able to pinpoint why.
In anticipation of the meeting, he'd only had water, but he dropped a few dollars on the bar anyway, then pushed off the stool and made for the restrooms at the back. Blasphemy would be hopping soon, and even though he wasn't scheduled to work a shift, he could no doubt find a willing partner to play with there. Though he was one of the twelve Master Dominants and a one-twelfth owner of the city's most exclusive BDSM club, Wolf's particular kink didn't require all the equipment and special rooms that some did. Really, voyeurism and exhibitionism could be enjoyed anywhere. Which was kinda the point.
As long as he could watch, or knew others were watching, or was with someone who got off on being watched, he was all kinds of good.
Or, at least, he used to be.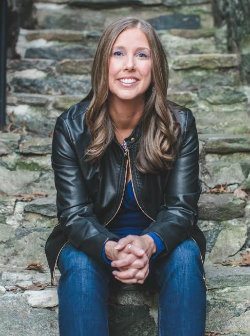 Laura is the New York Times and USA Today bestselling author of over thirty books in contemporary romance and romantic suspense, including the Hard Ink and Raven Riders series. Growing up, Laura's large extended family believed in the supernatural, and family lore involving angels, ghosts, and evil-eye curses cemented in Laura a life-long fascination with storytelling and all things paranormal. She lives in Maryland with her husband, two daughters, and monster puppy, Schuyler, and appreciates her view of the Chesapeake Bay every day.
Website | Facebook |Twitter | Newsletter SignUp