Record of Wrongs (Redemption County #1) by Sharon Kay-Review and Giveaway
RECORD OF WRONGS
Redemption County #1
by Sharon Kay
Release Date: August 1, 2017
Genre: adult, contemporary, romance
Amazon.com / Amazon.ca / B&N / KOBO / Chapters Indigo /
ABOUT THE BOOK: Release Date August 1, 2017
Do your past mistakes define you forever?
Cruz Zaffino leaves prison after a serving a decade for a crime he didn't commit. With his life all over the internet, there's nowhere he can go to avoid his illicit past. Involved with one of Chicago's toughest gangs, he made enemies bent on ruining everything he has. Nowhere is beyond their reach.
Every day, Rosie Marlow lives with the scars from the worst mistake of her life. It's the one secret she has in her tiny, gossip-fueled town. When Cruz walks into her bar, covered in tattoos and dangerous attitude, she's captivated. His rough sexuality makes her melt, and his harsh experience calls to her own broken soul. But her story is private and buried so deep, she's never had the strength to share it.
She's the unexpected light to his darkness, yet he knows she's hiding something. Sultry summer nights in each other's arms weaken her resistance and taunt her with the idea of forever. But as his adversaries draw close, can she love him enough to let him go?
•••••••••
REVIEW: Mistakes…we all make them, it's the beauty of what makes us human. We are not made to be perfect and never make mistakes. Mistakes help us grow, give us lessons and yes wizen us up. Enjoyable book this was complete with a good lesson to think about.
The main couple has their skeletons in the closet, at least Rosie's is in the closet when Cruz's is out in the open, all over the internet to be exact. Growing up and living in a small town where everyone knows each other's business, Rosie guards this secret like King Midas's gold. The thing is I firmly believe a mistake is a learning lesson; it does not define you nor should it be a jail sentence. Cruz at times let his juvenile past define him that there was no good left in him while Rosie suffered in silence with guilt like a jail sentence. They both in the beginning acted like they were very undeserving of happiness. I admit the parts where they acted undeserving of each other and happiness was a tad sad to read. Despite that their chemistry together was off the charts hot. Their outdoor scene against Cruz's truck and skinny dipping in the water…*fans herself*. For a dude who lost 10 years of his life in jail, he sure knows what he's doing in the bedroom with Rosie. There are also very cute and endearing scenes between the couple like when they went to the fair together or at a birthday party.
I really enjoyed their individual characters too. Rosie had a very sunny upbeat attitude that was very contagious, you couldn't help but smile when you read about her. Her selfless attitude that she thinks of others before herself only makes you like her more. Cruz was very honest, honorable and full of integrity. He may think there is no redeeming him because of his past but starting over in Sundown, cleaning up and settling down looks like a step in the right direction to me.
Reading about them helping each other through their past mistakes was deep stuff and you can just feel the relationship hit a turning point that things are getting serious between them. Rosie was compassionate and non-judgmental of Cruz's past and Cruz was patient and very understanding when Rosie finally let her walls down and let Cruz in on her big secret.
Sharon Kay does gnarly awesome paranormal romances but her contemporary romance is a great surprise. Awesome characters and character development, deep and swoon worthy love scenes, great lesson to think about and the best and cutest happily ever after.
Copy supplied for review
Reviewed by Xtina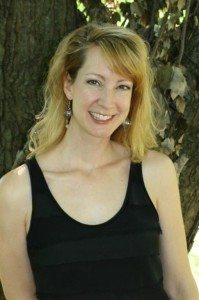 Follow : Facebook/ Website/ Twitter/ Goodreads
Sharon Kay writes award-winning fiction and can never get enough reading time. She loves winter and black coffee, and is endlessly inspired to write kick-ass heroines and the men strong enough to capture their hearts. Sharon lives in the Chicago area with her husband and son, and one weekend the idea for her Lash Watchers and tough leading ladies formed in her head, refusing to stay quiet until she put pen to paper. Her characters tend to keep her up at night, as they banter, fall in love, and slay endless varieties of power-hungry demons.
Sign up for Sharon's newsletter to keep up with her demons, see early cover reveals and be entered in periodic giveaways HERE

Sharon Kay is graciously offering a signed, paper copy of RECORD OF WRONGS to ONE (1) lucky commenter at The Reading Cafe.
1. If you have not previously registered at The Reading Cafe, please register by using the log-in at the top of the page (side bar) or by using one of the social log-ins.
NOTE: If you are having difficulty commenting after logging onto the site, please refresh the page (at the top of your computer).
2. If you are using a social log-in, please post your email address with your comment.
3. Follow Sharon Kay on Facebook.
4. LIKE The Reading Cafe on FACEBOOK and then click GET NOTIFICATION under 'liked' for an additional entry.
5. LIKE us on Twitter for an additional entry.
6. Please FOLLOW us on GOODREADS for an additional entry.
7. Please follow The Reading Cafe on Tumblr
8. Giveaway is open to USA only
9. Giveaway runs from August 19-23, 2017
Save