Word of Honor (Knights of Valor #1) by Lauren Linwood-Review, Guest Post & Giveaway
Word of Honor
Knight of Valor #1
by Lauren Linwood
Genre: Historical, romance
Release Date: April 6, 2016
Amazon.com / Amazon.ca / B&N / KOBO / itunes/ Wind Tree Press
ABOUT THE BOOK: Release Date April 6, 2016
Merryn Mantel and Geoffrey de Montfort have loved each other since childhood. Once betrothed, Geoffrey leaves for the wars in France for five long years. Upon his return, the two marry and spend one blissful night consummating their love and making plans for their future.
But her new husband vanishes the next day without a trace. Merryn grieves for almost seven years—and then Geoffrey returns to her—changed from the boy and man she knew and worshipped. This stranger refuses to reveal where he has been and why he stayed away for so long.
Will her husband's silence create a rift too large to heal, or can Merryn and Geoffrey recapture the love they once shared?
•••••••••••••
REVIEW: The talented author Lauren Linwood has begun a new series, Knights of Valor. Book one is titled Word of Honor, and is begun in 1351 in England, during King Edward's rule.
The Prologue finds our main characters, sixteen-year-old Geoffrey De Montfort and his recently betrothed, thirteen-year-old Merryn vowing love and saying goodbye for a while, as Geoffrey would leave for France to fight for his king. It's a tender and loving opening, letting everyone know how a rare love match had been made between these two neighbors.
Chapter One finds us in France 1356, Geoffrey is discussing war policy with Sir Thomas. They drank to their King and his son, another Edward (the Black Prince). On his way back to his tent, Geoffrey discovers a neighbor of his engaged in whoring and betraying his king and cause. Barrett, son of Berold, earl of Winterbourne. The charges resulted in a trial by combat which Geoffrey won, resulting in the beheading of Barrett, just as his father arrived from his own fighting. Berold vows to Geoffrey to make him suffer and pray for death someday, which Geoffrey dismisses as the words of a distraught father (feeling guilty for his part in the son's death).
This marvelous story continues in November of 1356 as Geoffrey returns to marry his Merryn and begin their life together…they have a marvelous wedding and one night of bliss before all hell breaks loose!
That's the setup, I'll not spoil this marvelous story by telling more. The writing is clear and wonderful, the tale exciting and emotional. Just when you wonder what else could these two young people so much in love could go through…our talented author takes the mystery and twisting to another level, both enjoyable and frustrating at the same time.
If you love tales of knights and ladies, love and adventure, you won't want to miss this series. It's well written, incredibly interesting (had a hard time not putting it down…so of course I didn't). I found it both exciting and entertaining. It's much more than just a good story…an epic tale of the kind of love we all dream about.
Copy supplied by the author
Reviewed by Georgianna S

Developing my Heroine for Word of Honor
I am a Pride and Prejudice fan from way back. I can't tell you how many times I've read Jane Austen's masterpiece, much less admit how many times I've watched the BBC mini-series (COLIN FIRTH!) or the 2005 film with Keira Knightley. Actually, I wouldn't mind telling this to readers at The Reading Café, but just in case my husband catches this post on my FB or Twitter feed? He would be flabbergasted at the double digit numbers . . . so I suppose I'll keep my readings & viewings a secret. For now.
One of the reasons I love Austen's classic tale so much is because of heroine Elizabeth Bennet. Lizzy is intelligent, compassionate, loyal, witty, charming, and feisty—everything I love in a heroine. Of course, she's not perfect. Perfect is boring. No reader wants to read perfect, and Lizzy does have a few (fixable) faults. She's a great conversationalist, but her sharp tongue gets her into trouble sometimes. Her biggest flaw is that she tends to judge people a little too hastily and harshly, which occurs when she first meets Mr. Darcy. It's this mistaken impression she gets of him which leads her to reject his proposal of marriage the first time around.
Thank goodness our hero finds her interesting enough to hang around, hoping that he can change her mind. Lizzy gradually realizes that Darcy, besides being impossible handsome and wealthy, has something truly important to her. He possesses a noble character. She realizes her prejudice against him is undeserved. This was truly the only obstacle to finding lasting happiness with him, as she has fallen in love with him after seeing many instances of this good character in action. His feelings for her never change, but hers do an about face.
Romance writers try to give both their hero and heroine character flaws which they must overcome during the course of the novel and their growing relationship. In my latest medieval romance, Word of Honor, I wanted just as strong a heroine as Elizabeth Bennet.
Merryn Mantel is betrothed to her childhood friend and sweetheart, Geoffrey de Montfort, who leaves England to fight against France in the Hundred Years' War. Merryn matures into a woman in the five years her betrothed is away. They marry upon his return, but Geoffrey vanishes without a trace the next day. In the years Geoffrey is away, Merryn assumes an incredible amount of responsibility.
Upon Geoffrey's return, she finds him to be a stranger—and yet she, too, has had to change in order to cope with the circumstances of his disappearance. I had to walk a fine line and balance having Merryn continue to love Geoffrey—the new Geoffrey—and still be true to the woman she has become in his absence. I let her frustration show at the situation, but I allowed her to keep her sense of humor even when things proved tough. It didn't hurt that she was already intelligent and compassionate, but I had to let Geoffrey see how she had changed, just as Merryn needed to understand how and why Geoffrey changed, as well. Love isn't the issue between these two lovers; it's trust. Both must learn once again to trust one another and respect the person each has become in the years of their separation.
I thoroughly enjoyed writing Merryn and Geoffrey's love story, and I'm thrilled that they are the first book in the Knights of Valor series. In the upcoming five books, I have the pleasure of revisiting this couple again and watching their love mature even as other heroes and heroines appear so that I may tell their love stories, too.
~~Lauren~~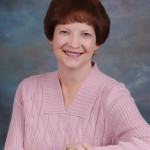 Lauren Linwood's historical romances use history as a backdrop to place her characters in extraordinary circumstances, where their intense desire for one another grows into the treasured gift of love. Her romantic suspense novels feature strong heroes and heroines who unite to defeat a clever antagonist and discover a deep, abiding love during their journey.
A native Texan, Lauren is an avid reader, moviegoer, and sports fan who manages stress by alternating yoga with long walks. She plans to start a support group for Fixer Upper addicts—as soon as she finishes her next piece of dark chocolate.
Website / Goodreads/ Facebook / Twitter

Lauren Linwood has graciously offered an ecopy of WORD OF HONOR to TWO (2) lucky commenters at The Reading Cafe.
1. If you have not previously registered at The Reading Cafe, please register by using the log-in at the top of the page (side bar) or by using one of the social log-ins.
NOTE: If you are having difficulty commenting after logging onto the site, please refresh the page (at the top of your computer).

2. If you are using a social log-in, please post your email address with your comment.
3. Please follow Lauren Linwoood on Facebook.
4. LIKE us on FACEBOOK and then click GET NOTIFICATION under 'liked' for an additional entry.
5. LIKE us on Twitter for an additional entry.
6. Please FOLLOW us on GOODREADS for an additional entry.
7. Please follow The Reading Cafe on Tumblr
8. Giveaway is open internationally

9. Giveaway runs from April 9-12, 2016