Cowboy Stole My Heart (River Ranch #1) by Soraya Lane-Review, Excerpt & Giveaway
COWBOY STOLE MY HEART
River Ranch #1
by Soraya Lane
Release Date: January 2, 2017
Genre: adult, contemporary, cowboy, romance
Amazon / Barnes & Noble/ BAM /IndieBound / Powells
ABOUT THE BOOK: Release Date January 2, 2017
t takes true grit to build a billion-dollar dynasty like the Ford family ranch. But when it comes to finding love, all it takes is one handsome cowboy to steal a woman's heart…
SHE'S RIDING SOLO
As one of the heirs to the River Ranch fortune, Mia Ford is practically Texas royalty. But that doesn't mean she's some pampered princess. She can saddle up and ride a horse as well as any man, even a hard-working cowboy like Sam Mendes. For years, she's harbored a crush on the strong, silent horseman. But how can she make a move when she's his boss?
HE'S TAKING THE REINS
Sam Mendes is through with love—or so he thought. Still recovering from a breakup, he's doing everything in his power to resist Mia Ford. It's bad enough she's the kind of beauty who drives men wild with desire. It's even worse she's got him so worked up, aching to kiss her lips, when he's supposed to be working her ranch. Is this lovestruck cowboy willing to risk losing his job—and breaking his heart—to win the girl of his dreams?
•••••••••
REVIEW: COWBOY STOLE MY HEART is the first instalment in Soraya Lane's contemporary, adult RIVER RANCH cowboy, romance series. This is heiress and horse jumper Mia Ford, and horse whisperer/trainer Sam Mendes' story line. The RIVER RANCH series is a spin off from the author's TEXAS KINGS series. You do not have to have read the original series to understand or follow the current time line. Some of the characters cross over for cohesion and backstory.
Told from dual third person perspectives (Mia and Sam) COWBOY STOLE MY HEART follows the building relationship between horse trainer Sam Mendes, and show jumper Mia Ford. Mia Ford is an independent young woman whose recent acquisition of a troubled stallion finds our heroine in desperate need of a horse whisperer, when her father calls in a favor from one of the most talented trainers on the horse riding circuit. Enter Sam Mendes, rancher and horse trainer, and the man with whom Mia will fall in love. What ensues is the building 'friends with benefits' relationship between Sam and Mia, and the fall out when Mia is hoping for something more.
Mia Ford knows loss including the death of her mother, and that of a friend on the horse jumping circuit. With the arrival of Tex, a beautiful but mean-spirited stallion, Mia struggles between her head and her heart knowing the horse may be too far gone for the likes of Sam Mendes. Sam, on the other hand, has never met a horse he couldn't tame but there is something else about Tex that gives our hero pause. Four weeks to turn Tex's life around is all that is takes but four weeks may be too long when the heart wants something it cannot allow. Sam doesn't do relationships; there are personal demons in his past-demons he is unable to let go including a trouble childhood and a relationship that destroyed what was left of his heart.
The relationship between Sam and Mia is one of immediate attraction but Mia is technically Sam's boss. The sexual energy is palpable between our leading couple but Sam has made it known that their relationship is only physical, with a four week expiry date.Their initial meeting is met with preconceived notions that do not bode well for their working relationship. The $ex scenes are intimate, passionate and intense with the use of over the top, sexually graphic language and text.
We are introduced to Sam's best friend Nate and his wife Faith, Sam's sister (Texas Kings #3); Mia's brother Tanner, and their father Walter Ford, as well as Mia's best friend and local veterinarian Kat.
COWBOY STOLE MY HEART is a sexy and passionate romantic story line. The premise is inspiring and emotional; the characters are determined, spirited and energetic; the romance is sensual and captivating. COWBOY STOLE MY HEART has a little bit of sexy fun and romance; conflict and angst; family and friendship, and just enough sassy cowboy to get the heart pumping and the blood heating.
Copy supplied by Netgalley
Reviewed by Sandy
Mia disappeared and he talked to the horses, wandering down the line to look at all of them. He'd only seen her ride the one, her favorite mare, but he had a feeling she was full of surprises, and her horses all looked impressive. When she didn't reappear, Sam went looking for her, wondering what the hell was taking so long.
"Hey, do you need a hand back there?" he called out. He squinted in the half-light, dark compared to the full sun glare outside when he ducked through the doorway and into the tack room.
"Oh, shit, sorry, just give me a sec."
He stopped. Sam stood in the middle of the small room, saddles and bridles covering every inch of wall space, and Mia pressed into one corner, her tears impossible to hide. "Hey," Sam murmured, striding over to her. Hell, he hadn't expected her to be crying. He'd thought she might need a hand carrying some gear out, but . . . he didn't know what to do.
"I'm fine, please," she said, holding one hand up to her face, the other stretched out in front of her as if trying to push him away before he was even close.
"You're not okay," he said, knowing how gruff he sounded but unable to help it. "Come here."
She shook her head. "Please, I'm fine," she managed, voice cracking.
"Your mom, huh?" he asked, knowing that there was no way in hell he'd managed to say anything to upset her this much. She was still grieving, he could see that from a mile off.
She nodded, dropping one hand, the other still covering her face. "Yeah," she whispered. "It's just I haven't talked about her for a long time. She's been gone twelve years so I shouldn't be reacting like this."
"Come here," Sam said, not taking no for an answer this time as he opened his arms and pulled her in.
He held her, tight, letting her cry. She sobbed once, loudly, a noise that made his heart lurch for her, feeling her pain, before she went silent and relaxed in his arms. It had been almost a year since he'd held a woman like this; comforted a woman and held her and felt something for her. He stiffened. Only that woman had played him, ripped his heart out when he'd have done anything for her. Anything.
"I'm sorry," he said. "I'd tell you it'll get easier, but I doubt it will."
He didn't sugarcoat things, even this type of thing, but he did feel for her. She'd tried to talk about her mom all nonchalant to him, laughing about her beautiful stables, when in reality it had torn her in half and left her crying all on her own. She'd lost her mom and her best friend as well; no wonder she'd been prickly when he'd tried to muscle in and take over with the one thing she did have— her horses.
Mia pushed back and he wished she hadn't. He'd liked the warmth of her against him, the tickle of her long hair catching in his stubble as he'd inhaled her shampoo or whatever it was on her that smelled so damn delicious.
"Sorry," she murmured, her hands to his chest as she stepped back. "I don't ever let anyone see me cry."
He believed it. She didn't strike him as the type to let anyone see her vulnerabilities.
Sam glanced down at her, at her hands against his chest, at the way she was looking up at him, her eyes wide. Her mouth parted, tear-stained cheeks making her look so vulnerable that it tugged at something inside of him he'd thought was long buried.
"You've got nothing to apologize for," he muttered, slowly raising a hand and brushing his thumb gently across her cheeks to blur the tears away.
Mia stayed still, her palms still planted against him, head tilted. He looked at her mouth, fought the urge to rub his thumb across her soft pink lips. Instead he dropped his hand, skimming past her long blonde hair on the way past. Sam bent a little, eyes on her mouth, imagining what her lips would taste like. He wanted to kiss her so damn bad, wanted to push her up against the wall behind her and kiss the hell out of her. But he didn't.
He'd sworn off women for a reason, and sexy or not, he wasn't about to take advantage of his boss up against a wall. Even crying she was beautiful, but he wasn't going there. He couldn't go there.
Dammit!
Her eyes were dancing, her lips were parted, her hands were slowly dropping away from his chest. But instead of closing the distance between them, instead of hungrily tasting her lips against his, he took her hands, stepping back and squeezing them.
"You take all the time you need," he said instead, hearing the husky note of his own voice. "I'll be out here."
He walked out, ducking back through the door and out into the bright sunlight again. Goddamn it! What the hell had he just done? He'd always prided himself on being able to keep his shit together, and he'd let himself get way too close to Mia.
Copyright © 2018 by Soraya Lane and reprinted by permission of St. Martin's Press.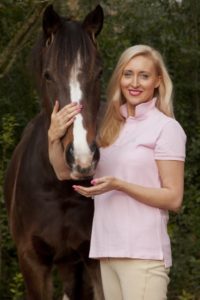 Follow: Facebook / Website Goodreads / Twitter
As a child, Soraya Lane dreamed of becoming an author. Fast forward more than a few years, and Soraya is now living her dream! Soraya describes being an author as "the best career in the world", and she hopes to be writing romance for many years to come.
Soraya loves spending her days thinking up characters for books, and her home is a constant source of inspiration. She lives with her own real life hero and two sons on a small farm in New Zealand, surrounded by animals and with an office overlooking a field where their horses graze. She is the author of The Devil Wears Spurs, Cowboy Take Me Away, and I Knew You Were Trouble.
Soraya Lane's publisher is graciously offering a paper copy of COWBOY STOLE MY HEART  to ONE (1) commenter at The Reading Cafe.

1. If you have not previously registered at The Reading Cafe, please register by using the log-in at the top of the page (side bar) or by using one of the social log-ins.
NOTE: If you are having difficulty commenting after logging onto the site, please refresh the page (at the top of your computer).
2. If you are using a social log-in, please post your email address with your comment.
3. Follow Soraya Lane on Facebook.
4. LIKE us on FACEBOOK and then click GET NOTIFICATION under 'liked' for an additional entry.
5. LIKE us on Twitter for an additional entry.
6. Please FOLLOW us on GOODREADS for an additional entry.
7. Please follow The Reading Cafe on Tumblr
8. Giveaway is open to USA only
9. Giveaway runs from January 7-11, 2018