ROADSIDE ASSISTANCE (Body Shop Bad Boys #2) by Marie Harte-Review, Interview and Giveaway

ROADSIDE ASSISTANCE
Body Shop Bad Boys #2
by Marie Harte
Release Date: September 6, 2016
Genre: adult, contemporary, erotic, romance
Amazon.com / Amazon.ca / B&N / KOBO / BAM /
About the book: Release Date September 6, 2016
Underneath the axle grease and tats he's a gentleman.
Foley Sanders figured he'll always be content with a life of cars and casual hookups. Until a run-in with Cyn, a statuesque firecracker with a hate-on for men, leaves him bewitched and intrigued-much to her annoyance.
Maybe Cynthia Nichols was a little hard on Foley, that muscular, tattooed, super-hot mechanic next door. But she's tired of feeling defensive about her size and has sworn off men. She's got a new job, new life, perfect plan. Foley has trouble written all over him-no way is she going to fall for his charms.
Foley might look like a bad idea, but underneath, he's all gentleman. Too bad Cyn's not buying it. What's a bad boy to do when the goddess of his dreams won't give him the time of day?
••••••••••••••••••
REVIEW: ROADSIDE ASSISTANCE is the second installment in Marie Harte's contemporary, adult BODY SHOP BAD BOYS erotic, romance series focusing on the mechanic's at Webster's Garage. This is mechanic Foley Sanders, and café owner Cynthia Nichols's story line. ROADSIDE ASSISTANCE can be read as a stand alone without any difficulty. BODY SHOP BAD BOYS is a spin off from Harte's McCauley Brothers series but you do not have to have read the original series to follow the current time line. A number of the characters cross-over between the two series.
Told from several third person perspectives ROADSIDE ASSISTANCE follows the building relationship between Foley and Cyn, and the fractured family dynamics for the Nichols and Sanders's families. Foley is a tattooed, bad boy, and a man with a past. Cynthia is a plus size, independent business woman whose self-esteem and body image have been destroyed by her toxic mother leaving our heroine with a less than idealistic view of herself and the world. When her most recent relationship failed Cyn pledged to remain celibate for the rest of her life but a mechanic with a soft spot for Cyn, and a loving relationship with his own mother has pushed Cyn's promise of celibacy to the side. What ensues is a relationship that quickly builds into something more that may be destroyed when Cyn is unable to overcome the emotional and psychological abuse, inflicted by her mother, that continues to the present day.
The sexual attraction between Cyn and Foley is immediate but our heroine is reluctant to believe that Foley is interested in a plus size woman. Her self-esteem has been so badly damaged, that compliments and attention become fodder for arguments and fights. Foley has a protective streak when it comes to his family, and Cyn's self-abasing attitude is difficult to overcome even for our story line hero. The $ex scenes are erotic, seductive and intense.
ROADSIDE ASSISTANCE has a large ensemble cast of secondary and supporting characters including Foley's best friend, roommate, fellow mechanic and 'brother from another mother' Sam whose life begins to spiral out of control when Foley becomes preoccupied with the new woman in his life. All of the mechanics at Webster's Garage play an active role throughout the story. We are introduced to Foley's mother Eileen, and her beau Jacob, as well as Cyn's brother Matt and his wife Nina; Cyn's long suffering father Vincent, and her mother Ella. The poisonous barbs and toxic relationship between Cyn and Ella make for plenty of uncomfortable moments.
The world building continues to focus on the men and women at Webster's Garage-their friendships, the camaraderie, relationships and love-there is plenty of humor and fun when the mechanics get together for a game of darts and a couple of beers. Cynthia Nichols' low self esteem and negative body image is a constant theme running throughout the story, and for some readers the issues may hit too close to home but in the end our heroine finds the strength to take the first steps towards recovery and finding self worth.
ROADSIDE ASSISTANCE is a story about romance and love; family and friendships; letting go of the past and moving forward with your own life. The premise is emotional and impassioned but slow to build in the early stages of the book; the characters are colorful, animated and flawed; the romance is intimate and provocative. Marie Harte's ROADSIDE ASSISTANCE is a welcome addition to her BODY SHOP BAD BOYS erotic, romance series.
Click HERE for Sandy's review of Book 1-TEST DRIVE.
Copy supplied by the publisher through Netgalley.
Reviewed by Sandy

TRC:  Hi Marie and welcome to The Reading Cafe.
We would like to start with some background information. Would you please tell us something about yourself?
My name is Marie Harte, and I'm a romance writer. I've written over a hundred books, have hit the New York Times and USA Today bestseller lists, and continue to write. I'm a mother of two boys who never seem to stop eating. I have a cat that likes to sneak attack, and I'm addicted to coffee. My family and I live in Central Oregon, and I'm in love with the mountains.
TRC:  Who or what influenced your career in writing?
My love of reading was my biggest influence. I've always loved to read, and I spent the majority of my younger years making up stories when I couldn't find anything to read. Same with romance as I got older. I wrote the stories I wanted to read but couldn't find on the shelves.
TRC:  What challenges or difficulties have you encountered writing and publishing your stories?
Ten years ago when I started writing, it was still tough to get a publishing contract with the Big 6, but it seemed like it was easier to find a connection with readers. Now, there's so much material to wade through when it comes to romance that it's hard to get a leg up, I think. It's more about marketing than I'm used to or even comfortable with, and I think I sometimes am not as effective as I should be. I just want to write, but it's so much more these days.
TRC:  Would you please tell us something about the premise of ROADSIDE ASSISTANCE?
Roadside Assistance is the story of a hard-working, sexy, rough-around-the-edges guy finding love when he's not looking for it with a woman learning to love herself–flaws and all. Because only when she feels right about herself can she love her perfect man. Note—her perfect man. Foley has flaws, but for Cyn, he's Mr. Right. Also, the heroine in this story deals with body issues that a lot of us struggle with, I think.
TRC:  How many books do you have planned for the BODY SHOP BAD BOYS series?
Four have been contracted, with a fifth hanging out there. The fifth book centers around characters introduced in a previous series (The McCauley Brothers) as well as Body Shop Bad Boys, so though it's not technically a BSBB book, it kind of feels like it to me.
TRC:  How do you keep the plot(s) unpredictable without sacrificing content and believability?
This series is about real men and women. My heroes tend to be blue-collar, rough and ready, and my heroines have real issues and real looks. They're not all gorgeous and lily white, but characters with personality. Those characteristics drive the plots. No one's flying to Paris for a spy chase. The men and women fight, fall in love, fight falling in love, and deal with life as it comes to them in their city of Seattle. It's challenging to keep it real but also fun to think that hey, this could really happen to someone like me! And let's face it, truth is often stranger than fiction. Finding unpredictable plots is as easy as sitting in a coffee shop and listening to people talk about their lives.
TRC:  Do you believe the cover image plays a deciding factor for many readers in the process of selecting a book or new series to read?
I do. I'm a big reader, and I know that the first thing about a book I notice is the cover, then the blurb. After that, I'll open the book to take a peek. But without a striking cover, I'm bypassing it to another book. Fortunately, I've been really lucky with Sourcebooks creating amazing covers for me. I mean, look at Roadside Assistance. Just…wow.
TRC:  On what are you currently working?
I'm working on the fourth Body Shop Bad Boy book, about Lou. My last wisecracking mechanic is about to meet his match in a woman who won't give him the time of day. I LOVE stories like that!
TRC:  Would you like to add anything else?
Thanks so much for having me. I can't wait to share Roadside Assistance with everyone! You can find me at http://marieharte.com .
TRC: Thank you Marie for taking the time to answer our questions. Congratulations on the release of ROADSIDE ASSISTANCE


Follow: Goodreads / Twitter /Website/ Facebook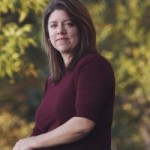 Caffeine addict, boy referee, and romance aficionado, USA Today bestselling author Marie Harte has over 100 books published with more constantly on the way. She's a confessed bibliophile and devotee of action movies. Whether hiking in Central Oregon, biking around town, or hanging at the local tea shop, she's constantly plotting to give everyone a happily ever after. Visit http://marieharte.com and fall in love.


Marie's publisher is graciously offering a paper copy of TEST DRIVE (book 1) to ONE (1) lucky commenter at The Reading Cafe.
1. If you have not previously registered at The Reading Cafe, please register by using the log-in at the top of the page (side bar) or by using one of the social log-ins.
NOTE: If you are having difficulty commenting after logging onto the site, please refresh the page (at the top of your computer).
2. If you are using a social log-in, please post your email address with your comment.
3. Please follow Marie Harte on FACEBOOK.
4. LIKE us on FACEBOOK and then click GET NOTIFICATION under 'liked' for an additional entry.
5. LIKE us on Twitter for an additional entry.
6. Please FOLLOW us on GOODREADS for an additional entry.
7. Please follow The Reading Cafe on Tumblr
8. Giveaway open to USA and Canada only
9. Giveaway runs from September 5-9, 2016