BLADE (Bayou Heat #23) by Alexandra Ivy-Review and Excerpt Tour
BLADE
Bayou Heat #23
by Alexandra Ivy and Laura Wright
Release Date: August 8, 2017
Genre: adult, contemporary, paranormal, romance
Amazon.com / Amazon.ca / Amazon.uk / Amazon.au /
Don't own a Kindle? Download the Free Kindle App
ABOUT THE BOOK: Release Date August 8, 2017
Sexy Suit, Blade was held captive and abused for decades. Benson Enterprises was desperate to use his superior blood to create super soldiers. But when he's finally rescued, he can't return to the Wildlands with the other prisoners. Not without the female he was forced to watch being impregnated. The female who has gone missing.
Beautiful and broken, Valli just wants to run away and never look back. But with the shocking news of her pregnancy fresh in her mind, she wonders if that's even possible. Told by her captors that one of the caged animals assaulted her, she knows she must do everything in her power to keep her unborn child safe. But when a glorious male tracks her down and claims her and her baby as his own, will she have the strength to walk away?
•••••••••••
REVIEW: BLADE is the latest addition to the multi-authored 1001 Dark Nights anthology, and the twenty third installment in Alexandra Ivy and Laura Wright's dual authored, contemporary, adult BAYOU HEAT paranormal, romance novella series focusing on the Pantera shifters of the Wildlands of Louisiana. This is Suit pantera Blade, and human waitress Valli's story line. BLADE can be read as a stand alone without any difficulty but I recommend reading the series in order as there is an ongoing premise throughout.
SOME BACKGROUND: The pantera are a secretive group of puma shifters living in the magical Wildlands of Louisiana. Their existence is threatened by a group known to capture, imprison, and cruelly experiment upon the shifters in the hopes of creating a super soldier blending pantera and human DNA. The labs at Bensen Enterprises have been destroyed but the scientists and people in charge continue to inflict pain and suffering upon those whose lives they have tried to destroy.
Told from dual third person perspectives (Valli and Blade) BLADE follows pantera shifter Blade as he searches for the human female impregnated with his seed. Blade only knows that the female is on the run, somewhere near the Louisiana Bayou, and our hero is desperate to find the woman who may be carrying one of the few successfully bred cubs. Once found, Valli accuses Blade of hideous crimes, crimes that Blade knows nothing about. What ensues is the struggle to reveal the truth, and the building relationship between Valli and Blade that will be threatened when someone comes looking for our story line heroine.
BLADE is a quick read; a fast paced story of insta-lust and love between a pantera and the human who carries the hopes of their species. The premise is energetic but predictable; the characters are passionate and emotional; the romance is fated and intense-another pantera shifter will find his mate in the Wildlands of Louisiana.
Copy supplied for review
Reviewed by Sandy
Check out the trailer: https://video214.com/play/POUX3aaxW1XSL807iuZ60A/s/dark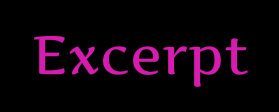 Walking out of the kitchen with careful steps, Valli wondered if Fran suspected she wasn't feeling well. Again. If so, the older woman would insist that she go upstairs to bed. It was such a temptation, but it would not only leave Fran alone to deal with both cooking and waiting tables—it would be a reminder of the last time she'd been unwell. And she couldn't risk losing her job, even if Fran let her stay upstairs while she hired out again. She had to push through.
Once out of the kitchen, she scurried down the short hallway that led to the women's bathroom. Crossing to the sink, she splashed cold water on her face, taking deep breaths.
After a moment or two the dizziness receded but was replaced by a strange sense of euphoria. As if something, or someone, was filling her with pure joy.
Unnerved by the sensation, Valli rushed out of the bathroom, only to slam into a man who was just entering the hallway.
Dr. Scott Richards reached out to grasp her by the shoulders, preventing her from bouncing away like a pinball.
"Valli, are you okay?" he asked in concern.
She instantly pulled away from his touch. It wasn't personal. The doctor was young and boy-next-door handsome, with his dark blond hair and bright blue eyes. He even had dimples. But since her return from the clinic she didn't want anyone touching her. Especially not men.
She forced a smile to her lips. "Sorry, Dr. Richards."
He clicked his tongue. "How many times do I need to tell you to call me Scott? Dr. Richards was my dad."
She took another step backward. Since her arrival in Bonne, she sensed that Scott wanted more from her than just a doctor/patient relationship.
"Scott," she reluctantly offered.
"That's better." He flashed his dimples. "Now why don't you join me for a cup of coffee? You look like you could use some caffeine."
"I'm fine."
He frowned. "You're pale."
"I'm working a double shift, so it's been a long day."
"Hmm." His gaze studied the shadows she knew marred the skin beneath her eyes before lowering to her loose smock. Did he suspect there was something she was trying to hide? Or was he just surprised in her choice of uniform? "I think you need to come in for a checkup."
A flush of anxiety moved through Valli at his words. She pressed herself against the wall and began to inch her way toward the back door that served as an emergency exit.
She liked this man. She really did. But there was no way in hell she was allowing him to examine her. No way in hell she was letting him even get close enough to try.
"I told you when I returned to town that I was cured."
Alexandra Ivy is the New York Times bestselling author of the Guardians of Eternity series, the Immortal Rogues series and the Sentinels.
Alexandra graduated from Truman University with a degree in theatre before deciding she preferred to bring her characters to life on paper rather than stage. She currently lives in Missouri with her extraordinarily patient husband and teenage sons.
Connect with Alexandra:
Website / Facebook / Twitter / Goodreads
Author of the Bestselling Mark of the Vampire series, Laura Wright spent the early years of her life immersed in the worlds of singing, acting and competitive ballroom dancing. But when she started writing, she knew she'd found her true calling. Laura lives in Los Angeles, California with her husband, two children, three dogs, two frogs and two fish. She's been thrice nominated for a Romantic Times Reviewer's Choice Award, and loves hearing from her readers.
Connect with Laura:
Website / Facebook / Twitter / Goodreads