UNSPEAKABLE (Beyond Human #2) by Nina Croft-Review and Excerpt

Amazon.com / Amazon.ca / B&N / KOBO / itunes /
ABOUT THE BOOK: Release Date September 25 ,2017
Sadie Brooks grew up knowing she was different…special. And she thought the undercover work she did for the government was making a difference…making a better world. Then she discovered she was simply an asset—to be used or destroyed at whim.
Escaping her government controllers, Sadie is determined to get her revenge on the organization responsible for the death of her twin sister—the Conclave.
Ethan Weiland has doubts about the Conclave but he's never known anything else.
Brought up from birth as the next hereditary leader, Ethan has never questioned his
destiny. Until he comes face to face with a beautiful enemy who can read his mind and bring him to his knees with a thought. For the first time, Ethan sees a chance for redemption. When he's in charge, he'll be able to change things.
Too bad it won't be that simple.
••••••••
REVIEW: UNSPEAKABLE is the second installment in Nina Croft's adult BEYOND HUMAN paranormal, sci-fi romance series focusing on a class of supernatural humans known as the Tribe-descendants from a group of people discovered, over 100 years earlier, by an expedition to the Mountains of the Moon (Congo Free State of Africa). This is Tribe member Sadie Brooks, and Conclave royalty/Afghanistan army veteran Ethan Weiland's story line. UNSPEAKABLE can be read as a stand alone without any difficulty. Any important information from previous story lines is revealed where necessary but I recommend reading the series in order for back story and cohesion. There is a prequel short story-NO MORE LIES-that introduces the premise behind the series concept. On that note, NO MORE LIES can be found in the multi-authored anthology THE TELEPATH CHRONICLES originally released in 2014.
SOME BACKGROUND: The Tribe believe themselves to be descendants of a species of humans blessed and cursed with supernatural, psychic powers. Their discovery has led to the formation of the Conclave who have taken it upon themselves to experiment with the mind and the brain, destroying that which they do not understand.
Told from several third person points of view including Sadie and Ethan UNSPEAKABLE continues to focus on the discrimination and specieism aimed at the descendants of the Tribe- a race of tall, blue-eyed Caucasians believed to be the product of inbreeding who were transferred to Scotland, given a home and all but forgotten until a secret, government faction known as the Conclave set about trying to capture and experiment upon those that have survived. Sadie Brooks' latest assignment finds her face to face with the enemy and her future-Ethan Weiland- a man whose direct link to the Conclave places Sadie and the members of the Tribe in mortal danger. When a mutual contact is found dead, Sadie sets into motion a meeting with the man with whom she will fall in love. What ensues is the building relationship between Sadie and Ethan as they attempt to uncover the whereabouts of Sadie's missing friends; and the search for the truth behind the Conclave's desire to eradicate a species struggling to survive.
UNSPEAKABLE is a detailed story line that follows several paths including the revelations about the death of Sadie's sister, and Ethan's mom; the imprisonment, experimentation and death of members of the Tribe; and the discovery that not everything and everyone is who they appear to be. A time-machine, possibly from the future, is the Tribe's only link to the past-a past that is quickly re-written at every turn.
There is a large ensemble cast of secondary and supporting characters including several members of the Conclave, the Tribe, and the introduction of a potentially new but familiar enemy on the horizon. We are introduced to Ethan's father, his cousin Travis, Travis's wife Joelle, and Ethan's assistant ex-military Fergus Baker. I am hoping Fergus will find his happily ever after.
UNSPEAKABLE is a story of family and friendships; discrimination and fear; and the struggle to survive. The premise is entertaining and intriguing; the characters are colorful, dynamic and challenging; the romance is passionate and forbidden. UNSPEAKABLE is a revealing installment in Nina Croft's BEYOND HUMAN series.
Click HERE for Sandy's review of book one UNTHINKABLE
Copy supplied by Netgalley
Reviewed by Sandy
Excerpt copy supplied by the author
"This is for real?" Fergus sounded…bemused. "She can read minds?"
"Oh, it's real," Sadie said. She strolled across and patted Fergus on the arm. He flinched under the touch. "But don't worry, I won't tell your boss that his big, bad, macho assistant has been secretly in love with him for the last twelve years."
Fergus stepped back, shock stamped clear on his face. Ethan was sure his own looked the same. Had she just said Fergus was in love with him?
Sadie laughed out loud. "I'm kidding, guys. Geez, you're so easy to wind up."
He shook his head. "Really?"
She grinned. "Hey, you have to admit it was funny. Just the expressions on your faces."
"Bitch," Fergus muttered. He stood staring at the floor for a minute. "So what am I thinking?"
"Three thousand five hundred and sixty…four. Though why I'm playing along with this, I don't know. It's nothing to do with me if you don't believe. I'm sure there's nothing in your head worth seeing." She turned her attention to him. "He thinks you should kill me. I'm too dangerous to keep around. Too many secrets." She went back to her perch on the desk, swinging the empty glass from her fingers. "You know, those government controllers promised us a world with no more secrets. No more lies. Then they gave us the same old shit."
She sounded bitter and sad. He wanted her laughter back, and as the thought crossed his mind, a small smile curved her lips. "You know you're not the badass you like to make out to be."
He decided to give Fergus time to come to terms with things. He was clearly still in the shock stage.
"Why did you run in the end?" he asked her. "What changed?"
"One of us died. He wasn't the first, but we'd always believed them before—they told us the deaths were from natural causes. But they'd been lying to us almost from the start."
Maybe not from the start. More likely, when the Conclave got involved. She looked at him sharply and gave a quick nod in agreement.
"Did someone close to you die?"
"My twin sister. Four years ago. They said it was some sort of blood disease, but they killed her, experimenting on her until she died. I never even saw the body."
"Is that why you came looking? Is that what you want out of all this? Revenge?"
She pursed her lips, maybe considering what to tell him. "Actually, I do want revenge. But the main reason my group is hunting the Conclave is because, believe it or not, we're more interested in secrecy than even you are."
"Why is that? "Ethan asked.
"Ah well, now that would be telling secrets."
God, she was annoying. "The hunted becomes the hunter," Ethan said. "I quite like the concept. It has a certain irony."
"So you're not a prostitute?" Fergus interrupted them. He still sounded a little bemused.
"Why? Were you hoping to do business with me?"
"I don't pay."
She rolled her eyes. "Why ever would you have to? You're such a charmer. But no, I'm not a prostitute."
"And you read minds."
"Among other things."
"What else?" Ethan asked.
"I can talk to animals. Well, not really talk, but they understand me and usually do what I ask."
"How well do you read minds? How much can you see?" Fergus sounded rattled.
"Now that would be telling. But I'm not the best. Let's just say, I can see that you don't want to believe me, but you do. You think Ethan has made a deal with the devil—that's a bit strong by the way, I'm not that bad—which will likely get us all killed." She studied him for a minute, her eyes narrowed, her head cocked on one side. Poor Fergus almost squirmed beneath her direct stare. "You think he wants this too much, and that he should maybe leave the past in the past, where it belongs. And move on."
How much was she getting? He wasn't ready to reveal his purpose yet.
She shook her head. "But the problem is, Ethan's not ready to move on. Mainly because he has nowhere he wants to go. Poor Ethan. Brought up to believe he's got the right to rule the world and part of him thinks, yes—he can do a better job than most—so why not?" She gave him a small smile. "But he also suspects that ultimate power corrupts, and a system based on hereditary passing on of power can only ever lead to disaster. And that soon, he might very well be faced with a difficult choice." She shrugged. "Fingers crossed he makes the right decision."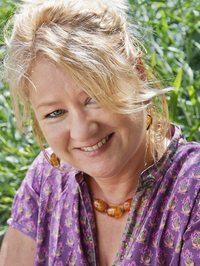 Follow: Goodreads / Website Facebook / Twitter / Newsletter Sign UP/ Pinterest
Growing up in the cold, wet, north of England, Nina Croft spent a lot of time dreaming of faraway sunnier places and ponies. When she discovered both, along with a whole load of other things, could be found between the covers of a book, her life changed forever.
Later, she headed south, picked up the perfect husband along the way, and together they volunteered to work in Africa. There they discovered a love of exotic places and a dislike of 9-5 work. Afterward they spent a number of years travelling (whenever possible) intermingled with working (whenever necessary.) Eventually they stumbled upon a remote area in the mountains of southern Spain and the small almond farm they now call home.
Nina spends her days reading, writing and riding her mare, Gencianna, under the blue Spanish skies—sunshine and ponies. She reckons this is proof that dreams really can come true if you want them enough.