An Earl by Any Other Name  by Lauren Smith – Review & Giveaway
DESCRIPTION
An earl in the streets, a rogue in the sheets . . .
Leopold Graham, Lord Hampton, was never a man to let propriety stand in the way of his pursuit of pleasure. Hedonism is his only desire in life—until his father's death saddles him with debts that threaten to bankrupt the entire family. Now the only thing that stands between him and utter ruin is marriage to a proper, and preferably wealthy, young lady.
Ivy Leighton is no sweet English rose. Perhaps it's her gypsy roots, but she would rather make a spectacle of her independent spirit than sit quietly on the sidelines. If that means that the only place she'll ever have in society is firmly on the shelf, then so be it. But when Ivy runs into the handsome, rakish Leo who's looking for a respectable, well-bred wife, she can't stop thinking about the troubles they can get into. Now she just has to convince him that a life with her is really what he needs.
REVIEW
5 out of 5 for this reader folks!
WOOT!  Another grand slam by another of my fave historical romance authors Lauren Smith.  I always put her books down feeling very fulfilled and wanting more .. this awesome book was no exception.
An Earl By Any Other Name is the first book in Lauren Smith's "Sins and Scandals" series and it's a quick novella that gives you a taste of more to come.  If you like two fiery characters meeting their match and also enjoy a steamy ride to get there, then kick your pumps off and get ready to enjoy.
Leopold Graham is a rogue who loves his lifestyle.  When his daddy dearest does a big faux pas like dying in his mistresses bed and pretty much leaving the family finances in one hot mess, Leo is about to do the one thing he never wanted … marry a proper lady who has money to save his family circumstance.
Ivy Leighton appears to be a proper lady to some extent .. nah not really.  She's AWESOME!  Independent, smart assed, and not afraid to lay it out regardless of the cost to her reputation, she is my ideal historical romance heroine.  She really has no interest in marriage until … hmm .. maybe Leo?  She is very drawn to him and they seem to have a memorable connection in their youth.
These two are so well matched, two perfects making a whole.  They are so pigheaded at times and I loved that everyone but them knew it was going to happen. The humour and banter, one liners and smexy scenes keep these pages fiery and flipping .. but here is what I love the most about Lauren's ability as an author.  Despite the small amount of pages, you get the full build of of character and story without feeling like you are missing anything.
A short review for a a short book, but full of "gush" for the story.  I am eagerly anticipating her next release in this series, I suspect it's going to be fabulous!  Keep it coming Lauren!
HAPPY READING! 🙂
Reviewed by Rachel
Copy supplied for review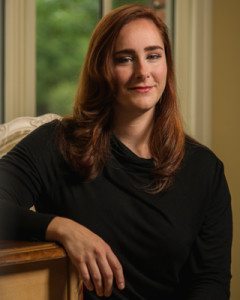 Born and raised in Tulsa, I spent the first twenty-two years of my life in Oklahoma, bridging the worlds between urban girl and cowgirl. After high school I attended Oklahoma State University where I earned Bachelor of Art degrees in history and political science. Drawn to paintings in museums and obsessed with antiques, I satisfied my fascination with history by writing and exploring exotic, ancient lands.
Over the years, my studies have opened doors throughout the world. From spending two summers at Cambridge to attending classes at such divergent places as Ireland and Chengdu, China, I have discovered fascinating opportunities for enrichment wherever I go. After completing college, I moved to Michigan to attend law school at the University of Detroit-Mercy and University of Windsor in Ontario, Canada.  Armed with two Juris Doctorate degrees from both countries, I returned to Tulsa and became an intellectual property attorney.
Since third grade when my English teacher proposed that all students should craft a story for a young writers' conference, I have been hooked on writing. My first self-illustrated manuscript described the mysterious disappearance of rare brown bats that were being captured by scientists bent on using them as carriers for an incurable disease. The immense sense of joy in sharing that story with others, and discussing plots and characters, made it clear to me that writing was my true passion.
Learn more about Lauren at the following links:
Website / Facebook / Twitter / Goodreads

Lauren is graciously offering a $25.00 Gift Card (Amazon or B&N) and a signed paper copy of a book of your choice from Lauren's backlist  to ONE (1) lucky commenter at The Reading Cafe
1. If you have not previously registered at The Reading Cafe, please register by using the log-in at the top of the page (side bar) or by using one of the social log-ins.
2. If you are using a social log-in, please post your email address with your comment.
3. Please LIKE and Follow Lauren Smith on Facebook
4. LIKE us on FACEBOOK and then click GET NOTIFICATION under 'liked' for an additional entry.
5. LIKE us on Twitter for an additional entry.
6. Please FOLLOW us on GOODREADS for an additional entry.
7. Giveaway open Internationally
8. Giveaway runs from July 31 to August 5, 2017
Save
Save