THRIVE (Guardian Protection #2) by Aly Martinez-Review Tour
Amazon.com / Amazon.ca / Amazon.uk / Amazon.au / iTunes audio /
Add THRIVE to Goodreads: https://www.goodreads.com/book/show/34609194-thrive
ABOUT THE BOOK: Release Date January 18, 2018
Technically, you aren't supposed to fall in love with your best friend's girl.
But if we're talking technicalities, he wasn't supposed to be cheating on her every other weekend, either.
The day I met Mira York, I knew she was off-limits. But after months of stealing side-glances while he ruined the most beautiful woman I'd ever seen, I realized there wasn't a rule in the world I wouldn't break to make her mine.
She chose him anyway.
I wasn't sure how I'd ever move on, but bitterness turned into fuel for my fire.
Without Mira, I thrived.
Until seventeen years later, when she showed back up, begging for protection from the very same man she'd left me for all those years earlier.
Now, it was my turn to choose.
And she wasn't going to like my answer.
THRIVE takes place seventeen years AFTER a love triangle.
•••••••••••••
REVIEW:  THRIVE is the second instalment in Aly Martinez's contemporary, adult GUARDIAN PROTECTION romantic, suspense series focusing on the men and women of the Guardian Protection Security Agency. This is forty year old, Guardian security specialist Jeremy Lark, and thirty-seven year old Mira York's story line. THRIVE can be read as a stand alone without any difficulty. Any important information from the previous story line is revealed where necessary.
Told from dual first person perspectives (Jeremy and Mira) using present day and memories from the past, THRIVE follows the rekindling relationship between security speciality Jeremy Lark, and Mira York. Seventeen years earlier Jeremy lost the only woman he would ever love to his best friend Kurt Benton. Hoping Mira would see through the man that would eventually destroy her life, Jeremy walked away losing his heart and his soul, along with the woman he would never forget. Fast forward to present day wherein, out of the blue, Jeremy gets a call from the last person he would ever expect-Mira York-a woman who is battling for her life, and the life of a friend who has been caught up in Kurt's illegal dealings. What ensues is the rebuilding friendship and second chance romance between Mira and Jeremy, and the potential fall out as they discover that the past seventeen years have all been a lie placing our heroine in a life and death situation, until debts owed are paid.
Jeremy Lark's love / hate relationship with Mira York cannot be easily overlooked. Mira is the woman that destroyed all semblance of goodness in his life until the birth of his daughters a few years ago. Unable to forgive or forget, Mira's return to Jeremy's life is fraught with accusations, hatred and a palpable sexual energy only seen between two people who could never let go. A second chance at love will be tested time and again as the Guardian Protection Security Agency must uncover the who, what and why of the attacks and threats against our story line heroine. The $ex scenes are intimate and passionate without the use of over the top, sexually graphic language and text.
We are introduced to Mira's roommate and best friend Whitney; local drug kingpin Mateo Rodriguez, Mira's ex-husband Kurt Benton, and Jeremy's ex-wife Melissa Lark; as well as the return of several security specialists at Guardian Protection: Jude Levitt and Rhion Park (Singe #1), Leo James, Devon Grant, Braydon Hughes, Alex Pearson, Aidan Johnson, and Rhion's struggling brother Apollo Park. There is a story developing between Braydon Hughes and Mira's bestie Whitney.
THRIVE is a story of betrayal and revenge; forgiveness and love; moving forward and letting go. The premise is emotional, heartbreaking and intense; the romance is seductive and healing; the characters are colorful, dynamic and broken.
Click HERE for Sandy's review of book one SINGE
Copy supplied for review
Reviewed by Sandy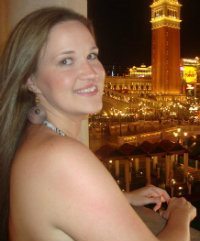 Born and raised in Savannah, Georgia, Aly Martinez is a stay-at-home mom to four crazy kids under the age of five, including a set of twins. Currently living in South Carolina, she passes what little free time she has reading anything and everything she can get her hands on, preferably with a glass of wine at her side.
After some encouragement from her friends, Aly decided to add "Author" to her ever-growing list of job titles. Five books later, she shows no signs of slowing. So grab a glass of Chardonnay, or a bottle if you're hanging out with Aly, and join her aboard the crazy train she calls life.
STALK HER: Website | Facebook | Twitter | Goodreads