THE CATCH (The Player Duet #2) by K. Bromberg-Review Tour
THE CATCH
The Player Duet #2
by K. Bromberg
Genre: adult, contemporary, erotic, romance
Release Date: June 29, 2017
Amazon.com / Amazon.ca / B&N / KOBO / ibooks /
RELEASE DATE: June 29, 2017
After an unexpected twist of fate, All-Star catcher Easton Wylder is left questioning the loyalty of everyone around him.
Even the woman who shares his bed, Scout Dalton.
But if Easton thought being uprooted to the last place he expected was the only challenge life had to throw at him, he was dead wrong.
With an ailing shoulder and his career in limbo, his decision to make an unexpected change leads him to question everything – Scout's love, family loyalties, and whether he can conquer the one obstacle he's never been able to overcome. The secret he's never shared with anyone.
He may be a man pushed to his limits, but he's hell-bent on proving his worth no matter the cost.
••••••••••
REVIEW: THE CATCH is the second installment in K. Bromberg's contemporary, adult THE PLAYER erotic, romance duet focusing on professional baseball player Easton Wylder, and physical therapist Scout Dalton. Their continuing story follows the fall-out of perceived betrayal, months of rehabilitation, and a shocking revelation that will upend everything Easton thought he knew about family and love. THE CATCH should not be read as a stand alone as it continues immediately upon the events and the cliffhanger ending of book one-THE PLAYER.
Told from dual first person points of view (Easton and Scout) THE CATCH focuses on Easton and Scout's fractured relationship; the prospect of betrayal; and Easton's spiral out of control as his baseball career and potential future with the team come to a crashing halt. Following a near-career ending injury, and months of painful rehabilitation, Easton Wylder is blind sided when management makes other plans. Choices are made; friendships destroyed; and family loyalties are questioned from every side. What ensues is the breakdown of a relationship, a family, and a possible future when more than one betrayal destroys Easton's confidence in everything that he once loved.
THE CATCH is a story of one man's star that begins to plummet and the realization about how much his life and luck are out of his control. K. Bromberg adds some shocking twists and turns to a story line where betrayal comes at a cost; jealousy is more than an ugly word; and family obligation is never a guarantee of love or a happily ever after.
THE CATCH is an emotional story where your heart will break for a young man whose life will begin to spiral out of his control. The premise is creative and imaginative ; the characters are passionate, charismatic and energetic; the romance is intimate, breathtaking and provocative. K. Bromberg's THE PLAYER Duet is an intoxicating series about life, love, and the dreams of what was, and what could have been.
Click HERE for Sandy's review of book one THE PLAYER
Copy supplied for review
Reviewed by Sandy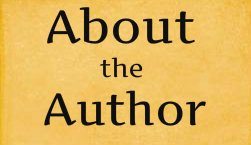 New York Times Bestselling author K. Bromberg writes contemporary novels that contain a mixture of sweet, emotional, a whole lot of sexy, and a little bit of real. She likes to write strong heroines, and damaged heroes who we love to hate and hate to love.
A mom of three, she plots her novels in between school runs and soccer practices, more often than not with her laptop in tow.
Since publishing her first book in 2013, K. has sold over one million copies of her books and has landed on the New York Times, USA Today, and Wall Street Journal Bestsellers lists over twenty-five times.
In April, she'll release The Player, the first in a two-book sports romance series (The Catch, book 2, will be released late June), with many more already outlined and ready to be written.
She loves to hear from her readers so make sure you check her out on social media or sign up for her newsletter to stay up to date on all her latest releases and sales: http://bit.ly/254MWtI
Website | Facebook | Twitter | Instagram | Goodreads | Amazon Author | Driven Group