The Thrill of Love by Melissa Foster – Review  Tour & Giveaway

THE THRILL OF LOVE
The Bradens at Peaceful Harbor
by Melissa Foster
Genre: adult, contemporary, romance
Release Date: October 4, 2017
Amazon / B&N / Kobo / BAM / Book Depository / iBooks / GPlay
Description:
The Bradens are a series of sexy stand-alone romances. These hot contemporary romance novels feature alpha male heroes and sexy, empowered women. They're flawed, funny, passionate, and relatable to readers who enjoy new adult romance, contemporary romance, and women's fiction.
Fall in love with Ty Braden, a world-renowned mountain climber and nature photographer. He's about to take on his toughest assignment yet–winning the heart of the one that got away.
Do you believe in fate?
World-renowned mountain climber and nature photographer Ty Braden never believed in second dates, much less heart-pounding, steal-his-breath love. But that was before a trip to Saint-Luc, where he met funny, strong, and entrancingly beautiful Aiyla Bell, a ski instructor and fellow photographer whose hopes and dreams, and love of the outdoors, aligned perfectly with his—and whose kisses alone turned him inside out.
After spending five magical days and four sweet, soulful nights falling in love, Aiyla couldn't imagine a day without Ty. But when he asked her to go with him on his next assignment, his reputation for having women at his beck and call stopped her from upending the life she'd worked so hard to create.
Months later fate steps in when a chance encounter brings Ty and Aiyla together for a five-day wilderness event held in the Colorado Mountains. Their deep, passionate connection is stronger than ever, and Ty is bound and determined not to lose her again. But when tragedy strikes and their worlds are turned upside down, their love faces the truest test of all
•••••••••••••••
Review:
The Thrill of Love by Melissa Foster is the 6th book in her The Bradens of Peaceful Harbor, MD.  Melissa Foster always gives us sweet sexy romances, and The Thrill of Love is no different; however there is a twist that takes over the storyline a bit past the half way point that is totally different. 
Ty Braden, a known womanizer and famous mountain climber met his match, in our heroine, Aiyla Bell, a fellow climber and photographer.  They spent 4 days together, when they were both in Saint-Luc and Ty still thinks constantly about the girl who got away.  Months later, in another tournament, to his pleasant surprise, Aiyla is also in the same event in the Colorado Mountains.  This time Ty is determined to not let Aiyla out of his site.  Of course, Aiyla has also not forgotten the gorgeous sexy Ty, but she felt he was not the type to settle down into anything serious.  In a very short time, she will learn that she is wrong and Ty is determined to win her over.  The first half of the book was a fun filled sexy romp between Ty and Aiyla, as well as spending time with his friends, and especially the wonderful Braden family.   Aiyla finds herself totally fitting in with the Bradens and it was a fun time with them all.
Aiyla is bent on winning her events, even if her leg is hurting from overuse.  After a bit, I began to suspect that this will become something more, and at this point the story changes to become more serious, with some heart wrenching moments.  Rather than tell too much more, what follows is an amazing story that brings everyone in Ty's family, Aiyla's sister and their friends to help support them. I absolutely loved the Braden family; how they all rallied behind Ty and Aiyla, and totally fell in love with Ty.  He was a fun sexy hero to start, but as time went on, he was awesome and supportive to Aiyla in her need. Aiyla was also a fantastic heroine, and an amazingly strong independent woman, who was strong enough to fight her fears and make mind boggling decisions.
Melissa Foster once again gives us a sensational couple, whom we rooted hard for; but added an element to this romance that gave us some dark moments.  The Thrill of Love was a wonderful story, great couple and terrific secondary characters.   I suggest you find time to read this book, which reads very well as a standalone.
Reviewed by Barb
Copy supplied for review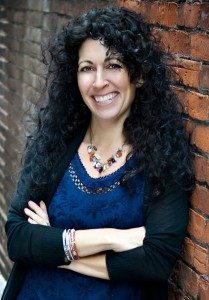 Melissa Foster is a New York Times & USA Today bestselling and award-winning author. She writes sexy and heartwarming contemporary romance and new adult romance, contemporary women's fiction, suspense, and historical fiction with emotionally compelling characters that stay with you long after you turn the last page. Her books have been recommended by USA Today's book blog, Hagerstown Magazine, The Patriot, and several other print venues. She is the founder of the World Literary Café and Fostering Success. When she's not writing, Melissa helps authors navigate the publishing industry through her author training programs on Fostering Success. Melissa has been published in Calgary's Child Magazine, the Huffington Post, and Women Business Owners magazine.
Melissa hosts an Aspiring Authors contest for children and has painted and donated several murals to The Hospital for Sick Children in Washington, DC. Melissa lives in Maryland with her family.
Visit Melissa on social media. Melissa enjoys discussing her books with book clubs and reader groups, and welcomes an invitation to your event.
Author Links: Website | Facebook | Twitter | Goodreads
NOW FOR THE AUTHOR'S GIVEAWAY
NOTE: The Reading Cafe is NOT responsible for the rafflecopter giveaway. If you have any questions, please contact the tour provider.
Win $10 Amazon.com Gift Card
Open Worldwide
Ending on Sunday 29th October at 11.59pm EST
Enter Below and Good Luck !!