CAGED MAGIC (Wing Slayer Hunter #5) by Jennifer Lyon-Review and Book Tour
Caged Magic
Wing Slayer Hunter #5
by Jennifer Lyon
Genre: adult, paranormal, romance
Release Date: July 20, 2015
Amazon.com / Amazon.ca / B&N / KOBO /  GooglePlay /   iBooks
ABOUT THE BOOK: Release Date July 20, 2015
Risa Faden is a witch whose ultra-powerful shield magic is slowly breaking her mind. But when her beloved goddaughter is snatched by a demon, she'll risk anything to rescue the baby—including lying to the handsome, intriguing stranger who has the power to help her keep her sanity, save the child…and steal her heart.
Linc Dillinger is a Wing Slayer Hunter whose sexy, rich, bad-boy charm hides a treacherous betrayal that left him emotionally scarred. As a result he risks his life to protect innocents, but is incapable of love—until he meets a beautiful witch who can save his cursed soul. Risa's fierce courage and loyalty reaches past his barriers and he begins to believe she has the magic to free his caged heart.
But Risa's lie explodes into dark danger that forces Linc into a hellish high-stakes gamble: He must either win the witch he loves and her godchild…or endure a loss that will destroy them all.
••••••••••••
REVIEW:  CAGED MAGIC is the fifth installment in Jennifer Lyon's adult Wing Slayer Hunter paranormal romance series. This is Wing Slayer Hunter Linc Dillinger and witch Risa Faden's storyline.
SOME BACKGROUND: Background information from Jennifer Lyon's website: Once they were immortal guardians; hunters of demon witches and protectors of innocent earth witches. For centuries, the hunters and witches worked together to safeguard earth from demons, in particular, Asmodeus.
Wing Slayer Hunters are an immortal group of warriors who without their 'soul-mirror' witches will eventually go rogue and hunt the very thing that would have saved their souls. Each Hunter must find his witch-his soul mirror- before going feral; the closer to going rogue for a Hunter, the more he craves the blood of the witches. When a Hunter finds love he will get his wings.
Told from third person point of view CAGED MAGIC focuses on the hunt for a small child-Risa's goddaughter Kendall-who has been abducted by a demon known as Archer. Archer's use of hellfire is a weapon no Hunter is able to control but Risa has a few powers that when put to use, will aid the Hunters in the fight to save their own. Risa and Linc will join forces with the Wing Slayer Hunters in the hopes of locating Kendall and destroying the demon who has chosen demonkind over his own humanity.
Risa and Linc both have heartbreaking, brutally abusive and dark backstories. Risa's family history is filled with monstrous acts of murder, rape and abuse but now her only thoughts are to save the child she has sworn to protect; Linc believes he is unworthy of love due to his time as a captured beast, and too close to going rogue for anyone-including his soul mirror mate-to save his life.
Throughout the storyline, Risa struggles with her attraction to Linc but is unable to give Linc what it is he needs. Linc knows that Risa is the one; his soul-mirror but he will not take what is not freely given. There is plenty of back and forth; push and pull between Risa and Linc. The sexual chemistry is palpable; there is no denying their attraction to one another but to save Linc, Risa must hand over control to the man and his Falcon. The $ex scenes are intimate, sometimes aggressive and graphic as Linc grows closer to going rogue, but never coerced or forced.
It has been three years since the last WING SLAYER HUNTER installment and I think I may need a quick refresher. CAGED MAGIC is an ensemble storyline with all, if not most, of the previous storyline couples and characters playing a secondary or supporting role: Darcy and Axel; Carla and Sutton; Roxy and Key; Phoenix and Ailish; Ginny, Eli and Ram; as well as Baron and his MC family of Wing Slayer Hunters. The world of the Wing Slayer Hunter focuses on survival against the odds when a Hunter is close to going rogue; the need to find one's soul-mirror; and the determination to protect the earth witches against the very thing the Hunter does not want to become.
CAGED MAGIC is a heartbreaking storyline of betrayal and loss; blood lust and need; falling in love and a happily ever after. The premise is an intense look at one man's spiral into the dark side, and one woman's need to protect the man with whom she is falling in love. The characters are colorful, intense and spirited; the romance is sensual, passionate and hopeful. There is a little bit of humor woven throughout the storyline especially when the soul-mirror witches 'talk amongst themselves'—been there, done that !!!
With the release of CAGED MAGIC Jennifer Lyon continues to fascinate the reader with her incredible world of the WING SLAYER HUNTERS; she will captivate your imagination with her passion and intensity as she delves deeper into the supernatural world of the Wing Slayer Hunters.
Copy supplied by the author through Netgalley.
Reviewed by Sandy
Linc reached across the bathroom, catching her hand. His warm, firm fingers anchored her. Startled, she lifted her gaze to him.
"Come here, Risa."
She started to shake her head, but pain pierced her skull. She hadn't recovered yet. It would take hours of sleep to regain some strength.
"Here's the thing. If you want your high magic, you're going to have to learn my touch is not like the others. I am not just making use of your body." He squeezed her hand reassuringly. "Not while I still have a soul. We clear?"
She resisted for a second longer, searching over him with her gaze. When he showed her this kindness, acting as if he cared enough to get to know and understand her, it opened her up, left her too vulnerable.
"Take the first step. That's all you have to do." His voice flowed smoothly to wrap around her like a silky ribbon. Her chakras relaxed, and her muscles unlocked.
She took the step.
And won a smile from him. His face softened, a dent forming in his chin while his eyes crinkled. This wasn't Linc's charming smile, the one he tossed off with his fast and glib comebacks. That smile had polish.
This one was real, sexy, and made her feel like smiling back. Unsure what to do, she just stood there, staring at the amazing grin on his face.
He reached out, caught her waist and tugged her between his thighs. He tucked her beneath one arm, surrounding her with his body heat.

Sex in the Storyline: Where to Draw the Line Between Romance and Erotica
Jennifer Lyon
Thank you so much to The Reading Café for having me here today! It's always fun to hang out with other romance lovers. I was asked to talk about where I draw the line between romance and erotica. Erotica is generally less about the relationship and more about the physical attraction and titillation. While romance is about building a relationship from that first meeting, through some trials and into a deep love that the reader can trust will last after she closes the book.
My latest release, Caged Magic is a paranormal romance, and sex is woven deeply into the story line. All the witches and hunters were cursed decades ago. To break the curse, they must find the witch or hunter with the other half of their soul, and bond together. Sex is part of that bond, organically bringing up the heat level of the book. But the book is about so much more than just sex – a demon has spawned on the streets of Las Vegas, threatening the entire city, and Risa's young godchild, a baby, has been kidnapped. The stakes in Caged Magic are high, and sex is only one part of the bigger story.
So for me the line is pretty easy, every sex scene must have a purpose to the story and the character's emotional growth. It's always more than physical, or stripping off clothes and matching up body parts. As our lovers progress from the first touch, the first kiss, they are giving each other greater levels of trust, and deepening the affection and regard for one another.
In the end, I think the line between romance and pure erotica is all about the emotional connection of the characters. But I've read some truly amazing books that do a great job of blending erotica and romance, bringing emotion into every look and touch, and keeping the reader breathlessly turning pages.
Do you have a line in your romance reading that you don't like to cross?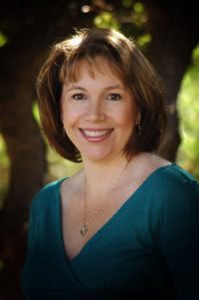 Jennifer Lyon, who also writes as Jennifer Apodaca, lives in Southern California where she continually plots ways to convince her husband that they should get a dog. After all, they met at the dog pound, fell in love, married and had three wonderful sons. So far, however, she has failed in her doggy endeavor. She consoles herself by pouring her passion into writing books. To date, Jen has published more than fifteen books and novellas, including a fun and sexy mystery series and a variety of contemporary romances under the name Jennifer Apodaca. As Jennifer Lyon she created a dark, sizzling paranormal series, and The Plus Once Chronicles, an emotionally sensual adult contemporary series. Jen's won numerous awards and had her books translated into multiple languages, but she still hasn't come up with a way to persuade her husband that they need a dog.
Website | Facebook | Twitter | Goodreads
Follow the Tour
For more interviews and guest posts with Jennifer plus Caged Magic reviews & Spotlights stop by the tour every day!
The complete schedule can be found HERE!

NOTE: The Reading Cafe is NOT responsible for the rafflecopter giveaway. If you have any questions, please contact the tour provider
Giveaway
There are 3 tour wide giveaways!
Open to US, CAN, UK
(1) grand prize $50.00 electronic gift card (Amazon or B&N)
(2) runner up winners of one $25.00 electronic gift card each (Amazon or B&N)