TAP RACK BANG (Ben Blackshaw #3) by Robert Blake Whitehill-Review and Interview
Amazon.com / Amazon.ca / Amazon.uk/ Barnes and Noble / KOBO / The Book Depository
RELEASE DATE: September 4, 2014
Former Navy Seal Ben Blackshaw lurks in solitude aboard the shoaled wreck of the American Mariner in the Chesapeake Bay. He is awakened one stormy spring night when a drifting dinghy slams into the old ship's hull. Blackshaw investigates, and discovers there is only one occupant in the sinking boat, a naked young woman lying unconscious in the bilge.
Against his better judgment, and risking his own undercover operation, Blackshaw gives shelter to Tally, the terrified refugee. He soon learns Tally has escaped a calculating crew of sociopaths who are about to launch an internet site called L'Abattoir, on which hostages will be tortured, and then executed. Tally was able to free herself, but she now she must return to the dreaded dungeon with help to rescue her little sister, and to free twenty other victims-in-waiting.
••••••••••••••••••
REVIEW: TAP RACK BANG is the third installment in Robert Blake Whitehill's contemporary, adult Ben Blackshaw mystery, suspense series focusing on former Navy SEAL Ben Blackshaw. Although this is the third storyline in the series it can be read as a stand alone without too much difficulty but saying that there is plenty of previous storyline scenarios referred to and discussed, some of which are important to the current timeline. A former nemesis will be front and center in TAP RACK BANG-I only wish I had more information about their previous encounters.
The story follows Ben Blackshaw, a former Navy SEAL who has been in hiding, presumed dead, and now must come out of seclusion to aid a young woman, an escapee, known as Tally whose story of abduction and torture seems too hard to believe. An internet site known as L'Abattoir (French for slaughterhouse) is set to launch, and Tally and her fellow kidnapped detainees are scheduled as the night's main event.
Ben Blackshaw is a man possessed. He is the hero whose soul is stained with the blood of many. A man whose history is dark but for the number of lives he has saved and secured. When Ben's wife goes missing, he will do everything possible to ensure her safe return.
Robert Blake Whitehill pulls the reader into a storyline of action, suspense, mystery and drama. There are moments of murderous rage and gluttonous ego wrapped in an abhorrent scenario of human trafficking and sexual perversion. From the elite of society to the political who's who, the audience of deviant watchers must pay the price for their horrendous and alarming voyeuristic proclivities. The victims are the nameless; the homeless; and the poor; with no one waiting for their return.
The storyline is slow to build as our 'hero' must ferret out the people, the places and the information needed to attempt a rescue and take down. The secondary characters are numerous, colorful and complex; from the nemesis, the sidekick, the mentor and the fool, each character will play an important role as Ben gathers intel for the final scene. We will be reintroduced to Ben's friends and former neighbors who owe Ben more than just their lives.
TAP RACK BANG is an imaginative, graphically violent and compelling storyline that reads like a movie where the action and suspense builds until the final minutes. The novel does not end on a happily ever after for everyone. There are moments of heartbreak, sorrow and loss. No one is safe and everyone is targeted-in the end.
Copy supplied by the publisher.
Reviewed by Sandy


TRC: Hi Robert and welcome to The Reading Café. Congratulations on the release of TAP RACK BANG.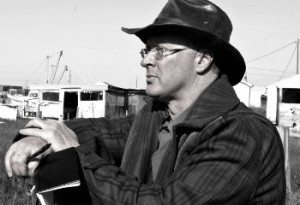 Robert: Thank you! It's great to speak with you. And I am so happy to have Tap Rack Bang done and out there in readers' hands. It was difficult to write. Human trafficking is an awful subject to delve into, particularly when it deals with snuff entertainment.
TRC: We would like to start with some background information. Would you please tell us something about yourself?
Follow Robert: Facebook / Website / Twitter /
Robert: I was born and raised a Quaker on Maryland's Eastern Shore Peninsula by the Chesapeake Bay. Grew up on the water. A little sailing. A little crabbing. Lots of walks in the woods.
I've been writing for a long time. Even though I began as an actor, between gigs I custom-wrote audition monologues for other actors I knew. I mean, their headshots look like them. Their resumes reflected their unique experience. Why, I wondered, should they audition with monologues written for somebody else? That's how my paid writing career really got started.
Since then, I've also written a number of highly-rated true-crime shows for Discovery, as well as some award-winning feature scripts. U.X.O. (Unexploded Ordnance) won an Alfred P. Sloan Fellowship at the Hamptons International Film Festival.
I have worked as a bridge tender on the Old Severn River Bridge next to the Naval Academy in Annapolis. That was a great office, out there in the middle of the water. What a view! It was a peaceful place to write. I was also a Ginsu Knife pitchman for a time to pay some bills. I'm very proud to have served my town of Montclair, New Jersey on their ambulances as an Emergency Medical Technician. That was a revelatory experience. It was nice to have the company car, the clothing allowance, and for once, not to not have to pull over when I saw the flashing lights of a police escort behind me. Seriously, I got to help folks in the worst ten minutes of their lives. That was quite an honor and a privilege.
TRC: Who or what influenced your career in writing?
Robert: I met my primary writing influences early. My mom is an excellent poet, and a fine editor. My dad was an award-winning short story author and novelist. I got to see what a writer's day-to-day life looked like, and learned so much from their work. Professor Robert H. Butman at Haverford College, and Dominic Le Poer Power at the British and European Studies Group: London taught me a tremendous amount about dramatic writing.
It might seem strange, but I learned most about writing, and how much I loved it, during my study of acting at the Royal Academy of Dramatic Art, and at the Neighborhood Playhouse School of the Theatre. Memorize and perform some of the best dramatic writing in the English language, and it really sticks with you. I realized I was full of stories, and infested by strange voices for which the only exorcism was writing.
Robert McKee remains an important teacher. If he is revered as a writing guru, he earned it.
I read Melville, Stevenson, Defoe, Wyss, and Verne when I was in grade school, and yes, The Hardy Boys, too. Today, I admire the work of Carl Hiaasen, Scott Smith, Alistair MacLean, Tom Robbins, Randy Wayne White, Lee Child, Dennis Lehane, and James Lee Burke. My Ben Blackshaw Series has elements of each of those great authors, at least to some degree.
TRC: When not writing, what do you do to relax?
Robert: When I'm not writing, I really enjoy reading, hitting movies, practicing tai chi, exercising, birding, hiking, knocking around in our flying club's planes, getting out on the Chesapeake, and most of all, hanging with my wife and son.
TRC: Would you please tell us something about the premise of TAP RACK BANG-the third installment in your Ben Blackshaw mystery/suspense series?
Robert: Tap Rack Bang finds former U.S. Navy SEAL Ben Blackshaw lying low aboard the shoaled wreck of an old Liberty Ship in the middle of the Chesapeake Bay. Late one night he discovers an old dinghy washed up at the wreck, with a woman lying dead in it. Turns out, she was only exhausted and unconscious, and she has just escaped from a human trafficking ring that was planning to kill her, as well as her little sister, and a number of other hostages on a high-priced on-line snuff site. Without quite knowing what he is up against, Blackshaw risks blowing his own cover and agrees to help free the fugitive's sister and the other hostages. He teams with his old friend Knocker Ellis Hogan, but realizes he is going to need the help of a few of his neighbors as well. Not everybody wants to pitch in. In the final assault on the snuff site's impregnable hideout, Blackshaw and Ellis are outgunned. Blackshaw risks losing the one thing in life he values most. The outcome, well, it's devastating. Tough as he is, Blackshaw's psyche just about comes unglued. No spoilers, but it isn't clear he is going to get through this one alive, or what will be left of him if he makes it.
TRC: How many books do you have planned for the Ben Blackshaw series?
Robert: I'm in for at least ten missions in The Ben Blackshaw Series, but there will likely be many more. I'm having too much fun!
TRC: Can each book be read as a stand-alone?
Robert: Every book in the Ben Blackshaw Series is a stand-alone work. Deadrise is the first book. There is a bit of relevant back-story in each subsequent book, Nitro Express, and Tap Rack Bang, but only as needed. A paragraph or two. That's it. Just enough to make sense of the current mission, without doing a whole extended recap. Of course, growing with a character from his inception offers readers the pleasure of certain nuances and inside references and clues, but by no means do you need to read Deadrise to understand Nitro Express and Tap Rack Bang.
TRC: Is there any new information or news regarding the possibility of the Ben Blackshaw series optioning to television or motion pictures?
Robert: I am elated to report that HatLine Productions, based in Los Angeles, has optioned the feature film and television rights to Deadrise, Nitro Express, and Tap Rack Bang. I wrote about that optioning process for Writer's Digest, but the main thing is, you never know who is connected to whom in terms of helping one's dream be realized. HatLine, including Stephanie Bell, with whom I attended Haverford College, and Michael Lipoma and Tamra Teig, are an amazing visionary troika. I feel assured The Ben Blackshaw Series movies will be successful in their hands. I was thrilled to learn they felt I was uniquely qualified to adapt the books into screenplays myself. That level of involvement is afforded very few novelists. I'm very grateful for the privilege, and for their confidence. The prospect of seeing The Ben Blackshaw Series on the big screen is so exciting, even though it is a long way off with so much work to do along the way.
TRC: Which actor or model would best represent your ideal image of Ben Blackshaw?
Robert: Not to burst anyone's bubble, but casting Ben Blackshaw will come pretty close to using a movie industry algorithm to make that final determination. The producers and distributors will put their heads together and see which actors are drawing big audiences. Those actors will be approached, and if we're lucky, one will love the project and still have availability in his schedule for the shoot. If one of them likes the project, but is not available, the production might wait until he is free.
It's a funny thing, but statistics show that casting a big star often does not produce wham-bam box office results, but it gives the distributors confidence. Saving the megastar's massive fee and rider costs by casting a lesser known talent would drastically lower the film's breakeven point, but a star represents insurance in the distributor's mind. That said, producers can innovate in casting outreach more, the further they are working from the project's larger above-the-line roles. My own thoughts for Ben Blackshaw include Matthew McConaughey, Mark Wahlberg, Matt Damon, Jeremy Renner, and Timothy Olyphant.
Of course, a hero is ultimately judged by the power and savagery of the monster he defeats. The antagonist in Deadrise, a bastard named Maynard Chalk, would no doubt be incredibly well-rendered by Jack Nicholson, Sir Anthony Hopkins, Sharlto Copley, Geoffrey Rush, or Bill Nighy.
But let's not forget the other ways we judge a hero: by the strength of his friendships and the depths of his love. For Blackshaw's spotter, Knocker Ellis Hogan, I could envision Samuel L. Jackson, Delroy Lindo, Morgan Freeman, Laurence Fishburne or Keith David. For Ben Blackshaw's beloved fiancée, LuAnna Bryce, I could see Anna Faris, Noomi Rapace, Claire Danes, or Anna Paquin.
I'm actually very curious to learn from readers who they think would best play Ben Blackshaw and the others.
TRC: How do you keep the plot unpredictable without sacrificing content and believability?
Robert: After a few initial lines of writing, the characters take over, keeping the plot very unpredictable. Plot is the sum of the characters' decisions, actions and the results of those actions. The Blackshaw Series crew, both good and bad, is always surprising me. If their actions are grounded in emotional truth, then I can sustain believability, and sometimes stretch it without breaking. My readers love action-adventure, mysteries, and thrillers. They get some romance, too, no charge.
TRC: What challenges or difficulties (research, logistics, background) did you encounter writing this particular storyline and series?
Robert: Though I am from Maryland's Eastern Shore, I constantly research the places and people there, to deepen my knowledge of the Chesapeake Bay region. That shows in The Ben Blackshaw Series, I sincerely hope. I often go to the Chesapeake Bay Maritime Museum, in St. Michaels, Maryland, to see what's new in their understanding of history. I visit Smith Island, where Blackshaw is from, and Tangier Island as well. All that keeps my background for the stories solid.
A difficulty writing The Ben Blackshaw Series is the fact that I was raised Quaker, which is among other things, a pacifist religion. I have never served in the military. For my military strategies, tactics, ballistics and ordnance usage, I rely on reading books, and searching the Internet. All that information then gets vetted by two guys. The first is my cousin, decorated veteran Walter Whitehill, who served very effectively overseas on a sniper team. I get further ideas from Adam Gubar, a noted, quoted scholar on ballistics and armaments.
For Tap Rack Bang in particular, researching human trafficking of adults and children, as well as learning about gore sites on the Internet, was simply depressing, but it had to be done. Of course, at some point you start writing, you integrate and synthesize the facts, and see where they take you. I am told I have a pretty sick imagination, but then things I thought were fiction, things I was putting into Tap Rack Bang, began to be reported on the news. A fellow writer says, "It's only fiction until it happens." I did not want to be right about a lot of this material. For good or ill, it turns out I was.
TRC: When writing a storyline, do the characters direct the writing or do you direct the characters?
Robert: Bear with me for a moment on this. It is easy to market a series by aligning the author with the main character. Their names are the key elements of the series brand. What few realize is that, while the marquee character recurs from book to book, the author's real comradery is with the antagonist, the hero's enemy. If you see an author standing proudly by his main character, what you might not see is that author pressing a shiv against the character's kidney out of sight of any onlooker. I think Ben Blackshaw is a great character, but who would really know what Blackshaw is made of if all his nemeses, like Maynard Chalk, or Nitro Express, or Joachim DePriest, were wimps! A mystery/thriller author is at his, or her, best when acting as the hero's worst enemy.
All that said, The Ben Blackshaw Series characters run the show. I just sit down at the keyboard every morning and dream up problems, fascinated to see what they'll do next. They always surprise me.
TRC: The mark of a good writer is to pull the reader into the storyline so that they experience the emotions along with the characters. What do you believe a writer must do to make this happen? Where do you believe writer's fail in this endeavor?
Robert: I think that finding emotional truth is the best way to help readers empathize with the main character. I often work with Blackshaw's fears: fear of losing what he has, and fear of not getting what he wants. Every reader, every human can identify with those two manifestations of fear. Moving forward in the face of fear, in the face of danger, and insurmountable obstacles, makes Blackshaw a guy readers want to root for. He doesn't have a lock on any situation. He cannot completely rely on his closest friends. We have all been there. The fact that Blackshaw will come through is teased by my including the opening chapter of his next mission at the end of every book. But what kind of shape will he be in? Rested? Healthy? Sane? Ready to sally forth? No. Never. Blackshaw might barely make it through one book, but I still prefer to start him off in the next book at an ebb, and pull him even farther down into a riptide of obstacles.
Some authors are great at creating cold, practical, implacable hero characters. Many readers want to identify with a hard guy. Readers can definitely project their own emotions onto a tabula rasa character like that. I prefer to make Blackshaw as relatable as possible, with human foibles, with prosaic fears, and then see how he pulls himself through the catastrophes thrown at him, even if he is staggering or crawling at the end.
TRC: Writer's Block is a very real phenomenon for some authors. How do you handle the pressures and anxiety of writer's block?
Robert: I write five pages a day, five days a week, for four or five months to come up with a complete draft I can edit. I stick to that. It might take eight hours to meet that daily goal, or it might take eighteen hours. It doesn't matter. If I manage that smaller result, the bigger result of knowing I will have a full rough draft to edit after a few months helps me handle the daily pressures. Then comes the editing, which cures any problems that cropped up along the way.
TRC: Many authors bounce ideas and information with other authors or friends and family. With whom do you bounce ideas?
Robert: My father, award-winning short story author and novelist Joseph Whitehill, told me never to shop ideas at cocktail parties or anywhere else, because it vitiates a writer's story-telling urge. Saps it. Lets the air out of the balloon. For a while, I thought Dad was wrong on this point. Then I tested a few premature ideas with friends, and yes, I even did it a few parties to feel, well, more interesting. I discovered afterward that I did not feel the least drive to write that story anymore. Sometimes I couldn't even remember the original idea at all. Phhttt! It was gone! So now I keep radio silence until the rough draft is done, or even until there has been at least one editorial pass. Then I show the work to a very few trusted friends.
TRC: On what are you currently working?
Robert: Right now, I am excited to be writing the screenplay for Deadrise, as well as Book 4 in the Ben Blackshaw Series, entitled Geronimo Hotshot.
TRC: Would you like to add anything else?
Robert: You ask great questions. I would like to suggest The Ben Blackshaw Series to anyone who loves a great yarn, and who also wants to understand the unique people and setting of the Chesapeake Bay region. It is a very special place to me. As a Smith Islander, Ben Blackshaw is a decent, faithful man with extraordinary skills who fights hard for justice, for home, and for his people. I hope readers will want to get to know a man like that.
Also, anybody is welcome to get in touch with me about The Ben Blackshaw Series, or writing, or whatever's on your mind at rbw@robertblakewhitehill.com. I respond to every email.
LIGHTNING ROUND
Favorite TV Show: The Bridge.
Last Movie You Saw: Interstellar.
Favorite Musical Group: Ingrid Lucia and the Flying Neutrinos.
Dark or Milk Chocolate: Yes.
Secret Celebrity Crush: My wife Mary is my only crush. I respect and admire Mimi Leder as a director, and Stephanie Bell as a producer.
Last Vacation Destination: Quebec City, like Europe on our own continent.
Do you have any pets? We have a beta named Minnie Estelle.
Pet Peeve: I dislike clichés, whether colloquial, or of my own creation from repeating a key word or phrase within the same chapter. It strikes me as lazy. God forbid!
TRC: Thank you Robert for taking the time to answer our questions. Congratulations and all the best.
Robert: Thank you so much! It has been a genuine pleasure visiting with you.