Temporal Shift (Dark Desires #4) by Nina Croft-Review and Interview
.99¢ ebook deal at Amazon and KOBO
Amazon.com / Amazon.ca / Amazon.uk/ Barnes and Noble / KOBO /
Release Date: November 17, 2014
Caught between destiny and desire…
After diving into a black hole in search of the source of Meridian, the key to immortality, the crew of the Blood Hunter finds themselves stranded in an alternate universe.
Engineer Devlin Stark doesn't want immortality. He just wants to live long enough to get his revenge on the man who murdered his brother. Now, he's trapped in a strange world with a crazy woman who claims he's fated to be her lover.
Saffira Lourdes has a destiny: to save humanity and lead her exiled people to the Promised Land. Haunted by visions of the past and future, she's been sustained through the years by a dream lover. Unfortunately, Devlin doesn't believe in fate. But it's obvious there's a connection between them, one that will soon be tested by the limits of time and space. Saffira is about to make the crew of the Blood Hunter an offer they'll find impossible to refuse.
They're heading back to Earth, and they're going back in time.
••••••••••••••••••••••••
REVIEW: TEMPORAL SHIFT is the fourth installment in Nina Croft's adult, paranormal, sci-fi DARK DESIRES (Blood Hunter) fantasy, romance series focusing on the crew of the space cruiser-The El Cazador (now known as the Blood Hunter 2). This is GM (genetically modified) engineer and leader of the Resistance Devlin Stark and Saffira Lourdes's storyline. Although it is the fourth in the series, it can be read as a stand alone but for cohesion and backstory, I recommend reading the series in order.
Some background: 1000 years after Earth's demise, the ruling Collective, and the self-proclaimed Church of Everlasting Life play a major role in the control of space. The Collective control the rights to the rare radioactive element known as Meridian-that will bestow immortality on those who can afford the price. The Church is in the business of exterminating the genetically modified beings-considering them abominations and a sin against God. These two ruling factions are currently at war with one another and will destroy anyone that gets in their way.
Told from third person point of view TEMPORAL SHIFT finds the crew of the Blood Hunter on the other side of a black hole. Hoping to locate the planet from which the element 'Meridian' originated, the crew will travel to an unknown planet where they will meet beings similar to what Callum Meridian (leader of the universe) and the Collective have become. What they did not expect to find is a humanoid female who claims Devlin is her lover and asks the impossible from the ship and her crew. Saffira Lourdes has been chosen as 'the one' to save her species and possibly that of old Earth but to do so, Saffira must travel back in time before Earth's demise.
The relationship between Saffira and Devlin is fraught with anger, betrayal and mistrust. Saffira continues to lie to the crew of the Blood Hunter, about what it is she must do. Saffira has seen the future and the future claims that Devlin is her mate. Devlin wants nothing to do with Saffira, especially after she has placed the crew in danger time and again, but Devlin's body wants something more.
The world building continues as the Blood Hunter space ship shuttles between black holes, unknown planets, wormholes and deep space. The secondary characters include the crew of the Blood Hunter, most of the previous storyline couples: Tannis and Meridian: Rico and Skylar; as well as Captain William 'Thorne' Thornton-a man who has vowed to protect Saffira with his life. The time line covers thousands of years through the black holes and wormholes, yet only days to months will have passed in current time. Saffira will travel back hundreds of years only to come face to face with the man that she will love over fifteen hundred years later.
Nina Croft's DARK DESIRES (Blood Hunter) series is an addicting and remarkable journey into the unknown travelling through time and space; through black holes and into alternate universes. There are moments of passion, seduction, romance and pain coupled with the intensity of a crew whose lives are constantly in danger but will never leave a crew member stranded or alone. Nina Croft will captivate your senses, your imagination and your need for romance and the paranormal.
Copy supplied by the publisher through Netgalley.
Reviewed by Sandy
BREAK OUT
(Blood Hunter/Dark Desires #1)
by Nina Croft
Genre: adult, sci-fi, paranormal, fantasy, romance
ABOUT THE BOOK: Re release September 30, 2014
Click HERE for our review of BREAK OUT
Amazon.com / Amazon.ca / Amazon.uk/ Barnes and Noble / KOBO / The Book Depository
The year is 3048, Earth is no longer habitable, and man has fled to the stars where they've discovered the secret of immortality—Meridian. Unfortunately, the radioactive mineral is exorbitantly expensive and only available to a select few. A new class comprised of the super rich and immortal soon evolves. The Collective, as they're called, rule the universe.
Two-thousand-year-old Ricardo Sanchez, vampire and rogue pilot of the space cruiser, El Cazador, can't resist two things: gorgeous women and impossible jobs. When beautiful Skylar Rossaria approaches him to break a prisoner out of the Collective's maximum security prison on Trakis One, Rico jumps at the chance. Being hunted by the Collective has never been so dangerous—or so fun.
____________________
DEADLY PURSUIT
(Blood Hunter/Dark Desires #2)
by Nina Croft
Genre: adult, sci-fi, paranormal, fantasy, romance
ABOUT THE BOOK: Re-release November 1, 2014
Click HERE for our review of DEADLY PURSUIT
Amazon.com / Amazon.ca / Amazon.uk/ Barnes and Noble / KOBO / The Book Depository
He craves his own freedom.
Jonathon Decker knows how to keep his enemies close—and his allies closer. But what about his women? Everyone wants a piece of the world's sexiest werewolf, now that he's been broken out of prison. Enter Alexia, the High Priestess of the Church of Everlasting life. Captivating and independent, Alexia is everything Jon could want in a woman. But can she be trusted? It will take more than one night of endless passion to find out…
And she is his to possess…
After twenty-four years of faithfully playing by the rules, Alex is finally ready take fate into her own hands. Her passion for Jon is a force to be reckoned with—and the way he makes her feel keeps her coming back for more. But their desire could lead them both down a dark path—one in which there's no turning back. How much will each of them risk to be together…for all time?
_______________________
DEATH DEFYING
( Blood Hunter/Dark Desires #3)
by Nina Croft
Genre: adult, sci-fi, paranormal, fantasy, romance
ABOUT THE BOOK: Re-release November 25, 2014
Click HERE for our review of DEATH DEFYING
Amazon.com / Amazon.ca / Amazon.uk/ Barnes and Noble / KOBO / The Book Depository
Part snake, part human, and—some would say all bitch—Captain Tannis of the starship El Cazador has one goal in life—to earn enough credits to pay for the Meridian treatment to achieve the immortality she craves. And one last job will get her there. The assignment: protecting the most powerful man in the Universe.
Being leader of the known universe isn't all it's cracked up to be. In fact, it sucks big time. And after five hundred years, Callum Meridian, founding member of the Collective, is bored out of his mind. But as things are changing, he's changing—into what, though, he isn't sure. Callum is determined to discover the truth, and he's employed the crew of El Cazador to help him do it.
Not everyone agrees with his plan, though. His own people will stop at nothing to prevent the truth coming out, the Church is taking advantage of the confusion and attempting a coup, and even the crew of El Cazador seem close to tossing him out the airlock without a space suit. But defying death has never been more dangerous, sexier, or more fun.

TRC: Hi Nina and welcome to The Reading Café. Congratulations on the release of TEMPORAL SHIFT, the latest instalment in your DARK DESIRES (Blood Hunter) series.
We would like to start with some background information. Would you please tell us something about yourself?
Follow: Goodreads / Website Facebook / Twitter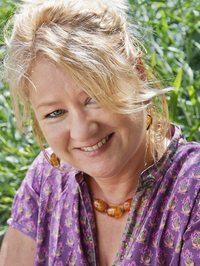 Nina: I originally come from the north of England – a spectacularly beautiful area known as the Lake District. But from the age of eighteen I found myself drifting south in search of the sun. After living in a lot of different places and travelling extensively, I've now settled in the mountains of southern Spain on an almond farm with my husband and a whole load of animals. Here I spend my time soaking up the sun, drinking wine, writing romance and travelling vicariously through my characters.
TRC: Who or what influenced your career in writing?
Nina: Growing up, I had three older sisters, whose books I would pinch, and they all had very different tastes in literature. And then there was my mother, who would devour vast amounts of Mills and Boons romances. So I ended up reading just about everything. Romance, fantasy, sci-fi, historical. And—because I'm a strong believer that you should write the sort of things you love to read—I've ended up writing just about everything as well. I love mixing up genres.
TRC: When not writing, what do you do to relax?
Nina: Reading. Swimming in the summer. Also, I have a horse and ride most days, and three dogs, so I walk a lot. I like to drink wine and I live in a very beautiful part of the world so I spend a lot of time lying under fig trees with a book and a bottle, admiring the view.
TRC: TEMPORAL SHIFT is the November 2014 release (and book four) in your DARK DESIRES (Blood Hunter) series. Would you please tell us something about the premise of the series? And the latest book?
Nina: The series follows the adventures, romantic and otherwise, of the crew of the space ship, the Blood Hunter.
The year is 3048, Earth is no longer habitable, and man has fled to the stars where they've discovered the secret of immortality—Meridian. Unfortunately, Meridian is exorbitantly expensive and only available to a select few. A new class comprised of the super-rich and immortal soon evolved. The Collective, as they're called, rule the universe.
But as with any civilization, there are some people who just don't want to be ruled. And that's definitely the case with the crew of the Blood Hunter. A motley bunch of space pirates, the crew includes a vampire, a werewolf, genetically modified beings, and really anything else I can come up with.
Dark Desires is the series where I allow myself to do anything and go anywhere—my imagination is the only limit and that's certainly the case with Book 4, Temporal Shift. Temporal Shift contains just about my favourite sci-fi trope—time travel—and tells the story of Devlin and Saffira and a love that survives the vast distances of time and space. Time travel is complicated…it's fair to say that my head nearly exploded numerous times while plotting the book—I sort of hope it has the same effect on my readers.
TRC: Is there a reason the series name has been changed? Different sites show different series names e.g. DARK DESIRES or BLOOD HUNTER.
Nina: It was purely a decision of St. Martin's Press, the publishers who recently re-released the books in mass market paperback format. They made some very pretty new covers and felt that the series needed a title that more strongly suggested romance.
TRC: If you could virtually cast the leading characters of the series, which models or actors would be represent your ideal image?
Nina: Hmm – I always find this really hard, but I think a red-headed Scarlett Johansson for Saffira and maybe Hugh Jackman (think wolverine…) as Devlin.
TRC: How many books do you have planned for the series?
Nina: There are six books planned for the series. Book five, Blood and Metal, is written, book six, Flying Through Fire, I'm struggling with right now. Maybe I just don't want to bring it all to an end.
TRC: Who or what was the influence behind the premise of the Dark Desires series?
Nina: I'd finished watching Firefly (maybe my favourite TV series ever) for the third time and I really wanted to write a space opera. But then I started thinking about my characters and Rico my pilot suddenly morphed into a vampire. And I thought why not? If people escaped the destruction of Earth, why wouldn't vampires (and maybe a whole load of other things as well?)
TRC: What challenges or difficulties (research, logistics, background, scientific) did you encounter writing this particular story and series?
Nina: This is actually one of the easiest series to write because I literally make it all up. That's the fun of writing speculative fiction. I can write anything I want as long as I can make people suspend disbelief just long enough to enjoy the books.
Actually though, for Temporal Shift, I did quite a lot of research on time travel and black holes and quantum mechanics (did I mention my head exploding?)
TRC: How do you keep the plot unpredictable without sacrificing content and believability?
Nina: I think the important thing is to foreshadow, very subtly, throughout the story. So when something pretty wild happens (which it does quite often in this series) it's been set up and instead of people saying – no way! They'll say – hmm, of course.
That's the theory anyway.
TRC: What are your thoughts on writing a series and ending an instalment with a major cliff hanger?
Nina: I think there are situations where cliff-hangers work, though personally I find them really aggravating when I'm reading, especially if the next book in the series isn't out yet! But I write romance, so while there's an overlying series storyline, each individual book is complete and standalone, following the romance of one couple and coming to a happy-ever-after ending.
TRC: When writing a storyline, do the characters direct the writing or do you direct the characters?
Nina: I'm a total plotter, so I tend to spend a lot of time getting to know my characters before I start to write. While I'm plotting, I'll allow them some leeway and we'll go off at tangents and do unexpected things, but that's fun and necessary. I'll only start to write the actual story once I understand them; their goals and fears and motivations. And at that point they'd better not try and do something that's out of character.
TRC: The mark of a good writer is to pull the reader into the storyline so that they experience the emotions along with the characters. What do you believe a writer must do to make this happen? Where do you believe writer's fail in this endeavor?
Nina: I think they need to make the reader care about their characters. They don't necessarily have to like them (and I'm very fond of a lot of characters who aren't particularly nice) but they have to care. I think one of the strongest ways to get people to care is to make the character want something…desperately. Give them a good reason for wanting it and then make it obvious that they're not going to get it. So probably, where writers fail, is that their characters don't care enough—so why should the reader?
TRC: Writer's Block is a very real phenomenon. How do you handle the pressures and anxiety of writer's block?
Nina: I tend to try and just push through it. I do my best writing, and I'm happiest, when I give myself a daily word count (right now 3000 words per day) and stick to it, even if I'm convinced what I'm writing is rubbish. I think accepting that the first draft you write is not going to be perfect can be very liberating.
TRC: Many authors bounce ideas and information with other authors or friends and family. With whom do you bounce ideas?
Nina: My poor husband gets to listen to a lot of my plot problems. So does my horse. Neither are particularly good at solving them. But I'm in a couple of fabulous online writing groups and I can go there if I get really stuck on anything or just want some brainstorming help.
TRC: What three things would you like to accomplish in the next five years?
Nina: Write lots, and be healthy and happy.
TRC: What is something that few, if any people, know about you?
Nina: I have a three legged Vietnamese pot-bellied house pig, called Piggles.
TRC: On what are you currently working?
Nina: I recently wrote a short story, No More Lies, for a sci-fi anthology, The Telepath Chronicles (which released this month!) I so enjoyed the world and it had so much potential, that I'm basing a series on it and am currently writing book 1. I don't have a title yet (hopefully it will come to me) but it's sort of contemporary/sci-fi/romance about a rogue covert operations group of telepaths and their search to discover their origins (and it's going to contain all my favourite sci-fi themes!)
TRC: Would you like to add anything else?
Nina: Just that I've had great fun writing the Dark Desires series and hope people have as much fun reading the books.
LIGHTNING ROUND
Favorite Food – Cheese
Favorite Dessert – Ice cream
Favorite TV Show At the moment – Sons of Anarchy or maybe the Walking Dead
Last Movie You Saw Dawn of the Planet of the Apes – I enjoyed it!
Favorite Musical Group – Maroon 5
Dark or Milk Chocolate – Both
Secret Celebrity Crush – Charlie Hunnan – actually it's not that secret.
Last Vacation Destination – I visited my sister in Cambridge last year.
Pet Peeve – Injustice
TRC: Thank you Nina for taking the time to answer our questions. Congratulation on the new release and we wish you all the best.