That Night With You by Alexandrea Weis-Review and Blog Tour
That Night With You
by Alexandrea Weis
Genre: adult, contemporary, erotic romance
Release Date: November 2, 2014
: Amazon.com / Amazon.ca / Amazon.uk/ Barnes and Noble
THAT NIGHT WITH YOU by Alexandrea Weis
ABOUT THE BOOK: Release Date November 2, 2014
Madison Barnett spent one-night with a stranger that changed her life forever.
But when she takes a job at Parr and Associates as their newest architect, Madison has no idea that the stranger she has spent five years trying to forget is about to walk right back into her life. And what she hoped would be a fresh start turns into a perplexing dilemma.
Soon Madison's life is sent into a tailspin as she tries to juggle the demands of her controlling boss, Hayden Parr, with her persistent desires for her long lost sexy stranger.
Then, just when she thinks all hope is lost, everything changes.
Madison embarks on an education in the art of pleasure that began five years ago in the bed of the man who captured her heart. But there is one little catch…
When fantasies become reality, passion can turn addictive in…That Night with You.
•••••••••••••••••••••••••••
REVIEW: THAT NIGHT WITH YOU is the fourth installment in Alexandrea Weis's adult, contemporary erotic Cover to Covers romance series. This is architects Hayden Parr and Madison Barnett's storyline. Each book in the series can be read as a stand alone as the storylines are not connected but tie in to one another through the first storyline in the series-Cover to Covers.
Five years earlier Madison Barnett, as a nineteen year old virgin, had a one night stand with a man she met at a bar. 'Harry' as he called himself was Madison's first sexual experience and the man by whom she judged all other relationships. As she is about to embark on her new career in the prestigious architecture firm of Parr and Associates, Madison cannot help but notice the similarities between the man of her dreams and the man who is now her boss.
THAT NIGHT WITH YOU is a second chance storyline about two people who fell in love with a one-night stand. While Madison ran, Hayden searched for the woman he knew only as Mary. Five years is a long time to hold onto a memory but both Madison and Hayden believed they had found the 'one'.
The colorful secondary characters include Madison's friends and co-workers, Hayden's business partner, and an ex-wife who makes Hayden's life a living h*ll. There is always someone waiting and watching every move that Hayden makes.
Alexandrea Weis's contemporary, adult series of erotic, romance storylines is addicting and captivating. These are the stories of second chances; friends to lovers; finding your soul mate and never letting go. There are moments of intimacy and intense dissolution through heartbreak and betrayal but in the end everyone will get his or her happily ever after.
Copy supplied by the author.
Reviewed by Sandy


At the entrance to the patio, she savored the feel of the nippy fall breeze on her hot skin. Then, a familiar laugh made her breath catch in her throat.
Standing by an outdoor fireplace of orange stucco and dressed in a fitted black tuxedo was Hayden Parr. In the pale light of the dozens of cast iron lanterns that were strewn about, his gray eyes appeared magically aglow. His rugged features were accentuated by the dancing shadows of light, making his strongly carved chin and sharp cheekbones even more luscious. In his hand was an old-fashioned glass of dark yellow liquid that matched the dark yellow furniture spread about the patio. He was talking to a beautiful brunette with stunning cheekbones, catlike brown eyes, and a lean figure, not unlike his. Draped in a black and white satin gown that gathered at the waist and collected on her right shoulder, she looked every inch the woman Madison knew she could never be: sophisticated, stunning, and irresistible to men. As she chatted with Hayden, she affectionately placed her smooth white hand on the sleeve of his black tuxedo jacket.
The well of jealousy that overtook Madison was unexpected; she wanted to scratch the woman's eyes out. Feeling the desire drain from her body, Madison was about to turn away when Hayden's eyes found her. Suddenly, she felt naked beneath his gaze. He seemed to drink in every inch of her, and without hesitation she knew what he was thinking. Any woman worth her weight knew that look when she saw it in a man. It was primal; it was instinctual, and utterly carnal.
Putting his drink down on a nearby table, Hayden abandoned the woman at his side and came up to Madison. "You look absolutely wonderful," he purred in a voice akin to black velvet.
The rush of heat to her cheeks only compounded the tingling in her belly. "Thank you, Mr. Parr."
He grinned, looking sexy as hell. "None of that Mr. Parr stuff tonight. We're out of the office and this is a party. Call me Hayden."
THE RIDING MASTER
by Alexandrea Weis
Release Date April 26, 2014
Amazon.com / Amazon.ca / Amazon.uk/ Barnes and Noble / The Book Depository
A woman finding her way.
After a devastating divorce, an emotionally skittish Rayne Masterson swears off men and vows to devote her life to her passion, horses.
A man with insatiable desires.
Trent Newbury is an expert rider who is arrogant, brash, and has a ruthless reputation for getting any woman he desires.
As the new riding master at Southland Stables, Trent is eager to make sure all of his riders are the best they can be. But when he meets Rayne, he takes a special interest in taming the beautiful woman's stubborn nature. Slowly and deliberately, he weakens her defenses with his charm and beguiling good looks. And just when he thinks he has won Rayne's trust, his philandering past threatens to pull them apart.
She thought no man could ever touch her heart, until she met…The Riding Master.
––––––––––––––––––––––––––
Cover to Covers
by Alexandrea Weis
Genre: contemporary, adult, romance
Release Date: February 1, 2014
Amazon.com / Amazon.ca / Amazon.uk/ Barnes and Noble  / The Book Depository
A man driven by his desires.
Tyler Moore is considered cold, ruthless, and determined to get everything he wants. CEO of a flourishing oil company, he thrives on order and never gives up control to anyone.
The woman from his past.
Monique Delome has left her unhappy past behind to pursue her dream of becoming a writer. Love is something she believes is better suited to the pages of her novels and not meant for real life.
Whether in the boardroom or the bedroom, Tyler Moore is always in charge. But when Monique Delome walks back into his life, everything changes. A successful romance author, all the sexy leading men Monique writes about strangely remind everyone of Tyler. Intrigued, Tyler sets out to seduce the one woman he could never forget. Soon Tyler gets more than he bargained for, and his grip on his well-ordered life is turned upside down.
Tyler Moore is about to find out what happens when a romantic tale jumps from the pages and comes to life between the sheets.
____________________________
The Bondage Club
by Alexandrea Weis
Genre: adult, contemporary, erotic romance
Release Date: July 29, 2014
Amazon.com / Amazon.ca / Amazon.uk/ Barnes and Noble /
A man looking for a new beginning.
Hunter Donovan is a writer who dreamed of penning the great American novel but settled for a job running the family business, Donovan Books. Trapped publishing other people's stories, Hunter buries his frustrations in vodka and an endless parade of one-night stands.
A woman with a secret.
Cary Anderson is the perky, petite, and staunchly determined editor who is well versed in erotica fiction. But Cary has a kinky side that she is struggling to keep hidden from the world.
Fed up with dwindling sales, Hunter hopes to breathe new life into his publishing house by breaking into the risqué world of erotica. He hires Cary to rescue his company and she is keen to show her new boss everything she knows. But what starts out as a lesson in sexual fiction turns into an unexpected roller coaster ride of disastrous romantic encounters. And just when Cary helps stir Hunter's creative voice, he uncovers the truth about her wicked ways.
Some ties that bind can cut right to the heart in…The Bondage Club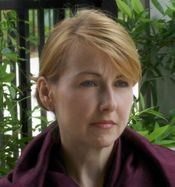 FOLLOW: Goodreads / Website/ Facebook/ Twitter
Alexandrea Weis is an advanced practice registered nurse who was born and raised in New Orleans. Having been brought up in the motion picture industry, she learned to tell stories from a different perspective and began writing at the age of eight. Infusing the rich tapestry of her hometown into her award-winning novels, she believes that creating vivid characters makes a story memorable. A permitted/certified wildlife rehabber with the Louisiana Wildlife and Fisheries, Weis rescues orphaned and injured wildlife. She lives with her husband and pets in New Orleans.
NOTE: The Reading Cafe is NOT responsible for the rafflecopter giveaway. If you have any questions, please contact the tour promoter.
Giveaway: 3 – Signed Paperback Copy of That Night With You + Swag Pack (US Only)