The Bondage Club by Alexandrea Weis-Review and Release Day Tour
The Bondage Club
by Alexandrea Weis
Genre: adult, contemporary, erotic romance
Release Date: July 29, 2014
ebook is .99¢ for a limited time: Amazon.com / Amazon.ca / Amazon.uk/ Barnes and Noble /
About the Book: Release Date July 26, 2014
A man looking for a new beginning.
Hunter Donovan is a writer who dreamed of penning the great American novel but settled for a job running the family business, Donovan Books. Trapped publishing other people's stories, Hunter buries his frustrations in vodka and an endless parade of one-night stands.
A woman with a secret.
Cary Anderson is the perky, petite, and staunchly determined editor who is well versed in erotica fiction. But Cary has a kinky side that she is struggling to keep hidden from the world.
Fed up with dwindling sales, Hunter hopes to breathe new life into his publishing house by breaking into the risqué world of erotica. He hires Cary to rescue his company and she is keen to show her new boss everything she knows. But what starts out as a lesson in sexual fiction turns into an unexpected roller coaster ride of disastrous romantic encounters. And just when Cary helps stir Hunter's creative voice, he uncovers the truth about her wicked ways.
Some ties that bind can cut right to the heart in…The Bondage Club
••••••••••••••••••••••••
REVIEW: THE BONDAGE CLUB is the third instalment in Alexandrea Weis's adult, contemporary erotic romance series. This is writer/publisher Hunter Donovan and editor Cary Anderson's storyline. Although this is the third book in the series, it can be read as a stand alone without any problems.
The focus of the storyline is publishing house 'Donovan Books' and Hunter Donovan's desire to break into the world of erotic publication. With the publishing house floundering without a competitive edge, Hunter seizes the opportunity to bring together an erotica author and a new editor for a publishing line that takes everyone at Donovan Books out of their comfort zone and into something new.
Enter Cary Anderson, a woman who knows a thing or two about the erotic publishing industry. As an editor and a woman with first hand information and knowledge of erotica storylines, Cary helps push Donovan Books into mainstream sexual novels with her contacts in the business and close friendship with an erotica author. But Cary has a secret, one that Hunter is the last to figure out, and it is this secret that will find Cary and Hunter at odds when the truth is finally revealed.
The relationship between Cary and Hunter is one of forbidden love. Hunter is Cary's boss but their attraction to one another makes for some steamy scenes. While Cary tries to get Hunter out of his 'vanilla' habits, Hunter will learn that sometimes a relationship comes with a price. Hunter and Cary are colorful characters but none more so than Cary who tries to push Hunter into a world he knows nothing about. There are moments of humor, heartbreak, emotional upsets and questioning motives, and in this Cary has some explaining to do when all was said and done.
The secondary characters include Hunter's family and the people who work at Donovan Books. We had previously met Donovan's brother Chris Donovan in the first instalment Cover to Covers. We will get a closer look at the man and his methods in the world of book publication. The world building remains focused around publishing and erotic temptations, but also pulls the storyline back to New Orleans where our leading characters will find comfort and a happily ever after.
The Bondage Club is a storyline that invites the reader into the world of erotic fiction. From conception to research; publication and presentation Alexandrea Weis tells the tale of two people with a purpose in life and a similar end goal in mind-to be successful in a world already dominated by a plethora of similar storylines. Everyone needs an edge in the publishing business and Donovan Books has perhaps found just the edge that it needs.
Copy supplied by the author.
Reviewed by Sandy
THE RIDING MASTER
by Alexandrea Weis
Release Date April 26, 2014
Amazon.com / Amazon.ca / Amazon.uk/ Barnes and Noble / The Book Depository
A woman finding her way.
After a devastating divorce, an emotionally skittish Rayne Masterson swears off men and vows to devote her life to her passion, horses.
A man with insatiable desires.
Trent Newbury is an expert rider who is arrogant, brash, and has a ruthless reputation for getting any woman he desires.
As the new riding master at Southland Stables, Trent is eager to make sure all of his riders are the best they can be. But when he meets Rayne, he takes a special interest in taming the beautiful woman's stubborn nature. Slowly and deliberately, he weakens her defenses with his charm and beguiling good looks. And just when he thinks he has won Rayne's trust, his philandering past threatens to pull them apart.
She thought no man could ever touch her heart, until she met…The Riding Master.
––––––––––––––––––––––––––
Cover to Covers
by Alexandrea Weis
Genre: contemporary, adult, romance
Release Date: February 1, 2014
Amazon.com / Amazon.ca / Amazon.uk/ Barnes and Noble  / The Book Depository
A man driven by his desires.
Tyler Moore is considered cold, ruthless, and determined to get everything he wants. CEO of a flourishing oil company, he thrives on order and never gives up control to anyone.
The woman from his past.
Monique Delome has left her unhappy past behind to pursue her dream of becoming a writer. Love is something she believes is better suited to the pages of her novels and not meant for real life.
Whether in the boardroom or the bedroom, Tyler Moore is always in charge. But when Monique Delome walks back into his life, everything changes. A successful romance author, all the sexy leading men Monique writes about strangely remind everyone of Tyler. Intrigued, Tyler sets out to seduce the one woman he could never forget. Soon Tyler gets more than he bargained for, and his grip on his well-ordered life is turned upside down.
Tyler Moore is about to find out what happens when a romantic tale jumps from the pages and comes to life between the sheets.


The veil of evening was reaching across his office window when Hunter's cell phone on the side of his desk rang. Checking the caller ID, he frowned when he saw that the number was blocked.
"This is Hunter Donovan," he barked into the phone.
"Do you always answer the phone in such a cheerful manner?" a seductive female voice reprimanded.
"That depends on who this is."
"Cary told me of your little meeting today, and your interest in my next book. You don't waste any time do you?"
Hunter's heart skipped a beat. "Well, well, Ms. Slut. Nice to hear your voice again. I hope your time at the Book Expo was worthwhile."
"You were the highlight of my trip, Mr. Donovan."
Hunter smiled as he sat back in his creaky desk chair. "I'm so glad. I was beginning to think you didn't like me."
"Have you ever met a woman who didn't like you?"
The question made Hunter chuckle. "Which answer will get me your next book, Ms. Slut?"
A high-pitched tinkling laugh came through the speaker of his iPhone, making Hunter's stomach flutter ever so lightly. "I like a man who doesn't waste time with sweet talk. Check your email. I just sent you the manuscript. It's called The Bondage Club, and if you're interested, e-mail me a contract, and I will look it over."
"Can I ask what it's about? I mean, with a title like that I can guess, but…." His voice faded as his curiosity rose.
"There are many different kinds of bondage, Mr. Donovan, that don't involve ropes, chains, or even handcuffs."
Hunter gaped at his cell phone. "I don't get it."
"Love can be a form of bondage," she explained. "We can get tied to someone just as easily as we can be tied up by someone. The book is about bondage in all of its forms."
"Then I look forward to reading it." He paused as he thought of an idea. "But why not come to my office? We can discuss the details of the contract over lunch," he pursued with a hint of insistence in his voice.
"I don't think so. Lunch with you would be dangerous."
Hunter coyly smiled. "For which one of us, Ms. Slut?"
"I'm not your type, Mr. Donovan."
Hunter's body rippled with the hint of a challenge. "You never know; if Donovan Books handles your novel, we may grow on each other."
"I hope not. Getting involved with the man who publishes my book would complicate matters. I'm also a very demanding author. I might get on your nerves after a time."
"I have a lot of demanding authors. You would fit right in."
"Do you usually try and date your authors, or will I be the first?"
He fingered a corner of the manuscript open on the desk before him as his imagination began to wander. "You would be the first. I never date clients."
"I heard a nasty little rumor to the contrary, about your brother and Monique Delome. They were engaged and then she up and married some Texas oil man. Lucky girl."
"Lucky to be rid of my brother," Hunter returned, pushing the manuscript in front of him to the side.
"Oh, do I detect a note of sibling rivalry, Mr. Donovan?"
He leaned back in his chair and turned his eyes to his arched window. "Rivalry, nah. More like deep-seated hatred. And if I'm going to bare my soul to you, you should start calling me, Hunter."
"Let me guess, Hunter." Her voice was throaty and delicious, spurring on his desire. "He stole your Legos when you were six and you have never forgiven him."
Hunter ran his hand over his face, feeling the conversation was getting a little too personal. "Never mind my brother. Let's talk about you."
"I make it a practice never to talk about myself. The less people know about me, the better."
"I don't agree, Ms. Sl…." Hunter crinkled his brow. "What else can I call you? Ms. Slut is too—"
"Call me Smuttie, if you like."
"Smuttie…don't you have a real name?"
"Smuttie is all you need to know." The sound of voices in the background broke in. "Let me know what you think of my manuscript, Hunter. I'll be waiting to hear from you." Then the line went dead.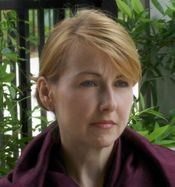 FOLLOW: Goodreads / Website/ Facebook/ Twitter
Alexandrea Weis is an advanced practice registered nurse who was born and raised in New Orleans. Having been brought up in the motion picture industry, she learned to tell stories from a different perspective and began writing at the age of eight. Infusing the rich tapestry of her hometown into her award-winning novels, she believes that creating vivid characters makes a story memorable. A permitted/certified wildlife rehabber with the Louisiana Wildlife and Fisheries, Weis rescues orphaned and injured wildlife. She lives with her husband and pets in New Orleans.
NOTE: The Reading Cafe is NOT responsible for the rafflecopter giveaway. If you have any questions, please contact the tour promoter
Giveaway: 1 set of eBooks (The Bondage Club, Cover to Covers and The Riding Master by Alexandrea Weis) – Open Internationally .