THE DARKEST SUNRISE (The Darkest Sunrise #1) by Aly Martinez-Review and Book tour
THE DARKEST SUNRISE
The Darkest Sunrise Duet #1
by Aly Martinez
Release Date: July 13, 2017
Genre: adult, contemporary, romance
Amazon.com / Amazon.ca / Amazon.uk / Amazon.au / B&N /
ABOUT THE BOOK: Release Date July 13, 2017
Sticks and stones will break my bones, but words will never harm me.
Whoever coined that phrase is a bald-faced liar. Words are often the sharpest weapon of all, triggering some of the most powerful emotions a human can experience.
"You're pregnant."
"It's a boy."
"Your son needs a heart transplant."
Sticks and stones will break my bones, but words will never harm me.
Lies.
Syllables and letters may not be tangible, but they can still destroy your entire life faster than a bullet from a gun.
Two words—that was all it took to extinguish the sun from my sky.
"He's gone."
For ten years, the darkness consumed me.
In the end, it was four deep, gravelly words that gave me hope of another sunrise.
"Hi. I'm Porter Reese."
•••••••••••••
REVIEW: THE DARKEST SUNRISE is the first installment in Aly Martinez's contemporary adult THE DARKEST SUNRISE duet focusing on restaurateur Porter Reese, and physician Charlotte Mills.
NOTE: Because this is a duet THE DARKEST SUNRISE ends on a cliffhanger-you have been forewarned.
Told from dual first person points of view (Charlotte and Porter) as well as third person Tom Stafford THE DARKEST SUNRISE is a story of grief, betrayal, guilt and moving forward. Ten years earlier Charlotte Mills' life fell into an abyss of emotional nothingness, and in the ensuing time our heroine has yet to surface from the darkness that dominates her entire existence. Meeting Porter Reese, single father of two young children, whose own life upended several years before, found Charlotte looking forward to a future where the darkness slowly begins to dissipate along with the grief and guilt that has consumed every hour of every day. But Charlotte's brief glimpse at happiness will be short lived when the past comes full circle and shoves Charlotte back down the rabbit hole of darkness and grief.
Porter and Charlotte are kindred spirits; two people who have experienced the pain of loss, grief, trauma and guilt resulting in two emotionally distant and fragile beings who go through the motions of their day to day existence. Meeting Charlotte Mills Porter felt something he hadn't felt in years yet their mutual darkness found Porter holding onto what little light their relationship would bring until the day that everything would fall apart with one whispered little word.
THE DARKEST SUNRISE is an emotional story line about two people whose lives will collide as Porter struggles to find hope, and Charlotte battles memories of the past. Words are but verbal emotions, and the face can speak a thousand words with just one look or glance, and it is the spoken word that will find our heroine facing what she so desperately was hoping to find. There is a heart-stopping twist to the story line that I suspected early on but a twist of epic proportions that will once again destroy the lives of two people who were slowly emerging from their darkened h*lls.
Aly Martinez has written a raw, passionate and poignant story line about loss and grief, guilt and responsibility, darkness and the light. The premise is dramatic, memorable and intense; the characters are broken, real and impassioned; the romance is fated, captivating and climactic. THE DARKEST SUNRISE will captivate your imagination with the potential to break your heart and destroy your soul.
Copy supplied for review
Reviewed by Sandy
THE BRIGHTEST SUNSET (The Darkest Sunrise Duet, #2) Coming July 27th
Amazon.com / Amazon.ca / Amazon.uk / Amazon.au /
Sticks and stones will break my bones, but words will never harm me.
Bullshit.
Words destroyed me.
"I'm sorry. She didn't make it."
"Daddy, he can't breathe!"
"There's nothing more we can do for your son."
Sticks and stones will break my bones, but words will never harm me.
Lies.
Those syllables and letters became my executioner. I told myself that, if I didn't acknowledge the pain and the fear, they would have no power over me. But, as the years passed, the hate and the anger left behind began to control me.
Two words—that was all it took to plunge my life into darkness.
"He's gone."
In the end, it was four soft, silky words that gave me hope of another sunrise.
"Hi. I'm Charlotte Mills."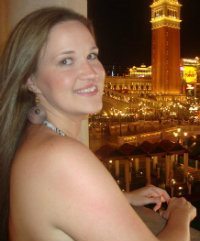 Originally from Savannah, Georgia, USA Today bestselling author Aly Martinez now lives in South Carolina with her four young children.
Never one to take herself too seriously, she enjoys cheap wine, mystery leggings, and baked feta. It should be known, however, that she hates pizza and ice cream, almost as much as writing her bio in the third person.
She passes what little free time she has reading anything and everything she can get her hands on, preferably with a super-sized tumbler of wine by her side.
AUTHOR LINKS:
Website | Twitter | Facebook | Goodreads | Instagram | Amazon