THE DREAM WALKER (Six Saviors #7) by Carly Fall-Review and Guest Post
Barnes and Noble / KOBO / itunes / Smashwords
Amazon links will not be available until release day.
ABOUT THE BOOK: Release Date October 31, 2013
As the newest member of the Six Saviors, Nico has a distinct and rare gift. He can visit others in the most private and secret place: their dreams.
Shunned early in life and blamed for the ruination of his family, Nico doesn't use his ability often, and appreciates the Six Saviors and their mates trust him not to walk in their dreams, a trust he couldn't achieve with his own parents.
Alaina, abandoned at birth, grew up in foster homes. At age seventeen, she was on her own. Dark thoughts of killing others have plagued her since childhood, and she doesn't understand where they come from or why she has them.
An explosive event brings Nico, the rest of the Saviors and Alaina together, and Alaina finds out the origins of who she is and her dark thoughts. As a Colonist targets Alaina and the murder rate rises in Phoenix, Nico must use his ability to not only evaluate Alaina's psyche, but also find out who is ultimately responsible for the deaths plaguing the city.
•••••••••••••••••••••••••••
REVIEW: THE DREAM WALKER is the seventh instalment in Carly Fall's Six Savior series.
SOME BACKGROUND: There were 6 original Savior warriors from planet SR44. The warriors were sent to earth over 212 years ago to stop and eradicate the 12 murderers who escaped from one of the moon colonies of planet SR44. The Colonists, as they were soon called, made their way to Earth, took the human body form, mated with the females and populated the earth with Colonist DNA. The earthly descendants will either manifest good or bad qualities. The savior warriors are part of the elite military from planet SR44, commissioned to remove the Colonists from Earth including the descendants with bad DNA. The beings on planet SR44 are incorporeal bodies of mist and smoke, each bearing a different color, but in their corporeal bodies on Earth, their eyes will glow their familiar- planet SR44 color each evening. THE DREAM WALKER is Nico's story and his eyes are silver.
The premise follows Nico (the newest member of the Saviors) and the other Saviors from planet SR44 as they investigate a series of animal killings and missing persons in Phoenix Arizona. As the killings escalate, the Saviors are contacted by the most recent group of SR44 refugees-The Platoon-who have offered their support with the search for the killers. The Platoon is a group comprising of the few remaining warriors from SR44 and have made it their mission to destroy the Saviors for their inability to find the 12 original Colonists and their descendants.
Nico is a Dream Walker and his power has not always been welcomed. With his ability to slip into the sleeping dreams of others, his actions are considered an invasion and voyeuristic so Nico tends to stay by himself. But the Saviors have a plan and it is Nico's special ability that will determine the truth about the killings and who is involved. And Nico will also discover that dream walking can be pleasurable as well as informational.
Alaina is a young woman whose family history is unknown. Abandoned as a child, she eventually found her way into the world of exotic dancing and stripping. But Alaina will soon discover that she has a special ability and it is that ability that will place Alaina and the Saviors in danger.
The relationship between Alaina and Nico is slow to develop as a good portion of the storyline they have yet to meet or they are separated. Nico believes Alaina is his mate, as his internal SR44 self is drawn to Alaina. But there is something about Alaina that doesn't sit well and it is this discovery that will force Nico and the other Saviors into a life and death struggle to save one of their own.
THE DREAM WALKER is also a story about friendships and relationships. Carly includes the Saviors and their mates from previous storylines in each subsequent novel ensuring a familiar and friendly flow throughout the series. Life is not always easy for the members of the original Saviors but life for their mates is even harder. We watch as one relationship struggles and another relationship takes the next step to permanency.
Carly Fall has written and continues to write an amazing and fantastic series about the lives and loves of the Saviors from SR44. There is heartbreak and sorrow for the loss of friends and family: but there is also the knowledge that their lives on Earth have not been without some happiness and continued friendship with the warriors they have grown to love and respect. As each warrior finds his mate, there is always the one that is left behind. But we know, that each will find their one true mate and even those that were once considered enemies will begin to show that not everyone is who he or she appears to be.
If you like a story with strong, alpha warriors whose love for that one special woman completes his life, then Carly Fall's Six Savior series is the perfect read. There is action and drama; sorrow and loss; humor and love. And there is always a warrior waiting to find that special someone to complete his life.
Reading Order
The Light Within Me
Finding My Faith
Reborn
Beverly's Rebirth
Destiny's Shift
Tangled Fates
The Dream Walker
Copy supplied by the author.
Reviewed by Sandy
Killing Characters
When a writer kills off a character, it is never an easy decision, especially if the authors' audience has an emotional investment in the character through other books.
Before the release of The Dream Walker, the seventh book in the Six Saviors Series, I wrote Tangled Fates (the 6th). In that book I needed to make a decision on whether or not to kill off one of the main characters. I wrote the book with the intention of keeping him in, but then in the editing process, my editor suggested I kill a character.
At first, it wasn't an option for me. However, the more I thought about it, I realized the book would be better if I did so.
I pondered the decision for weeks. Finally, I sat down and re-wrote parts of the book to reflect the characters death. As I did so, I had tears in my eyes. When the character took his last breath, my tears flowed freely, and I felt as though I had just found out a dear friend of mine had died. A light cloud of depression hung over me for a few days.
My editor was right—the book was much stronger with the death. The death brought up questions of morality and sacrifice. The character loved another so fiercely he was unable to let go.
However, many of my readers weren't very happy, and they let me know it. (Ahem….Sandy)
And for me as a writer, that signified I had made the right decision. I want my readers guessing what is going to come next, and I think for a lot of them, the death was something that they probably never expected throughout the book.
But like death in real life, the character will live on through the memories of his friends and family in the books to come.
Carly


Follow: Website / Facebook / Twitter / Goodreads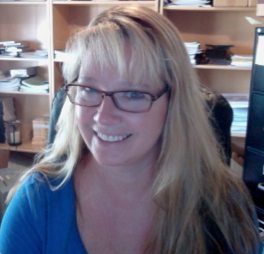 I am a wife, a mother and a slave to Nicky the dog.
I think chocolate and wine should be considered their own food group, and I wish Christmas happened twice a year.
I love the hot summer nights here in Arizona when my family and I play in our pool until late at night, and I hate 99.8% of politicians.