THE PLAYER (The Player Duet #1) by K. Bromberg-Review and Book Release Tour
THE PLAYER
The Player Duet #1
by K. Bromberg
Release Date: April 17, 2017
Genre: adult, contemporary, erotic, sports, romance
 Cover Designer:  Helen Williams
Photographer:  Perrywinkle Photography
Model: Chase Williams (IG: @bubbas_82)

Amazon.com / Amazon.ca / B&N / KOBO / ibooks /
ABOUT THE BOOK: Release Date April 17, 2017
Easton Wylder is baseball royalty. The game is his life. His passion. His everything.
So, when an injury threatens to end Easton's season early, the team calls in the renowned physical therapist, Doc Dalton, to oversee his recovery. Except it's not Doc who greets Easton for his first session, but rather his daughter, Scout. She may be feisty, athletic, defiant, and gorgeous, but Easton is left questioning whether she has what it takes to help him.
Scout Dalton's out to prove a female can handle the pressure of running the physical therapy regimen of an MLB club. And that proof comes in the form of getting phenom Easton Wylder back on the field. But getting him healthy means being hands-on.
And with a man as irresistible as Easton, being hands-on can only lead to one thing, trouble. Because the more she touches him, the more she wants him, and she can't want him. Not when it's her job to side in the club's best interest if he's ready to play.
But when sparks fly and fine lines are crossed, can they withstand the heat or is one of them bound to get burned?
••••••••••••
REVIEW:  THE PLAYER is the first installment in K. Bromberg's contemporary, adult THE PLAYER erotic, romance sports duet focusing on professional baseball player Easton Wylder, and physical therapist Scout Dalton.
Told from dual first person points of view (Easton and Scout) THE PLAYER follows the rehabilitation of professional baseball player Easton Wylder, and the building relationship between Easton, and the team's new physical therapist Scout Dalton. Easton Wylder is on the DL (disabled list) from a near career ending hit that left our story line hero struggling with his place on the team and working towards a healthy recovery. But a switch in the team's physical therapist finds Easton face to face with Scout Dalton, a woman who calls to Easton's heart and soul. For weeks, Easton and Scout will work together both in and out of the bedroom, in the hopes of Easton's full recovery and return to the game he loves to play. What ensues is the growing love between our story line couple, and a surprise announcement that could place their relationship at opposite sides.
Easton Wylder is an all star player who lives in the shadow of his father's fame and former professional baseball career. A major restructuring of the team finds Easton battling for a position he was born to play. Scout Dalton has survived many heartaches throughout her life including the death of her beloved brother and the absence of a mother she barely knew. Falling in love with Easton Wylder could mean another form of heartache as our heroine heads into a relationship with a man who could break her heart, and destroy her soul.
The relationship between Easton and Scout begins as a professional arrangement but one Easton believes is a prank pulled by his teammates and friends. Scout is hoping to keep their relationship on the down low knowing her career and future are on the line. The $ex scenes are intimate, seductive and provocative.
We are introduced to a large number of secondary and supporting characters including many members of the Aces professional baseball team; Scout's father Doc Dalton; and Easton's on-field nemesis Jose Santiago.
The world building looks at the game of baseball, friendships and family. Both Easton and Scout struggle with family pressure, and the promises made in the heat of the moment; and both of our leading characters know what it is like to battle demons from the past.
THE PLAYER is a sexy and spicy story line about two people pulled together by circumstance and need. There are moments of questionable choices, and inspiring motives; flawless romance and spirited actions; provocative thoughts and dramatic pronouncements. The premise is electrifying; the characters are colorful, dynamic and intense; the romance is heart-warming, evocative and alive. THE PLAYER is a passionate and delightful story that ends on a cliff hanger-you have been warned!
Copy supplied for review
Reviewed by Sandy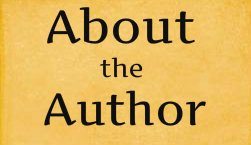 New York Times Bestselling author K. Bromberg writes contemporary novels that contain a mixture of sweet, emotional, a whole lot of sexy, and a little bit of real. She likes to write strong heroines, and damaged heroes who we love to hate and hate to love.
A mom of three, she plots her novels in between school runs and soccer practices, more often than not with her laptop in tow.
Since publishing her first book in 2013, K. has sold over one million copies of her books and has landed on the New York Times, USA Today, and Wall Street Journal Bestsellers lists over twenty-five times.
In April, she'll release The Player, the first in a two-book sports romance series (The Catch, book 2, will be released late June), with many more already outlined and ready to be written.
She loves to hear from her readers so make sure you check her out on social media or sign up for her newsletter to stay up to date on all her latest releases and sales: http://bit.ly/254MWtI
Website | Facebook | Twitter | Instagram | Goodreads | Amazon Author | Driven Group