THE TEA SHOP ON LAVENDER LANE (Life in Icicle Falls 5) by Sheila Roberts-a review
Amazon.com / Amazon.ca / Amazon.uk/ Barnes and Noble / KOBO / The Book Depository
ABOUT THE BOOK: Release Date June 24, 2014
When it comes to men, sisters don't share!
After a fake food poisoning incident in L.A., Bailey Sterling's dreams of becoming a caterer to the stars collapse faster than a soufflé. Now Bailey's face is in all the gossip rags and her business is in ruins. But the Sterling women close ranks and bring her back to Icicle Falls, where she'll stay with her sister Cecily.
All goes well between the sisters until Bailey comes up with a new business idea—a tea shop on a charming street called Lavender Lane. She's going into partnership with Todd Black, who—it turns out—is the man Cecily's started dating. It looks to Cecily as if there's more than tea brewing in that cute little shop. And she's not pleased.
Wait! Isn't Cecily seeing Luke Goodman? He's a widower with an adorable little girl, and yes, Cecily does care about him. But Todd's the one who sends her zing-o-meter off the charts. So now what? Should you have to choose between your sister and the man you love (or think you love)?
••••••••••••••••••••
REVIEW: THE TEA SHOP ON LAVENDER LANE is the fifth instalment in Sheila Roberts' adult, contemporary Life In Icicle Falls romance series. This is the fifth story in the series, and it can be read as a stand alone without too much difficulty but saying that there are many characters from previous storylines with a history in Icicle Falls that I would have like to have met before reading this book as they are mentioned or play a significant role in the story.
Told from several third person POVs, the focus of the story centers on sisters Bailey and Cecily Sterling-drama queens to the max with issues of self esteem. Bailey has returned to Icicle Falls following a PR disaster in LA where she was accused of serving tainted food to an upstart starlet. With her now defunct catering business to the stars all but destroyed Bailey returns home to wallow in self pity when an idea from an unlikely source has Bailey partnering with her sister Cecily's wanna-be boyfriend Todd Black in a tea room business venture.
Cecily, ex-matchmaker and part owner of the family run chocolate shop, is attracted to two men-fellow employee (and widowed father) Luke Goodman, and bad boy Todd Black-tavern owner and hot sex on a stick. One man is safe and secure, while the other is every woman's wet dream but Cecily wants both men for different reasons, and plays one against the other in a dangerous game of courtship and rivalry. While Cecily plays push and pull with both men, she doesn't see that Todd is falling for his new business partner and in this, sibling jealousy, is taken to a whole new level. Todd is falling in love with Cecily's sister Bailey while Cecily continues her game of cat and mouse.
To be honest, this was one of the most frustrating storylines I have read in a long time. Cecily played with both men's emotions and hearts, and in this the anxiety level rose exponentially. Her immature behavior amounted to nothing but a tease for the two men in her life and, the reader as well. It was difficult to understand Cecily's behavior, as though she was the wounded party, especially when she blamed everything on her sister Bailey.
The secondary characters are colorful and add to the already unstable personas of our leading heroines. The Sterling sisters make sibling rivalry and jealousy an art form.
THE TEA SHOP ON LAVENDER LANE is an interesting story about four people pulled together by circumstance and family; where jealousy makes for an uncomfortable setting; and falling in love is a matter for the heart and not the mind. There is no sex, no graphic violence and no graphic language-a throw back to another time and place.
Copy supplied by the publisher.
Reviewed by Sandy

FOLLOW: / Website / Facebook / Goodreads /Twitter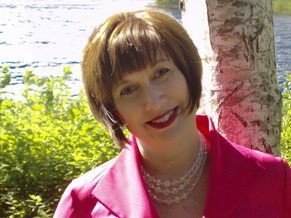 Sheila Roberts lives on a lake in the Pacific Northwest. She's happily married and has three children. She's been writing since 1989, but she did lots of things before settling in to her writing career, including owning a singing telegram company and playing in a band. Her band days are over, but she still enjoys writing songs. Sheila's books are best sellers and often appear as Reader's Digest Condensed Books. Her novel "Angel Lane" was named one of Amazon's top ten romances in 2009. Her novel "On Strike for Christmas" was a Lifetime Network movie and her novel "The Nine Lives of Christmas" is currently being made into a movie for Hallmark.
When she's not speaking to women's groups or at conferences or hanging out with her girlfriends she can be found writing about those things near and dear to women's hearts: family, friends, and chocolate.