THE WAY YOU ARE (Supernatural Renegades 3) by Carly Fall-review and book tour
Amazon.com / Barnes and Noble / KOBO / SMASHWORDS/ iBooks
ABOUT THE BOOK: Release Date February 23, 2015
While patrolling the jungles of Guatemala, Marine Garrett "Honey" Bloom found his life changed forever after an explosion, the blast leaving him with the strange supernatural ability to shape-shift into a bear. When a clandestine operative with many secrets offers him an irresistible job offer with his agency, Garrett finds his place in this organization where the rich go for protection and to have their problems solved.
Ruby Rose McDermott, daughter of an oil tycoon, is in need of protection after just barely escaping a kidnapping attempt. When her billionaire father enlists help to find and "handle" the kidnappers, Garrett is tasked with the job of keeping Ruby safe.
Expecting a spoiled, egocentric brat, Garrett is shocked to meet the shy, down-to-earth Ruby. The attraction between them quickly grows, but they soon come to realize they come from different worlds and their romance will be short lived.
An explosive event reveals Ruby's true kidnapper, turning their world upside down and exposing them to surprising danger. If Garrett and Ruby survive, can they find a way for their worlds to mesh in harmony?
••••••••••••••••
REVIEW: THE WAY YOU ARE is the third installment in Carly Fall's adult, contemporary Supernatural Renegades paranormal romance series focusing on a group of former Marines whose lives changed forever following a blast in the Guatemalan jungle. Each member of the platoon has been 'gifted' with a supernatural power but the government wants complete silence from the men involved. This is mission leader Garrett 'Honey' Bloom and Ruby Rose McDermott's storyline. When Ruby becomes the target of an attempted abduction, Ruby's billionaire father calls in help from a specialized source. THE WAY YOU ARE can be read as a stand alone without any problems.
SOME BACKGROUND: The focus of the series follows each Marine as he returns home to a different world. The military demands complete silence and secrecy from each of the returnees otherwise termination –from life-is next on the horizon. Life will become too difficult and lonely when the government orders complete compliance resulting in paranoia, and emotional and physical stress for each of our survivors
Told from third person point of view, the storyline follows Ruby and Garrett's building relationship. Garrett has been tasked as Ruby's bodyguard and protector in a secret location in Flagstaff, Arizona. What ensues is an unquestionable sexual attraction between two people who couldn't be more different. Ruby will discover that Garrett has the ability to shift into a bear, which will come in handy when another attempt is made on Ruby's life.
The relationship between our couple is one of instant attraction but Garrett's preconceived notions about spoiled, little rich girls leaves a lingering doubt when they are first introduced. Zach, another 'supernaturally enhanced' marine is along for the ride and reminds Garrett that not everything is at it seems. Zach has the ability to see the future but Zach's powers have come at a cost.
The supporting and secondary characters include Garrett's former Marine buddy Zach; Ruby's parents; and Ruby's brother John. We are also re-introduced to Mr. Joe Smith, the man who owns and operates a special 'security' firm for high end clientele; and Joe's trusted assistant Thomas. A little bit more about Joe's history is revealed and the reasons he has taken it upon himself to aid the men in Garrett's platoon.
The world building continues to follow the Marines as they try to reintegrate themselves back into civilian life-but life as they know it has changed. Mr. Joe Smith is the man who will see that each Marine will find a place in his firm and the truth about what happen may finally be revealed.
Carly Fall's storylines resonate with love, compassion, and heart. There is a little bit of supernatural blended into a contemporary storyline that allows for an escape into a fantasy world of shifters and psychic powers. THE WAY YOU ARE is a fascinating story of family, betrayal, finding love and moving on. I am looking forward to Zach's storyline-next.
Reading Order and reviews
By Sea
Beyond The Past
The Way You Are
Copy supplied by the author
Reviewed by Sandy

"Can I ask you a question?" His voice sounded barely above a whisper.
She nodded, unable to speak, her breath caught in her throat.
"Have you ever wanted something so bad, but knew you shouldn't?"
She shrugged, thinking the only thing she had ever really longed for was independence from her family. All of her other needs and wants had been met without any effort on her part. "I don't know."
"Well, let's say you did. Would you try to take it even if you shouldn't?"
She cleared her throat, unsure of where the conversation was going. "If I did, would I be breaking any rules? Would I go to jail?"
He grinned. "No jail time, but maybe bending some work and personal rules."
"I guess it would depend on how bad I want it. If the reward outweighed the consequences, then yes, I would take it."
Garrett nodded and leaned forward, placing his hand behind her neck, threading his fingers through her hair. His lips lightly brushed hers, and he whispered, "I think the tradeoff will be worth it."
His mouth claimed hers, his tongue urging her lips to part as her head spun. What in the world was going on? The big, bad, drop-dead-gorgeous Marine wanted to kiss her?
Apparently so.
Her mind reeled with the consequences of their actions. Certainly, there had to be rules established by Joe he was breaking, and what about her feelings, her delicate ego? What did he want from her?
She acquiesced and parted her mouth, their tongues engaging in a slow dance. Sighing, she let go of all her questions, fears, and doubts, shut her eyes and laced her arms around his neck, giving herself over to the experience. Her whole body shuddered as he pulled her closer.
He tasted of mint and coffee, and she explored the hard planes of his shoulders and biceps as they embraced, their kiss quickly heating. Gently, he laid her in the snow and stretched out next to her. He took her hands in his right and pulled them up above her head, holding them there. As their tongues dueled, she quivered at his touch, his hand running down her ribcage, to her hip and over her thigh. She moaned as desire bloomed in her belly, her need for him exploding within her.
Gently, he kneaded her breast through her sweatshirt as he peppered her face with slow kisses. Despite lying in the snow, her body heated further, and she wouldn't have been surprised if she opened her eyes to see the snow around them had melted.
He let go of her hands, and she immediately touched his chest, feeling the warmth of chiseled muscle beneath his turtleneck.
"Holy hell, Ruby," he whispered against her mouth. "I've wanted this since the second I laid my eyes on you, and it's even better than I'd imagined."

Follow: Website / Facebook / Twitter / Goodreads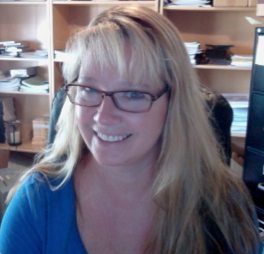 I am a wife, a mother and a slave to Nicky the dog.
I think chocolate and wine should be considered their own food group, and I wish Christmas happened twice a year.
I love the hot summer nights here in Arizona when my family and I play in our pool until late at night, and I hate 99.8% of politicians.

NOTE: The Reading Cafe is NOT responsible for the rafflecopter giveaway. If you have any questions, please contact the author.