Theirs To Cherish by Shayla Black-Blog Tour, Review and Giveaway
Theirs to Cherish
Wicked Lovers #8
by Shayla Black
Release Date:
Genre: adult, contemporary, romance, erotica,
Amazon.com / Amazon.ca / Amazon.uk/ Barnes and Noble / KOBO / The Book Depository
ABOUT THE BOOK: Release Date March 4, 2014
The perfect place for a woman on the run to disappear…
Accused of a horrific murder she didn't commit, former heiress Callie Ward has been a fugitive since she was sixteen—until she found the perfect hideout, Club Dominion. The only problem is she's fallen for the club's Master, Mitchell Thorpe, who keeps her at arm's length. Little does she know that his reasons for not getting involved have everything to do with his wounded heart…and his consuming desire for her.
To live out her wildest fantasies…
Enter Sean Kirkpatrick, a Dom who's recently come to Dominion and taken a pointed interest in Callie. Hoping to make Thorpe jealous, she submits to Sean one shuddering sigh at a time. It isn't long before she realizes she's falling for him too. But the tender lover who's slowly seducing her body and earning her trust isn't who he claims…
And to fall in love.
When emotions collide and truths are exposed, Sean is willing to risk all to keep Callie from slipping through his fingers. But he's not the only man looking to stake a claim. Now Callie is torn between Sean and Thorpe, and though she's unsure whom she can trust, she'll have to surrender her body and soul to both—if she wants to elude a killer…
••••••••••••••••••
REVIEW: THEIRS TO CHERISH is the eighth full-length storylines (twelfth story) in Shayla Black's Wicked Lovers contemporary, erotic, romance series focusing on a group of friends (ex-military, special forces, marines, law enforcement, special-ops etc) and the women they love. This is Callie, Sean and Thorpe's story. Although this is the twelfth storyline, it can be read as a stand alone without too much difficulty-some of the previous storyline characters play a minor role as it pertains to Callie's protection, whereabouts and search for the truth.
Callie has been on the run for nine years following the horrific murder of her sister and her father; Thorpe is the owner and Dom at the Dominion BDSM club; and Sean is the man who professes to love Callie and wants something more than a Dom/sub relationship.
The focus of the story is Callie and her need to run. When her sister and father were murdered, Callie was the number one suspect although nothing pointed directly at Callie's guilt. But someone has been looking for Callie and with a two million dollar price tag on her head she believes that she has been targeted by the people who killed her family. Hiding behind the walls of the Dominion BDSM club, Callie falls hard for Thorpe (the owner and head Dom) but rejection plays a major role when Callie turns to a new Dom for everything Thorpe refuses to give. Sean is a mystery-a reluctant Dom-but one that holds a secret that will affect Callie and her future.
The reader is pulled into a love triangle where two men love a shy, introverted submissive whose only sin has been to fall in love with both men. One man wants Callie for his own-to love, cherish and live a life happily ever after; the other wants Callie as his exclusive submissive but fears falling in love will push her away. The relationship between our trio is nothing short of sensual, arousing and amazing considering each man wants something different but the end result is the same-both men want to protect Callie from a past that has uncovered her secret location. The relationship between our heroine and the two men in her life is seductive, sexy and very protective.
Shayla Black pulls the reader into a sensual story of mystery, suspense and revealing the truth. There are two storyline premises that overlap one another: Callie's relationship with Thorpe and Sean; and the mystery surrounding the murder of Callie's father and its' connections to science, research and the military. The storyline is well paced; believable and has just the right amount of angst and heartbreak.
If you like a storyline with a little bit of everything including two alpha males whose need to control the same woman ends with a happily ever after for everyone then Theirs to Cherish is the perfect read.
Copy supplied by the publisher.
Reviewed by Sandy
FOLLOW: Goodreads / Website / Facebook / Twitter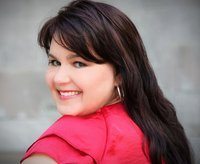 Shayla Black (aka Shelley Bradley) is the national bestselling author of 40+ sizzling contemporary, erotic, paranormal, and historical romances for multiple print and electronic publishers. She lives in Texas with her husband, munchkin, and one very spoiled cat. In her "free" time, she enjoys reality TV, reading and listening to an eclectic blend of music.
Shayla has won or placed in over a dozen writing contests, including Passionate Ink's Passionate Plume, Colorado Romance Writers Award of Excellence, and the National Reader's Choice Awards. Romantic Times has awarded her Top Picks, a KISS Hero Award and a nomination for Best Erotic Romance of 2007.
A writing risk-taker, Shayla enjoys tackling writing challenges with every book.
PENGUIN and Shayla Black are offering a paper copy of THEIRS TO CHERISH to ONE (1) lucky commenter at The Reading Cafe
1. If you have not previously registered at The Reading Cafe, please register by using the log-in at the top of the page (side bar) or by using one of the social log-ins.
2. If you are using a social log-in, please post your email address with your comment.
3. LIKE us on FACEBOOK and then click GET NOTIFICATION under 'liked' for an additional entry.
4. LIKE us on Twitter for an additional entry.
5. Giveaway is open to USA only.
6. Giveaway runs from March 1 to March 5, 2014