TOTAL SURRENDER (Sin Brothers #4) by Rebecca Zanetti-Review, Book Tour & Giveaway
Total Surrender (Sin Brothers #4) by Rebecca Zanetti
TOTAL SURRENDER
Sin Brothers #4
by Rebecca Zanetti
Genre: adult, contemporary, military romance, paranormal
Release Date: March 31, 2015
Amazon.com / B&N / KOBO / The Book Depository/ibooks / Google Play
About the book: Release Date March 31, 2015
A fight he must win…
Piper Oliver knows she can't trust him. They warned her that the tall, dark, and sexy black-ops soldier Jory Dean would try to win her over with his steel-gray eyes and deadly charm, but she won't be conned by this man they call a traitor. All she has to do is figure out the science necessary to save his life, and she's done. Something isn't adding up, though, and she won't rest until she uncovers the truth-even if it's buried in his deep, dangerous kiss.
A passion she can't resist…
Jory will do anything to reunite with and save his brothers-even kidnap the gorgeous woman who's working to deactivate the deadly chip in their spines. But the forces determined to destroy his family won't let them go so easily. Keeping Piper alive is more than he bargained for-and so is his burning desire for her. But with every second bringing him closer to certain death, can he afford to lose himself in her hot and willing embrace?
••••••••••••
REVIEW: TOTAL SURRENDER is the fourth and final installment in Rebecca Zanetti's contemporary, adult SIN BROTHERS slightly paranormal, military, romantic suspense series focusing on Nate, Mattie, Shane and Jory Dean-four genetically engineered brothers who were created by The Commander to become the perfect super soldier and killing machine. Each of the brothers is a ticking time bomb-a chip implanted at the base of the spine will detonate within a matter of days, and the men are searching for the code to deactivate the bombs. This is youngest brother Jory Dean and computer geek/IT guru Piper Oliver's storyline.
Throughout the series, the Dean brothers have been searching for their brother Jory-last known whereabouts unknown and presumed dead when a video surfaced revealing a woman shooting Jory in the chest. As the expiration date on their lives draws near, the hunt for Jory and the code takes on a renewed effort.
TOTAL SURRENDER follows Jory as he finds himself the subject of Piper Oliver's search for the code. Piper is an IT guru who specializes in hacking and the Commander is pushing Piper to break the code but there is a twist to the story-Piper is the Commander's daughter and is completely unaware of her father's treachery and role in the brothers' creation. When Jory finds the opportunity to escape, he abducts Piper in the hopes of her continued efforts to deactivate the coded chips.
Rebecca Zanetti pulls the reader into a roller coaster of a storyline where secrets will be revealed; the truth about Jory's shooting hits too close to home; and where the brothers discover that the Commander's experiments continued long after the Dean brothers creation. As Nate, Shane and Mattie discover their youngest brother is alive, their happiness is short lived when the truth about Jory's spinal chip is something no one had anticipated.
The relationship between Jory and Piper begins combatively and antagonistically. Piper believes Jory has betrayed his country but she knows nothing about the truth behind Jory's imprisonment and her father's involvement. As the storyline builds, so too, does the attraction and need between our leading couple; when the truth is finally revealed, Piper discovers that there are many secrets that have yet to be revealed. The $ex scenes are intimate, erotic and hot. Jory is not just a super soldier but a super lover, as well. 😉
All of the previous storyline couples play a supporting role throughout the novel. We are introduced to the next generation of super soldiers, and with it comes, heartbreak and more betrayal. Jory's story has been building since the release of book one Forgotten Sins where three brothers try desperately to find the one who now stands alone.
TOTAL SURRENDER is the final chapter in the Dean Brothers's stories but with it comes more questions and surprises leaving room for the possibility of a spin off series. Rebecca Zanetti's SIN BROTHERS series is addicting, intense, and suspenseful; her characters are passionate, provocative and alluring. You will not be disappointed.
Copy supplied by the publisher through Netgalley.
Review by Sandy
A young mother with two toddlers hustled toward the entrance, their heads ducked to avoid the wind. Piper sucked in air.
If she screamed, they were screwed.
Jory pivoted and put her against the wall, covering her mouth with his before she could let out a sound.
Warmth and woman. An electric shock flared his entire nervous system alive. Soft and sweet, she breathed in as he pressed against her. He'd meant to subdue her, to throw her off balance, but shock ricocheted through him.
Need compelled him. He shot both hands into her hair, tilting her head so he could go deeper. So fucking deep he could get lost.
The second he tasted her, all cinnamon and woman, hunger slaked him. Devastating in its intensity, a demand he couldn't deny. Her smooth, velvety lips softened under his, and for once, he lost himself.
Strands of her silky hair caressed his hands as he held her jaw, nearly lifting her up to meet his mouth. There was nothing but getting . . . more.
She stilled against him, her mouth parting. He swept his tongue against hers, taking in a primitive claim too powerful to deny.
Her gasp mingled with his low groan. She pressed harder against him, her mouth curving under his, and he forgot . . .everything. Who he was, where they were, the fire and danger. Only the woman against him, warm and willing, sweet and sexy, filled his mind.
He clasped her tight, forgetting any gentleness. Any seduction, any mission. Only this woman and this moment mattered. Letting go of himself, he allowed the creature inside, the one so rarely let loose, to take over. To push deep, to demand more. To take.
And give everything.
His mouth overtook hers, memorizing every groove, every small nuance. His free hand gripped her butt, hauling her up against his steel-hard erection. Heat from her core nearly dropped him to his knees. Pain and sparking pleasure flared along his skin, and he deepened the kiss, tightening his hold.
He needed to get inside her. Now.
A siren trilled on the lower street, and he jerked his head free.
Danger.
She blinked, her eyes the green of a rain-filled meadow. Desire burned there, hot and bright. Somehow sweet.
Possessiveness gripped him with a chokehold. One kiss. One kiss and she'd changed him. He had to get her out of the parking lot before guns fired again.
That quickly, realization crossed her face. Then shock, as she tried to take a step back. Her hands rose and shoved against his chest.
Denial gripped him to be quickly quashed with cold, hard training. So he grabbed her wrists and hauled her closer, his face lowering to hers. He wiped away any expression and shoved down all emotion. "Those men don't care who they shoot. They're scrambling and might kill you—or innocent bystanders." He spoke low, commanding.
She blinked, her mouth opening but no sound coming out.
"If you fight me, they'll find us, and they might shoot. Collateral damage doesn't mean a thing to them."
She shook her head and looked around.
He pulled her closer and lowered his voice to pure, no‑bullshit command. "We're getting in that four-door Jeep, and we're leaving here quietly. Your only choice is alert or unconscious? Decide now." He let conviction ring in his tone. If he believed he could knock her out, then she'd believe it, too.
No fucking way could he knock her out. Scaring her held little appeal, but he didn't have a choice if they were to both live through the night.
She quickly nodded. Gulping air, she relaxed her body as two teenagers giggled while walking by.
He knew full well she agreed to keep bystanders safe and not because the kiss had changed anything for her. She had no reason to trust him, and she'd never really know him. Why that pierced his chest with the cleanness of a sharpened dagger, he'd figure out later. For now, they had to run.
FORGOTTEN SINS
Sin Brothers #1
by Rebecca Zanetti
Amazon.com / Amazon.ca / Barnes and Noble / KOBO / The Book Depository
ABOUT THE BOOK: Release Date July 2, 2013
His Secrets Can Destroy Her
From the moment Josie laid eyes on sexy, mysterious Shane Dean, she was in love. Their desire ignited a passionate affair, and within weeks, Shane had slipped a ring on her finger. It seemed her every fantasy was coming true . . . until her new husband disappeared without a trace. Now, two years and one broken heart later, Josie is shocked by the hospital calls: Shane has been found . . . at a crime scene with no memory of how he got there.
Her Love Can Save Him
Shane can't remember the blue-eyed angel at his bedside—or who he even is—but he knows something isn't right. His hearing is razor sharp, his physical strength incredible, and the urge to protect Josie overwhelming. For powerful enemies are hunting him, and Josie is the key to discovering why. As Shane struggles to unravel his past, dangerous new truths come to light. Can he protect the only woman he's ever loved? And can Josie trust a man she thought she knew—one who carries such a deadly secret?
__________________
SWEET REVENGE
Sin Brothers #2
by Rebecca Zanetti
 Amazon.com / Amazon.ca / Amazon.uk/ Barnes and Noble / KOBO / The Book Depository
SWEET REVENGE (Sin Brothers #2) by Rebecca Zanetti
ABOUT THE BOOK: Release Date December 3, 2013
The One Man She Can't Have
Matt Dean was born to fight…and kill. A member of a secret black-ops military unit, he and his brothers were genetically engineered by the government to be the perfect soldiers with an expiration date. Now, with time running out, he's gone rogue in a relentless quest for the one person who can save them. His mission leads him to Charmed, Idaho…and to a beautiful woman with eyes like emeralds and a body made for pleasure.
The One Woman He Can't Resist
Laney Jacobs knows the mysterious, handsome stranger is trouble from the moment he walks into her bar, looking for a job. She's spent years running from her own past—the last thing she needs is a romantic entanglement. But Matt's strong arms offer her protection, and his gentle touch promises passion unlike anything she's ever known. As lethal forces surround them, revealing explosive secrets about Matt's past and putting everything—and everyone—he holds dear in danger, can he save them all before time runs out?
_______________
Blind Faith
Sin Brothers #3
by Rebecca Zanetti
Genre: adult, contemporary, suspense, paranormal
Release Date: May 6, 2014
Amazon.com / Amazon.ca / Amazon.uk/ Barnes and Noble / KOBO /
ABOUT THE BOOK: Release Date May 6, 2014
A betrayal he couldn't forget . . .
For Nate Dean, love is a four-letter word. As part of a secret black-ops military unit, he and his brothers were genetically engineered by the government to be ruthless soldiers with an expiration date. They were loyal only to one another . . . until Nate laid eyes on the woman who stole his heart and blew his world apart. Now, years later, his family is still paying the price for his mistake. But as time runs out, there's only one person who can save his family: the very woman Nate swore he'd never trust again.
A love she couldn't deny . . .
The moment Audrey Madison spies Nate across a crowded ballroom, she can barely breathe. He's just as undeniably sexy as she remembers, yet there's an edge to him now that's as irresistible as it is dangerous. When he asks for her help, Audrey can't refuse. But she has secrets of her own-secrets that, if Nate ever discovers them, may cost them both their lives .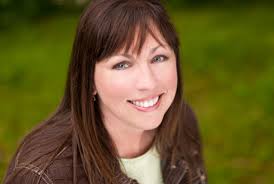 New York Times bestselling author Rebecca Zanetti has worked as an art curator, Senate aide, lawyer, college professor, and a hearing examiner – only to culminate it all in stories about Alpha males and the women who claim them. She is a member of
RWA, has won awards for her works throughout the industry, and has a journalism degree with a poly sci emphasis from Pepperdine University as well as a Juris Doctorate from the University of Idaho.
Growing up amid the glorious backdrops and winter wonderlands of the Pacific Northwest has given Rebecca fantastic scenery and adventures to weave into her stories. She resides in the wild north with her husband, children, and extended family who inspire her
every day-or at the very least give her plenty of characters to write about.
**There are TWO ways to WIN**
Giveaway #1:  Rebecca's publisher is offering a paper copy of TOTAL SURRENDER to ONE (1) lucky commenter at The Reading Cafe
1. If you have not previously registered at The Reading Cafe, please register by using the log-in at the top of the page (side bar) or by using one of the social log-ins.
2. If you are using a social log-in, please post your email address with your comment.
3. Please LIKE us on FACEBOOK and click GET NOTIFICATIONS
4. Please FOLLOW us on Twitter for an additional entry.
5. Please FOLLOW us on GOODREADS for an additional entry.
6. Please LIKE us on TSU for an additional entry.
7. Follow Rebecca Zanetti on Facebook.
8. Giveaway is open to USA and Canada only
9. Giveaway runs from April 2 to 7, 2015

NOTE: The Reading Cafe is NOT responsible for the rafflecopter giveaway. If you have any questions, please contact the publisher.