Undeniably You by Jewel E. Ann-Review and Blog Tour
Undeniably You
by Jewel E. Ann
Genre: adult, contemporary, romance
Release Date: August 18, 2014
Amazon.com / Amazon.ca / Amazon.uk/ Barnes and Noble / KOBO /
ABOUT THE BOOK: Release Date August 18, 2014
One crazy dog—one awkward vet—one naked pool guy—and one life-changing month in California to make friends, fall in love, and twist fate.
Who gets paid to walk a dog and recline by the pool all day? Sydney Montgomery, aspiring museum curator and professional house-sitter, that's who.
When her aunt and uncle need a house and dog sitter for thirty days in Palo Alto, Sydney can't turn down the chance to be closer to her sister in L.A. Within twenty-four hours of her arrival, Sydney's cleaning up runny dog poo, taking an uncooperative pooch to a handsome yet awkward vet, and being rescued from the bottom of the pool by a naked "pool guy."
Lautner, "pool guy," has a hot body and a cool persona. With eyes of iridescent blue oceans, he is mesmerizing, sexy, and addictive. What he is not—the pool guy.
Dr. Lautner Sullivan is a college wide receiver turned pediatric resident. He knows how to woo a woman with flowers, pastries, and sweet tea. Lautner is every girl's dream, but Sydney is not every girl. She's immune to rainbows, fairytales, pixy dust, and the "L" word.
The attraction is immediate, the friendship is earned, and the love is undeniable. Thirty days is their forever, but forever is not long enough.
A standalone Contemporary Romance novel!
••••••••••••••••••••
REVIEW: UNDENIABLY YOU is an adult romantic standalone storyline by author Jewel E Ann and one that elicited from me a number of emotional reactions. This is the story of professional house-sitter Sydney Montgomery; Dr. Lautner Sullivan and Dr. Dane Abbott. Yes, there is a bit of a love triangle in UNDENIABLY YOU that spanned a good portion of the storyline but it wasn't the triangle that sparked my anxiety or emotions.
The premise follows Sydney as she embarks on a one month house sitting job for her Aunt Elizabeth in Palo Alto, California. Swarley, her aunt's very large and suddenly ill dog is in need of veterinarian care-enter Dr. Dane Abbot whose immediate attraction to Sydney is met with some ambivalence by our heroine. She is only in town for one month before heading to Paris for her next house sitting assignment and getting involved with someone is the farthest thing on her mind until Dr. Lautner Sullivan sweeps in and takes hold of her heart.
The relationship between Lautner and Sydney begins accidently when Sydney mistakes the pediatric physician for her aunt's pool boy. One thing leads to another and a relationship will ensue but one where Sydney continues to put out mixed signals. While Dr. Dane tries to woo Sydney in his shy and awkward way, Lautner is a man who goes for what he wants and he wants Sydney for his very own. When Sydney's time is up in California, she isn't willing to give up her plans or acknowledge that she has lost her heart to one man.
UNDENIABLY YOU is a story that ran the gamut of emotions. At times I was confused, angry, disengaged, unattached and lost. I had considered not finishing (DNF) as the first 25% of the story left me with ambivalent feelings. Just like the heroine, the storyline jumped all over the place. The writing style and story presentation was difficult for me to absorb and I didn't feel comfortable. I put the book down and started fresh the next morning and I am glad I finished the story because when Sydney and Lautner's relationship stepped up to the next level, there was no going back for our couple or this reader.
Jewel E Ann pulls the reader into an emotional roller coaster that left me in tears so many times I should have bought stock in tissues. My heart ached for Lautner when Sydney walked away knowing that he loved her beyond life itself but she was unwilling to acknowledge her feelings or the truth. As Sydney's life in Paris begins, she is pulled under by a storm of epic proportions that finds her back in California only to lose the man that she loved because of her stubborn ways and a promise to someone from the past. Alone and lost, Sydney will turn to another man when life and everything it now has to offer will forever be changed.
UNDENIABLY YOU is an intensely emotional and passionate storyline with heartbreaking situations and painful realities. Love can be captivating, provocative, breathtaking and intense but sometimes the destructive nature of love can leave you reeling when secrets are hidden and the truth is traumatic and real. Communication is at the core of every relationship and in this our heroine's need to run leaves two hearts in shatters, destroyed by Sydney's idealist view of the future – alone.
Copy supplied by the author.
Reviewed by Sandy
Want more? Take a peek at the epilogue and chapter 1 of Undeniably You!
http://rockstarlit.com/wp-content/uploads/2014/08/Undeniably-You-Sneak-Peek.pdf
I pour a glass of iced tea and start to walk toward the deck. Then I turn around and pour another glass. "Hospitality is a good thing," I tell myself, needing only to convince the rational part of my brain.
"Tea?" I offer, walking over to the pool.
Aaron sets the skimmer net along the side of the pool.
"Thank you." The smirk on his face is suspicious and makes me feel like I'm missing some inside joke. He takes the glass from me and I move past him to get a closer look at the pool because I can't look at him without his shirt and not break into a sweat.
"What are you skimming?"
"Nothing really. I'm stirring the water," he says matter-of-factly.
This guy is not for real. What does he mean by "stirring the water?" He's up to something. It's obvious why Aunt Elizabeth hired him. She must properly clean the pool after he leaves so Trevor doesn't get suspicious and fire his ass … a very fine ass I will confess.
"And why is it you need to stir the water?" I turn toward him and my eyes dart straight to his broad muscular chest and well-defined abs all kissed by the sun. Jeez, he's too perfect and I'm … something. Distracted? Mentally lethargic? Crazy? Horny? BINGO!
"So there's an even consistency of chemicals when I test the water."
My mouth is agape and I cannot stop looking at him. He bends down to physically capture my attention. Shit! I show no shame staring at his bare chest.
"Hello?" he says, forcing my eyes back to his.
Shaking the inappropriate thoughts from my head, I take a quick sip of my drink to mask my embarrassment.
"Do I need to put my shirt back on?"
I choke on my tea. "No––" I can't stop coughing. "I mean––" Clearing my throat, I notice his cocky smile. "Put your shirt on or leave it off. Why would I care?"
God, Sydney, could you be a bigger disaster today? The flap of the dog door distracts me. Swarley leaps down the deck stairs. Aaron hunches down like a lineman in anticipation of his overzealous greeting. The problem is, as Swarley races closer I realize he's not aiming for Aaron. He's aiming for––
"Oh shit!" I'm catapulted backwards into the pool.
My body makes its descent to the bottom while I open my eyes to see the blurry magnification of Mr. Sex on Legs pool guy standing at the edge looking down at me. I'm considering seeing how long I can hold my breath. Maybe he'll decide to leave and I can surface from the depths of my own personal Hell without an audience.
Yes! That's it. I can do this.
I still hold many records from my high school swimming career. Holding my breath until he leaves should be easy. Unless he decides to be heroic and jumps in to save me. Not a bad scenario either. Then at least we'll both be drenched in our clothes.
Like a leaky raft, I release my breath one bubble at a time and take a seat at the bottom of the pool. Ha! He's emptying his pockets. Looks like I won't be the only drowned rat. Wait. What the hell? No he's not. Oh dear God, yes he is. Sex on legs dives into the pool, sans shorts and underwear! The two haunting notes from Jaws sound in my head while I scramble to the surface in the opposite direction, desperate to get away from him.
The sweet relief of air filling my lungs is squashed by the anxiety of being chased by a naked stranger.
"Oh my God! What are you doing?" A frantic yell breaks out with the remaining breath in my lungs while I swim toward the ladder, barely escaping him. I leap out of the pool with superhuman speed. Wrapping my arms around myself, I scramble to the pool house, my heart racing and my whole body shaking as I fumble for a towel.
"The water feels great today." His voice sounds behind me.
I whip around and gasp, wide eyed. A wet, naked, sinful-as-a-hot-fudge-sundae body greets me a few feet away. Hands fisted, his arms are casually crossed at his wrists covering part of his junk in the front. The perfect cover to Sports Illustrated stands before me, and all I want to do is smack him across the face to wipe the stupid smirk off it. Then, of course, I want to jump him and rub every sensitive part of my body against his, because right now I'm so pissed and so turned on, I need to dive into the pool again before I self-combust.
"Finish up and get out," I mumble as I toss him a towel and stomp toward the house. On my way, I pass Swarley beached out in a lounge chair by the pool.
"Evil demon dog!" I scowl at him.
Check out Jewel's other books:
Holding You
Holding You #1
by Jewel E.Ann
Release Date: February 21, 2014
Genre: adult, contemporary, erotic,romance
Special Price .99cents for a limited time: Amazon.com / Amazon.ca / Amazon.uk/ Barnes and Noble / KOBO /
Click HERE for our review of HOLDING YOU
About the book:
Deep breath … I am peaceful, I am strong.
Free-spirited Addy Brecken is Milwaukee's most talented vegan chef and co-owner of Sage Leaf Café. She has a genius IQ, a padded savings account, an amazing view of Lake Michigan, and a heart that won't stop beating.
An early April morning finds her drowning in the seductive fragrance of lilacs and the warmth of the morning sun when she's nearly hit by a car in front of her café. The peaceful existence she's desperately tried to maintain after the horrific loss of her family is suddenly shaken by the Range Rover driving, arrogant, sex-on-legs Quinn Cohen.
A successful, Latino businessman from New York, Quinn has a taste for the finer things in life. A typical playboy, he has the money, the houses, the cars, and the women. Quinn is everything Addy avoids. Where she lives simply and prefers to help the less fortunate, he has no problem spending an obscene amount of money on a briefcase. Their opposite personalities lend to several heated encounters, and Addy finds herself propositioning Quinn for the one thing she never imagined needing … sex.
Offering only her body, Addy tries to keep Quinn at a safe distance from her heart and a world away from her past. Their passion-filled connection makes Addy feel something unfamiliar, alive. But with passion comes more feelings: anger, jealousy, love. When Addy surrenders to the unimaginable and lets go of her past, she's faced with the impossible … holding on to her future.
Deep breath … I am peaceful, I am strong.
__________________
Releasing Me
Holding You #2
by Jewel E. Ann
Release Date: April 18, 2014
Genre: Adult, contemporary, erotic, romance
Amazon.com / Amazon.ca / Amazon.uk/ Barnes and Noble / KOBO /
Click HERE for our review of RELEASING ME
RELEASING ME (Holding You #2) by Jewel E. Ann
ABOUT THE BOOK: Release Date April 18, 2014
A tragic accident. A hidden past. An unbreakable love.
Never goodbye …
I thought Addy stole my soul.
Her beauty blinded me.
Her heart called to me.
Her touch healed me.
She gave everything and asked for nothing. Then I broke her. The depths of her pain were veiled by the reflection of my own. I didn't deserve her, but I wanted her––I needed her. In my darkest hell, I heard her voice. That's when I knew …
Addy was my soul.
Deep breath … I am peaceful, I am strong.
Quinn was worth the risk.
He took away the numbness and gave me unfathomable pleasure. Every emotion felt magnified, every moment felt like the last.
My heart found purpose.
My body came to life.
My soul returned.
His weakness gave me strength, and his past held my future. He saved me by … releasing me.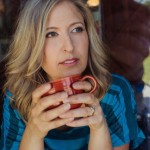 Jewel is a free-spirited romance junkie with a quirky sense of humor.
With 10 years of flossing lectures under her belt, she took early retirement from her dental hygiene career to stay home with her three awesome boys and manage the family business.
After her best friend of nearly 30 years suggested a few books from the Contemporary Romance genre, Jewel was hooked. Devouring two and three books a week but still craving more, she decided to practice sustainable reading, AKA writing.
When she's not donning her cape and saving the planet one tree at a time, she enjoys yoga with friends, good food with family, rock climbing with her kids, watching How I Met Your Mother reruns, and of course…heart-wrenching, tear-jerking, panty-scorching novels.
Twitter: https://twitter.com/JewelE_Ann
Facebook: https://www.facebook.com/authorjeweleann
Goodreads: https://www.goodreads.com/author/show/7505427.Jewel_E_Ann
Website: http://www.jeweleann.com/index.html
Amazon Author Page: http://www.amazon.com/Jewel-E.-Ann/e/B00IJYHDIG/